Koolatron Six Day Automatic Pet Dish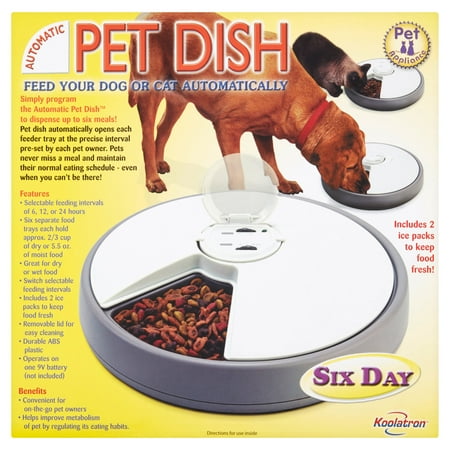 MSRP :

$39





Sale :

$37.92

Sold & shipped by Walmart
Product Description

Additional Information

Reviews
Product Description
Keep your pet well fed when you're away by using the Lentek 6-Day Automatic Pet Feeder. The Lentek Automatic Six Days Pet Dish operates with a triggered timer and self-opening food trays which ensures your pets never miss a meal and maintain their normal eating schedule. Simple and convenient, this pet feeder is a must-have for busy, on-the-go pet owners. All you need to do is place food for each day in each of the six chambers and set the timer to activate in 6, 12, or 24 hours. You have the option to feed up to four meals a day over a 96-hour period or once a day over a six-day period depending upon the duration you will be away. Made of ABS plastic, this automatic wet cat food feeder offers reliable performance. It features a removable lid that makes cleaning a breeze.
Additional Information
Product Features
Pet appliance
Feed your dog or cat automatically
Simply program the Automatic Pet Dish™ to dispense up to six meals!
Round the clock feeding
Your pet never misses a meal!
Batavia, NY,
U.S.A.
www.koolatron.com
©2012 Koolatron, Inc.
All rights reserved.
Reviews
SafetyDude
Priceless
This product does EXACTLY what it says it does. I am on the road constantly, and this feeder provides Simon (the cat) with fresh food even though I'm not at home. The ice packs are a nice touch, although only good if you're going to be away for a day or so. The timer is very accurate, and Simon has learned the noise of the motor, so he's become quite attuned to the time and noise and will come running when it starts turning. I also bought a recirculating water fountain (not from Wal-Mart, sorry) that charcoal filters his water supply, so he also has fresh water available at all times, which is so important to a male cat's urinary tract health. He started playing with it the first day, but now he's used to lapping the water from the fountain stream. There's a MasterCard commercial here somewhere: Pet Feeder: $62.00 Water Fountain: $71.00 9-volt battery for feeder: $2.78 Drip pans: $2.98 Knowing Simon will have fresh food and water even when I'm on the road making money to BUY his food and water: PRICELESS
kneewalker
Great Product
We had a previously feral cat that has now come to rely on us, and we worried about leaving him home when we went away - especially as he still loves to be outside, where, this time of year, there are other competitors (raccoons, skunks, etc.) for a large portion of food that would be left out for him. This product appeared to be the perfect solution - good value, was only a few extra dollars to have it shipped overnight - and has worked well for when we take several-day trips. Highly recommend it.
KristalE
Couldn't Live Without It
This product has helped my dog and me out tremendously. I don't have to rush home to make sure he is fed and he doesn't have to wait all day for me to get home. He did teach himself how to pry it open and ate all of the food one day but since then we havent had any problems.
sunshine0303
Perfect for our small dogs needs!
Our dog got really sick a few months ago, and we needed to begin to feed him three times a day, which was hard since we work during the day, and the kids are in school. We had to buy a feeder to dispense food during our dog Oreo's lunch time. We previously bought a feeder which worked well, but was big, and bulky and eventually broke when we put the feeder plate into the dishwasher. Therefore, we had to buy a new feeder. I chose to look around and test out a new feeder, and I came across this one. It looked small, and user friendly. I also liked the neutral color, and the fact that it can dispense food after 6 hours, and not 8 hours like our old feeder. At first it was a little confusing learning how to get the feeder to work, but now i can do it with my eyes closed! It works very well, and and rotates very smoothly when it transitions between feeding portions. My dog loves it, and we are all happy. I would recommend this feeder, for cats, and small dogs.
Goetzy
Works well but not completely trustworthy
We have 2 cats and we had to leave town for 4 days and didn't want to bother having someone come over twice a day to feed them. Our cats cannot have free choice on food because they will eat it all in one sitting and throw it up. So this product seemed like the obvious choice to cure our problem. We purchased two of them. The quality of it when we started putting them together seemed pretty cheap. I had to use tape to keep it tightly together and the clear plastic piece that covers the timer buttons is very loose and could easily be opened by the animals, so we had to tape that down too. It worked well while we were away and served the purpose. There have been a couple times since then that one of the feeders wouldn't advance but the other would (they were on the same timer schedule of 6 hrs between feedings and started at the same time). We put new batteries in just in case it was a bad battery but it we still had a problem with it the next day. Word of advice if you purchase this product: LABEL THE FOOD TRAYS 1-6 SO YOU KNOW IF IT IS ADVANCING WITHOUT TAKING IT APART. We used a lable maker and stuck the numbers to the side of the dish next to each compartment. It makes it so much easier to know if it's working properly. I'm glad we purchased them and would recommend them but keep an eye on them.