Lentek Pet Chime Portable Wireless Electronic Pet Doorbell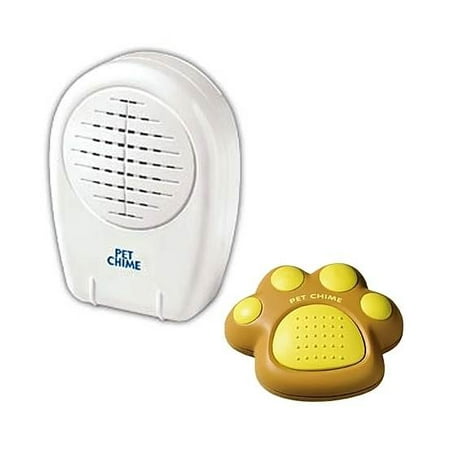 MSRP :

$42.42





Sale :

$31.32

Sold & shipped by UnbeatableSale
Product Description

Additional Information

Reviews
Product Description
Pets can make a grand entrance when you have this specially designed doorbell. The Pet Chime is a portable, wireless electronic pet doorbell that dogs and cats can use to let you know they're ready to go out or come in. To activate the chime, pets simply step on or push the paw with their nose. It can make two chime sounds: a dog bark and a traditional ding-dong.

Additional Information
Give your pet the freedom to roam around the house without you having to worry about accidents they usually do
Pet Chime (receiver) is wall mountable or stands on a table
Pet Chime is a Wireless transmitter (Paw) works up to 100 ft. (30.5m) away from receiver
Multiple paws will trigger a single Pet Chime receiver
Transmitter Paw operates on 9V battery (not included)
Receiver operates on 3 AA batteries (not included)
Tired of your pet scratching the door, barking, or howling when he wants to come inside. Want to teach your pet to tell you when they are ready to go outside. Pet Chime is a portable, wireless electronic pet doorbell that allows pets to tell you when they need to come in or go out.
Reviews
TallTrees
Cute, but that's it
I ordered the Pet Chime Model #PP10 (and received it on 08-15-11). I was really excited and started to train my dog right away. She was doing really well, but I quickly realized that the chime doesn't always ring when the doorbell button (paw) is pressed. At first I thought my dog was just not pressing the right place, so I tried it. It seems when you press the door bell "button" on the "paw" it only sometimes causes the chime in the receiver to ring. I tried switching it from the barking alarm to the chime alarm, thinking there was a short in a connection. I even tried moving it to various locations from varying distances, including having the chime and the paw right next to each other. Never would the chime ring consistantly when the doorbell "paw" was pressed. I decided to return the product to Wal Mart. I did however, rig up my own doorbell system and my dog has successfully learned how to use it! (Just in case you are wondering, I bought an inexpensive wireless doorbell from Home Depot and modified the doorbell button so that my dog has a larger surface to press on. It works perfectly and everytime my dog puts her paw on the button!) I love it!
IlovePepe
Excellent Product
this product met all my expectations. I got it on the 15 and stared training Pepe, my 11 weeks old miniature pincher chihuahua mix, today is the 22 and is the first day he started using it on his own, I am so proud of him; I was in the kitchen getting his food ready when I heard the barking sound, i was so happy ... I would really recommend it.
ManiacMarie90
good product
The door chime works well. It is a clear noise to indicate that my dog (or dogs...I have 3) need to go outside. We also use it to let us know when they are ready to come in. Whenever they go out, we move the doorbell button(the paw) to the door step outside. Inside we leave it in the corner by the back door. The receiver works very well. I can use it on the opposite side of the house from the back door and still hear it clearly(my house is about average sized). It was very easy to teach my youngest dog(a 4 month old puppy) how to use it, but was more difficult to teach the older dogs (both 1 year old). I would reccommend buying this product WHILE YOUR DOGS ARE YOUNG!!!! The puppy picked up on it sooo fast. He uses it everytime and no longer goes in the house. It is a great potty training tool!!! Since the puppy has learned to push the button(he learned in about 2 days), he has NOT peed or pooped in the house. It was an instant fix. I strongly reccomend this product. I wish I had it when my 1 year olds were puppies!!
DaisysMomma
Too Cute
This doggy doorbell has been a big hit at our home!! The paw shaped button is too cute!!! Instead of just sitting in front of the door to go out our dog can now let us know by the push of the button. It was easy to teach her to push it also! The only problem is that it will go off just by the vibrations of walking by it. Other than that for $20 something it was worth it!
Bettyshopatwalmart
Great price just did not work for us.
Before I bought this product my 8 month old poodle was using the bell to notify us when he had to go outside. The only problem with that was that I can not hear it when I am in the back of the house. I thought this product would be very helpful because I could carry the chime in the back of the house with me. Well what happen was, the part that he stepped on moved around on the floor. He had a hard time getting his paw on it just right to ring it. He tried over and over. It was a hit and miss. Then what happen he stopped ringing the bell on the door because I was so into training him to use the paw. He caught on to what I wanted him to to do however he just could not get the paw to chime everytime. Then he started to potty in the house. It took me a couple of days to get him to ring the bell again. Needless to say I took the product back to Walmart. I wanted it to work so bad. I think that it is a great concept that just did not work for me. Would I recommend it to some one I would say no. Maybe it would have worked better if I had not started the bell method firs.