Kidde Night Hawk Combination Smoke/CO Alarm w/Voice/Alarm Warning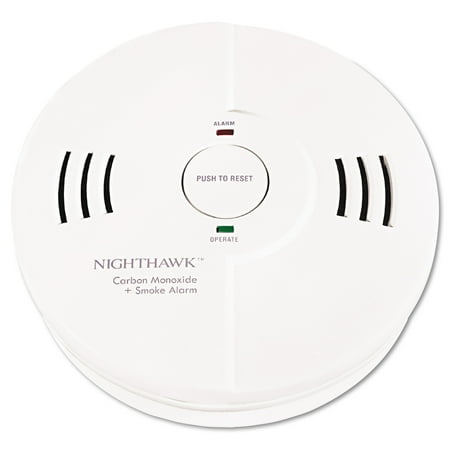 MSRP :

$39.99





Sale :

$38.12

Sold & shipped by Walmart
Product Description

Additional Information

Reviews
Product Description
This Kidde Combination Smoke and Carbon Monoxide Alarm provides two important safety devices in a single unit. It's battery operated to protect you and your family even during a power outage. This Kidde smoke and carbon monoxide alarm features two LED lights and includes a chirp signal and test/reset button. The alarm warnings are spoken with a loud volume.
Additional Information
Kidde Nighthawk Combination Smoke/CO Alarm with Voice/Alarm Warning:
Smoke and carbon monoxide sensors
Hush button
2 LEDs
Warnings spoken to you in a loud-volume voice
Low battery indicator
Also includes chirp signal and test/reset button
Nighthawk carbon monoxide alarm uses 3 AA batteries (included)
Reviews
FrankLongIsland
Very happy seems to work as designed
Bought to replace exact same unit. Old unit reached 7 year life span. Was able to mount to ceiling using existing mounting bracket. No hole drilling in ceiling hard to find the exact same detector. Walmart online had it. I used this kiddie in my unfinished basement and first alert brand on main level and upstairs. Neither are made in USA kiddie made in china first alert made in Mexico. The first alert seems a bit louder during testing. But reading reviews there's more defects in first alert brand. I just wanted to use the same existing mounting brackets, and through Walmart I was able to find exact same model numbers as my old units
Lastminuteshoppingmom
Ten years old when I received it
The typical recommendation is that smoke/carbon monoxide detectors should be replaced after 10 years, so I ordered this item in early 2017 as a replacement for one I had with a manufacture date of 2005. As a matter of fact, the original unit kept beeping to indicate that it was expired. When the new one arrived, I noticed the manufacture date was already nearly 10 years ago and the Duracell batteries that were included had also expired in 2013. I was very disappointed and am still waiting to talk to a Kidde representative to see if it's safe to use the unit. (They called in response to an email I sent, but it was while I was at work. I returned their call leaving my work number but it's been a couple of weeks and they've yet to call me back). The original unit saved my family of 4 in 2006 when we had an issue with a generator, so I would highly recommend the unit if you can purchase a recently manufactured one. I don't know if the problem is with Walmart.com's distributors holding their inventory too long or with Kidde putting old inventory out to its distributors.
belle140
Easy to install, maintain, and change batteries.
I've had this detector for 2 years and I've changed the batteries every fall. Not a difficult task since the attachment ring stays on the wall and you just twist to remove the detector. I've hit the test button once a year to make sure it was still working since thankfully it never went off. A couple of nights ago, I closed the damper on my chimney when I went to bed, thinking that the glowing embers weren't a big deal. Well at midnight, the alarm was screeching "ATTENTION! CARBON MONOXIDE DETECTED!" I have to to say, the beeps before the verbal alert were starting to wake me, but those words brought clarity to me instantly and I was up and out of bed opening windows! I reset the alarm and then had to go to the website to look at the manual to see what to do next. This is a great alarm for the money, and definately saves lives!
Sunnyboyjim
Kidde Smoke and C02 Detector
I ordered 3 of the Kidde detectors to replace two hard wired Kidde units (which were out of date) and a third one for the living room. The units were easy to install, the same size as my old Kidde's. No worry from power failures as my two old units did not have battery backup The units have a loud, piercing tone when activated with a canned woman's voice alerting of either smoke or carbon monoxide. We sleep with the bedroom door closed and the tone/voices can easily be heard thru closed doors. As per Kidde's recommendation, we did NOT install one in the kitchen. I feel comfortable in knowing the detectors are on guard 24 hours a day and are adequate in our 1457 sq. ft. home. A great buy especially since Walmarts had them on sale.
jorenee
Love the talking features!
The thing that sets this alarm apart is the talking features in addition to the audible alarm. People tend to panic when an alarm goes off, but having a voice saying, "Fire! Fire!" or "Warning! Carbon monoxide detected!" would help focus your attention even if you were woken out of a deep sleep. The only drawback to this alarm is that it does not have a 10 year sealed battery and still requires the batteries to be checked once a month and changed twice a year. It does however have an audible "Low Battery" beep and voice notification.