Multipet Loofa Dog Mini, 6 Inches, Assorted Colors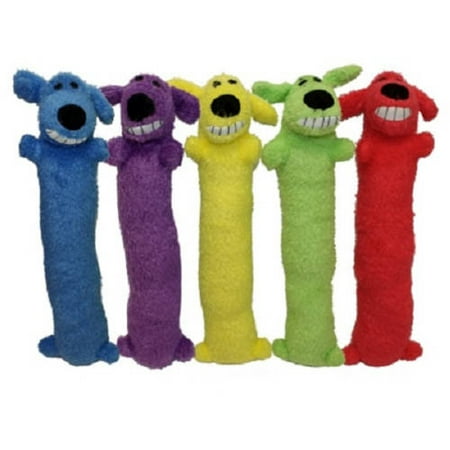 MSRP :

$17.99





Sale :

$5.68

Sold & shipped by Adventure Brands
Product Description

Additional Information

Reviews
Product Description
The Loofa Dog Toy with Squeaker provides canine pets with a fun activity. They can play tug-of-war, fetch and more. The squeaker increases their excitement. This plush toy can also be used as a cuddle companion or a back scratcher.
Additional Information
477115 Loofa Dog, (Award Winning Plush) Mini, 6":
The original (elongated plush terry toy that squeaks)
47711: Loofa (Assorted Colors) — 6"
47712: Loofa (Assorted Colors) — 12"
47718: Loofa (Assorted Colors) — 18"
47744: Loofa (Assorted Colors) — 24"
Reviews
GideonsMomma
Gideon loves this toy!
I bought this toy for my small breed puppy, Gideon when he was 4 months old, he's now 7 months and the toy was still in good condition! He chewed on the ears the most but, one ear didn't come off until my niece ripped it off, the other still is attached. It's pretty durable. This toy is like his baby. He carries it with him everywhere, plays with it the most out of his toys and he sleeps with it. Last week, he unfortunately lost it (or buried it). I will be buying him a new one soon :). I love this toy and so does Gideon!
bunzzie
Loofa dog toy
One of the best toys I've bought for my dog, Moe! I definetly would recommend it to a friend.
Renonevada
Great dog's toy!!!!!!!!!!!
I have a Golden and German Shepard. They love stuffed animals. They play hard with them everyday, I wash them once a week and I think they hold up very well. They last about 3 month's, but for the price and the beatings my dogs do to them it's worth it. Wal-mart's dog toys in my opinon are much cheaper and last longer than Feeder's Suppy!
lovemypickles
she loves it!
my dog loves this toy! Although i was disappointed in its small size, it's perfect for my beagle. Probably not real good for large dogs, but great for small ones. I thought it was a longer toy but its not. My fault for not reading the specifics good enough
tobzues
Not good for heavy chewers
I have a 20lb min-pin mix he destroyed it in a few minutes but bought one also for my boyfriends pug and he loves it(my dog is very rough on toys(no more squeakies for him he can tear apart a tennis ball in less than an hour) but if your dog isnt a heavy chewer I think this would be perfect for a small dog who likes furry squeakies.