The Instant Pot Electric Pressure Cooker Cookbook: Easy Recipes for Fast & Healthy Meals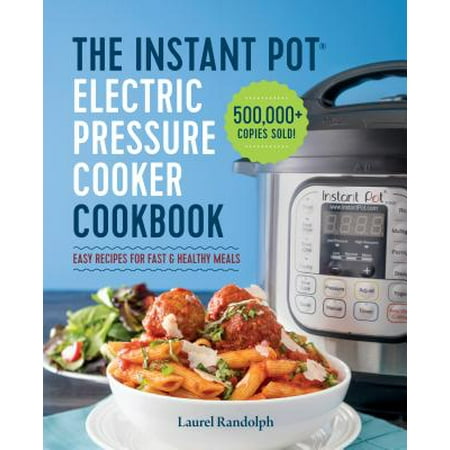 MSRP :

$14.99





Sale :

$13.02

Sold & shipped by Walmart
Product Description

Additional Information

Reviews
Product Description
With over 500,000 copies sold-enjoy 100] easy, wholesome, customizable recipes offered in the #1 bestselling official Instant Pot(R) cookbook.There's nothing the Instant Pot(R) can't do-and with the right cookbook in hand, there's nothing you can't cook. The Instant Pot(R) Electric Pressure Cooker Cookbook will teach you to create a variety of healthy, easy-to-make recipes with confidence. From savory breakfasts and hearty stews to decadent desserts and more, this Instant Pot(R) cookbook is sure to satisfy everyone at the table.In the pages of this bestselling Instant Pot(R) cookbook you'll find: 100+ no-fuss meals with options for vegetarian, gluten-free, and Paleo-friendly dietsLow-maintenance recipe guidelines including pressure levels and cooking timesHandy prep-time labels that specify meals that cook in 20 minutes or longer (45+ minutes), as well as kid-friendly dishesPerfect for beginners or long-time enthusiasts, this Instant Pot(R) cookbook is your A-Z guide for all things Instant Pot(R)."For this busy mom, [the Instant Pot] was like learning to cook all over again...until I got this Instant Pot cookbook. Whether you are new to the Instant Pot or you are a pressure-cooker pro, this Instant Pot cookbook needs to be in your kitchen!" -Julie Clark, Tastes of Lizzy T blog"This Instant Pot cookbook has everything you need to know to use your Instant Pot...I highly recommend [it], It has been the best purchase I made since getting my Instant Pot." ―LMFerron, Amazon Top 500 Reviewer
Additional Information
The Instant Pot(r) Electric Pressure Cooker Cookbook: Easy Recipes for Fast & Healthy Meals
Reviews
sargeret
Electric Instant Pot Pressure Cooker cookbook
I purchased the LATEST MODEL Electric Instant Pot IP-DUO60-ENW Stainless Steel 7-in-1 Multi-Functional Pressure Cooker from Walmart and then began the search for a cookbook after reading reviews that said the cookbook that came with the pot was lacking. I preordered this cookbook from Walmart. I am not sure that it is that much of an improvement over the prior edition, although I have not seen it. I do know that I have had to go on the internet to find recipes for boiled eggs, etc., simple things that should have been in the cookbook. It's okay. I'm sure I will eventually try some of the recipes, but I wish it had some of the standard stove top pressure cooker recipes and adapted them for the electric pot. Pinterest and many websites are very helpful for finding information and getting recipes you can use.
BOO
Electric Instant Pot Pressure Cooker cookbook
Did not realize you would charge so much to ship a little book. Felt a bit mislead.
pick1000
great
The cookbook has a lot of recipes that a person who seldom cooks can handle. The ingredients are few and mostly simple ones and the same can be said for the steps. There were a couple ingredients that I had to goggle but I found at Wal-Mart. The steps in recipes are pretty easy even for a beginner. It states the prep.. cook and pressure release times. Also has calories, carbs, and etc. It has different recipes for any food preferences. I am very happy with the book and it is great for those who have never use a pressure cooker or an electric pressure cooker.
KarenM
Not what I was expecting.
I was hoping for more basic everyday recipes. I am sure these recipes are good, but not what I would fix daily.
Becky
Highly recommend this cookbook.
I just bought this along with the Instant Pot. I've made 3 recipes so far and they turned out great!!!!