10-Day Green Smoothie Cleanse : Lose Up to 15 Pounds in 10 Days!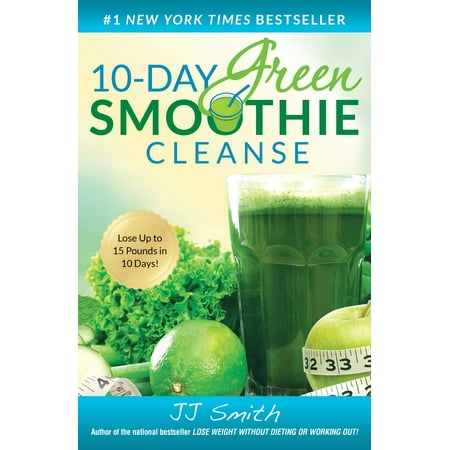 Sale :

$13.67

Sold & shipped by Walmart
Product Description

Additional Information

Reviews
Product Description
Recommends a ten-day cleansing diet for health and weight loss based on drinking green smoothies made from leafy greens and fruit juices and offers recipes for smoothies and advice on maintaining improvements when the ten days are over.
Additional Information
The New York Times bestselling 10-Day Green Smoothie Cleanse will jump-start your weight loss, increase your energy level, clear your mind, and improve your overall health.

Made up of supernutrients from leafy greens and fruits, green smoothies are filling and healthy and you will enjoy drinking them. Your body will also thank you for drinking them as your health and energy improve to levels you never thought possible. It is an experience that could change your life if you stick with it!

This book provides a shopping list, recipes, and detailed instructions for the 10-day cleanse, along with suggestions for getting the best results. It also offers advice on how to continue to lose weight and maintain good health afterwards.

Are you ready to look slimmer, healthier, and sexier than you have in years? Then get ready to begin the 10-Day Green Smoothie Cleanse!

If you successfully complete the 10-Day Green Smoothie Cleanse, you will…
• Lose 10–15 pounds in 10 days
• Get rid of stubborn body fat, including belly fat
• Drop pounds and inches fast, without grueling workouts
• Learn to live a healthier lifestyle of detoxing and healthy eating
• Naturally crave healthy foods so you never have to diet again
• Receive over 100 recipes for various health conditions and goals
Reviews
bethany2711
Great buy
Ok, so I'm doing the great green 10 day cleanse.I'm on day 2.the kale is chewy and gross.but I'm trying to convince myself if I got thru childbirth I can get thru this..the shakes really fill me up so I'm not hungry.now if I could just get past this icky kale.it really tastes awful and so chewy..blah! Let's talk again when I'm on day 7....
tkd1
I lost over 30 pounds
Best way to loss love book I still drink my favorites and eat one big salad with meat on it. Even if I eat out and gain on weekends I go back down within a week. Lost 30 pounds went from size 12 to 8 first in wedding dress is me now. The other is winter fatter
Duck60
If you do it, IT WILL WORK!
While I was waiting for my book to come from Walmart, I checked the same book out at the library. I still wanted my own so I could make notes in it. So while I was waiting for my book to come, I started the cleanse. I am on day 9. I have dropped 15 lbs. I had my nails painted w/the gel stuff in April of 2013 for my cousins wedding. When they took the gel polish off my nails one of them had split. It has been split from April 2013 to now, July 2016. That's 3 yrs. On day 9 it does not bother me at all. It has finally mended! I have had to keep it filed down to the quick. I had to keep a nail file with me everywhere I went, cause I didn't know when it was going snag something. I didn't realize the greens had so much protein in them. It also made me realize how much mindless eating I have been doing. You'll see. It works. Just make up your mind and do it. Have 1 more day. But I know I CAN'T start eating any kind of way or I will gain it back. I have way more to lose. This has been a great start.
KarenB
jj's Green Smoothies are the "bomb"!!!
I did the 10-day Green Smoothie Cleanse by jj smith with several of my coworkers and my results were -14 pounds at the end of the cleanse, a new attitude about what I put into my body and a desire to encourage others to do as I did! I lost weight AND inches. My diabetic reading went from 172 to 94. My good cholesterol has greatly improved and I feel GOOD about myself! My doctor was impressed and when I went to get my mammogram done the doctor and the technician both decided they were going to start the cleanse the following Monday! I was told by an observer that I have a passion for promoting the cleanse and should continue to share with others regarding the on-going benefits I am experiencing since I did the cleanse and now that I am doing the modified version. Girls, after I lost my first 14 pounds, my husband said he would try that "green stuff" and after his 5th day and minus 7 pounds he said the green stuff wasn't so bad after all. LOL ..Just for helping him #he would only do the Modified Version of the cleanse# I lost an additional 6 pounds! I have gone from a size 16 to a size 10 in past 2 1/2 months!! Look at God!! And thank you JJ Smith!!
Shellyisblessed247
This book is life changing
Buying this book is the best thing I've ever done for myself. I battled with my weight for years never understanding that my weight issues had a lot to do with me being an emotional eater. Although this book is small it's packed with tons of knowledge that will get you through the 10 day's and also the rest of your life. When I first bought this book, I thought there is no way that I would be able to do it but it hasn't nearly as hard as I thought it would be. This book is not just about Green Smoothies but it gives you all the tools you need to take care of your mind, body and soul. This is not a diet program or some juicing quick fix but it's a lifestyle change. My PCP has been overly pleased with my results and even more so my lab results.