Lead from the Heart : Transformational Leadership for the 21st Century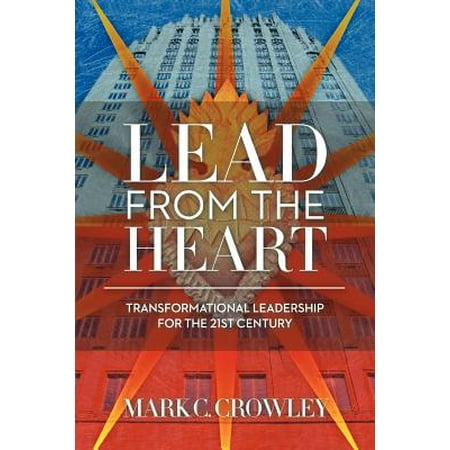 Sale :

$13.95

Sold & shipped by Walmart
Product Description

Additional Information

Reviews
Product Description
If you're a leader in America, you've got a big problem. More than half of all workers hate their jobs. In fact, job satisfaction and employee engagement have been declining for twenty-two straight years.One hundred years ago, a job and a paycheck kept workers satisfied. Now, pay barely makes the list. Employees' needs have evolved dramatically. But our leadership practices have failed to keep up.In Lead From The Heart, Mark C. Crowley presents compelling new evidence that the solution leaders need lies in the last place traditional business would seek it: the human heart. Twenty-first-century employees need to feel... valued, respected, developed, and cared for. Their work has to matter. Recent scientific discoveries tell us that it's the heart, and not the mind, that drives human performance and achievement.Drawing on decades of experience as a senior leader for regional and national financial institutions, Mark C. Crowley offers proof that leaders who intentionally engage the hearts of their employees will be rewarded with uncommon (and highly sustainable) performance and achievement. We've seen centuries of evidence of what the heart can do in sports, art, and music. Business is next.Lead From The Heart, and your employees will follow
Additional Information
If you're a leader in America, you've got a big problem. More than half of all workers hate their jobs. In fact, job satisfaction and employee engagement have been declining for twenty-two straight years.
One hundred years ago, a job and a paycheck kept workers satisfied. Now, pay barely makes the list. Employees' needs have evolved dramatically. But our leadership practices have failed to keep up.
In Lead From The Heart, Mark C. Crowley presents compelling new evidence that the solution leaders need lies in the last place traditional business would seek it: the human heart. Twenty-first-century employees need to feel... valued, respected, developed, and cared for. Their work has to matter. Recent scientific discoveries tell us that it's the heart, and not the mind, that drives human performance and achievement.
Drawing on decades of experience as a senior leader for regional and national financial institutions, Mark C. Crowley offers proof that leaders who intentionally engage the hearts of their employees will be rewarded with uncommon (and highly sustainable) performance and achievement. We've seen centuries of evidence of what the heart can do in sports, art, and music. Business is next.
Lead From The Heart, and your employees will follow
Reviews