The Shack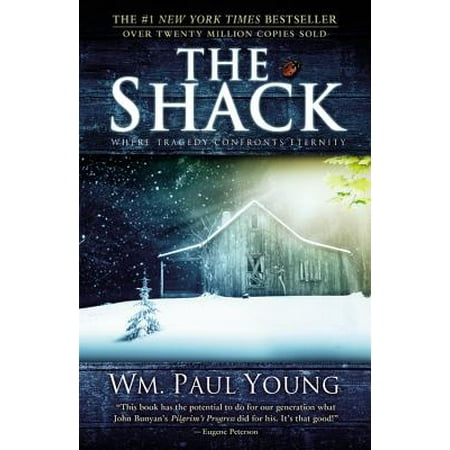 Sale :

$8.49

Sold & shipped by Walmart
Product Description

Additional Information

Reviews
Product Description
Mackenzie Allen Philips's youngest daughter, Missy, has been abducted during a family vacation, and evidence that she may have been brutally murdered is found in an abandoned shack deep in the Oregon wilderness.
Additional Information
Mackenzie Allen Phillips's youngest daughter, Missy, has been abducted during a family vacation, and evidence that she may have been brutally murdered is found in an abandoned shack deep in the Oregon wilderness. Four years later, in this midst of his great sadness, Mack receives a suspicious note, apparently from God, inviting him back to that shack for a weekend. Against his better judgment he arrives at the shack on wintry afternoon and walks back into his darkest nightmare. What he finds there will change his life forever.

Reviews
ReviewerBrad
Read This Book!
One man's amazing, biblically based, fictional portrayal of how God The Father, Son, and Holy Spirt inter-relate and how they desire to inter-relate with me. Of all the impact The Shack made on me I think the greatest is that I now look more forward than back. For example, this Easter I thought more about what Christ saved me "for" than what He saved me "from". On Good Friday, instead of mourning His sacrifice and focusing on my guilt and shame, I couldn't stop smiling while thinking about where He is, what He's doing, and what I'm gonna get to do with Him when my time in this world is complete. The Shack helped me finally look forward to Heaven! More than just standing around casting crowns day after day, I now have a picture of what it might be like to "want" to spend time with Papa, His Son, and Holy Spirit forever and ever and ever. BEWARE READING IN PUBLIC! I found myself bawling like a baby over and over again. A week after reading, I passed along my sweat and tear stained copy to a friend. After you read yours, I think you'll want to do the same.
Loveandforgiveness
Amazing!
I heard about this book through my Aunt. I bought it right away and read it in less than 2 days. I could hardly put it down. I was amazed on how well it was written, so descriptive. I became convicted in my own relationship with the Lord. It drew me to want to become closer and closer with Him. My emotions were very active. I wanted to cry and I wanted to laugh. This is an amazing story with so much truth. It will draw you closer to God, improve your relationships, and have you thinking more on the importance of forgiveness and to be quick to forgive. I love this book and telling everyone I know to read it. Thanks for letting me share.
JAMIREADS
THIS BOOK IS AWESOME
This book is an inspiration and an eye opener. It puts in perspective how God loves his children equally and without qualifiers. This book will help heal the hurts and answer the age old question of Why? I can't say enough about this book. I borrowed it and I am now purchasing it for myself to lend out to everyone I know to share the wonder and excitement of the realization I now possess.
oneofgrace
Never have I loved a book so much!!!
This is a very detailed, very real, very loving piece of work! I love this book! I found myself not wanting to put it down, luckily I purchased the book online and it came on Christmas Eve and thankfully I had the following week off and had plenty of time to read it. It had me laughing at times, crying alot of the times (some joyful and some due to sadness); I feel that every emotion I have was peeked when reading this. Everytime I had to put it down I couldn't wait to get back to it, like I had a paused a really. really good movie. I am about to pass my copy off to a really good friend and I have already told so many people I know that they have to get this book. Please, for those who find reviews helpful when purchasing itmes, I give this one 2 thumbs up, 5 stars, and 10 out of 10, trust me, you'll love it as mush as I have!
Faith
Wonderful Book
I have read this book many times and each time I read it I got something new from it. I know this is book is written as a fiction but anyone who reads "The Shack" needs to read with an open mind about hate, Love and forgiveness. Most of all, God the father, God the Son, and the Holy Spirit. This is a wonderful book and I highly recommend it. The movie is great too! I have seen it too.