Are You My Mother (Board Book)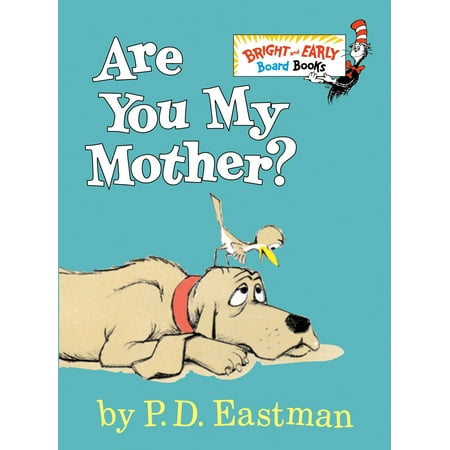 Sale :

$4.49

Sold & shipped by Walmart
Product Description

Additional Information

Reviews
Product Description
Never having seen his mother, a baby bird makes humorous mistakes trying to find her
Additional Information
This easy-to-read, must-have classic about a baby bird in search of his mother is perfect for every day!

A baby bird goes in search of his mother in this hilarious board book edited by Dr. Seuss. When a mother bird's egg starts to jump, she hurries off to make sure she has something for her little one to eat. But as soon as she's gone, out pops the baby bird. He immediately sets off to find his mother, but not knowing what she looks like makes it a challenge. The little hatchling is determined to find his mother, even after meeting a kitten, a hen, a dog, and a Snort. The timeless message of the bond between mother and child make this abridged, super-simple edition of P. D. Eastman's Are You My Mother? a must for baby showers, beginning readers, and Mother's Day.
Reviews
CheapGirl
THIS IS A BOARD BOOK!!!
The information about this book does not tell you that it is a board book. This book is not the regular size hardcover book like the description suggests. I was expecting to receive the normal sized 72 page book. NO, that is not what you get, it is a 12 page board book. I hope they update that. It is still a cute book but it is not the whole thing. I believe it is a shortened version. I'm returning it!
mommytobe55
Great book but...
This is a great book. I was read this book a lot growing up and since my baby is due soon, I figured I'd jump on the book now since it has a great price. You can't beat the price, however, it doesn't say anywhere in the description that it's a board book. I thought I was getting a hardcover book with regular pages, but that wasn't the case. I'm definitely going to keep it, I just was slightly disappointed and think that should be added to the description..
WorkingMom
Who Knew It's A Mini Book???
Thought I was ordering the normal size book, My child really wanted the book for her birthday. We received it in the mail and it's a mini book. The description online did not indicate this information!
Bbkp
Cute book overall
This was my favorite book as a kid, I remember reading it to myself all the time! So, I obviously wanted to share that with my 3 year old son.. This book is now small & made from cardboard which is good for smaller babies. But when I opened up the package it was dirty! It had blackish stuff on the sides of everything & on the front there was some kind of sticky stuff on it. I bought it "new" but for only a couple bucks I shouldn't have expected much. Never had anything shipped to me that wasn't clean. Wiped it off with Lysol wipes
Roxoverde
Not Full Size
This is the smaller, edited version with thick cardboard pages. Sturdier but not the original.