Theres a Wocket in My Pocket Dr Seusss B (Board Book)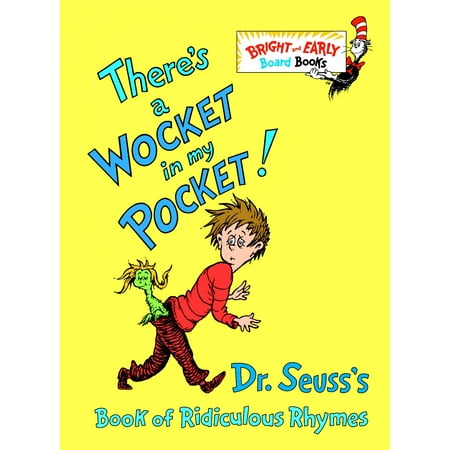 Sale :

$4.99

Sold & shipped by Walmart
Product Description

Additional Information

Reviews
Product Description
A household of unusual creatures includes the nupboard in the cupboard, the yeps on the steps, and the bofa on the sofa
Additional Information
"There's a Wocket in My Pocket" is filled with bizarre creatures and
rhymes: the nupboard in the cupboard, ghairs beneath the stairs, and the bofa
on the sofa!
Reviews
4chocolate
Classic "Board" Book
I purchased this as a gift for my daughter's teacher. The $3.00 price was good and it was listed as "hardcover" and "24 pages." When it arrived, I was surprised it was a BOARD BOOK, not the standard format. I checked the website just now and presumably the full-size format book is also listed as "hardcover" but it is 28 pages and $6. What are we missing in our book if we're missing 4 pages? This is a good value if you want a BOARD BOOK, but I would hope Walmart would differentiate better between the two books on the website.
ConnieD
Not a full size book
This is a great book if you want a small board book. I thought I was ordering a full size book. Maybe it is my mistake but I did not see where it says that it is not a full size book. Just wanted to warn you before you buy if this is not what you wanted.
momtutuboys
Perfect for little ones
My son is 2 and I have an 8 month old. This book is perfect for them. (I'd read the reviews, and was aware that they were small board books)...They love the rhymes and illustrations, yet they cannot destroy the book. I'll be able to read this book to my 2 year old, and have it survive in order to read to my 8 month old!
teachersandy
Not what I expected
These books are mini pocket sized books. This was not stated online. They are fine for a toddler, but not suitable for classroom reading.
AMBERSMAMA
please note the size
THIS BOOK IS TINY. IT'S LIKE A MINERATURE CARDBOARD VERSION OF THE BOOK. I WAS DISAPPOINTED WHEN I RECEIVED IT