Moo Baa La La La (Board Book)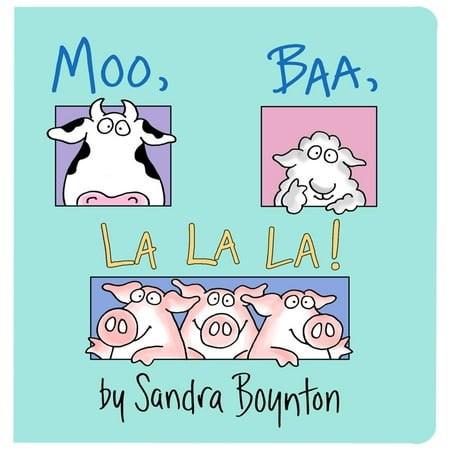 Sale :

$5.99

Sold & shipped by Walmart
Product Description

Additional Information

Reviews
Product Description
Various humourously drawn animals demonstrate the very different, and often amusing sounds they make
Additional Information
Reviews
Munkynbooboosmom
Favorite book!!
This book is both of my girls' favorite. They are aged 8 months and 2 1/2. Everynight we read 2 books. It's always this book and one more. My oldest says the animal sounds and helps me read it. She LOVES it so much. Calls it her cow book. If we don't read it she gets very upset! I love the story. The very end of the book where it says "It's quiet now what do you say?" My daughter always says "I love you!" and it's the perfect ending and perfect for right before bed. :) I love it. I have since bought more Sandra Boynton (sp?) and I love all of her books but this is definitely a favorite!
MelKlam
My son is obsessed with this book!
My 4 month old can't get enough of this book. It's the only book that can calm him down when he's upset (thank goodness we have 2 copies). He loves everything about it, the sounds and especially the pictures. It always makes him smile when I pull it out. It's a must own in any child's library.
Mamatatertot
Boynton's Best
My favorite Boynton book. One of the first books my daughter could read. Great rhyming and pictures. Still one of our favortie books to read together even though she's five. Definately a must for your reading collection. Great small size makes it perfect for infants and toddlers.
nicisita
love the books
My son and I read every Sandra Boynton book he hasevery night before bed. He loves to make the animal noises when i get to a particular animal. It is a great way to get him involved and interested in reading. We love all her books.
MummseyD
Babyish
As much as I love most of Sandra Boynton's books (especially "But Not the Hippopatamus"), this one left me disappointed. I wish I had been able to "look inside" before buying. There is no real story, just animal sounds, which my grandson is already beyond. The drawings are adorable and the colors are enticing, but it is too babyish for our needs.