Give Please a Chance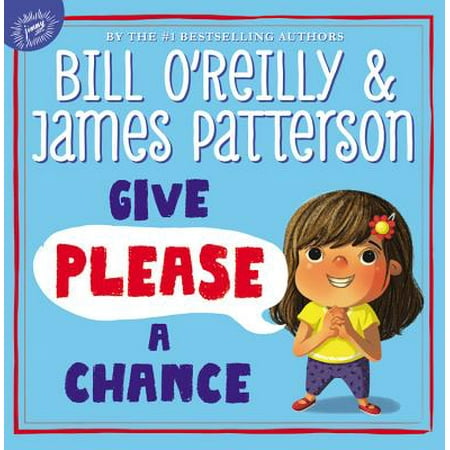 MSRP :

$17.99





Sale :

$9.38

Sold & shipped by Walmart
Product Description

Additional Information

Reviews
Product Description
In this #1 New York Times bestseller, Bill O'Reilly and James Patterson together present a beautifully illustrated, instantly classic picture book that celebrates the magic of the word -Please- for our children
Additional Information
In this #1 New York Times bestseller, Bill O'Reilly and James Patterson together present a beautifully illustrated, instantly classic picture book that celebrates the magic of the word "Please" for our children.

In this inspired collaboration, bestselling authors Bill O'Reilly and James Patterson remind us all that a single word--"Please?"--is useful in a thousand different ways. From finding a lovable stray dog to needing a partner on a seesaw, from reading a bedtime story to really, really needing a cookie, Give Please a Chance depicts scenes and situations in which one small word can move mountains.

With a vivid array of illustrations by seventeen different artists, this charming, helpful book is a fun and memorable way for children to learn the magic power of one simple word: please.

Reviews
GranyF
Love it!
I can't wait to give this to my granddaughter! She will love it! Beautiful illustrations !! ❤️❤️❤️
Pebbles2
Perfect for little readers!
A fantastic book to read to our children while they are just starting to both learn manners and read along with us. Both authors did a perfect job relating to children and the illustrating was superb! A great job all around---thumbs up! My grandchildren will love this book, as did I, can't wait to read it to them!!
Mommy
Excellent
Wonderful illustrations
Southwestdesert
Boring
This book was hastily written. Too repetitive for my 5 year old.
Chince
Give Please a Chance
A pretty good book for children (or anyone). In some ways, I see the best quality is that it gives the reader (parents or whomever) an opportunity to discuss issues with children in addition to the words on the page. Succinctly, I believe the "please" requires further interpretation.