Brightlings Interactive Plush, Purple, 15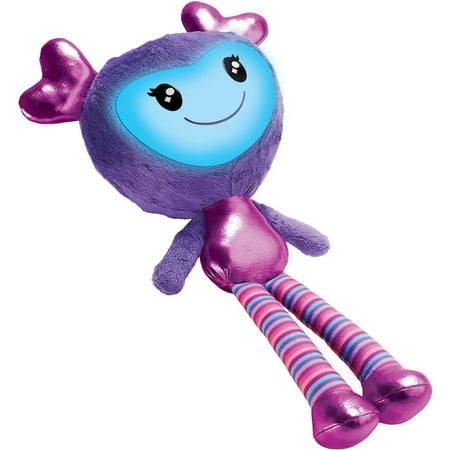 MSRP :

$23.09





Sale :

$19.97

Sold & shipped by Walmart
Product Description

Additional Information

Reviews
Product Description
Have a silly time with Brightlings! She has a ton of personality and loves to interact with you. Brightlings have three fun ways to play — play, repeat and music. She records and repeats anything you say. Then change her voice by moving her from side to side. During playtime Brightlings loves to chat and says over 100 things. Play with her on her back or stomach to activate new phrases. And when it's time to sing, Brightlings can create six styles of music, including pop, rock, jazz, opera, yodel and beat box. Brightlings is your new silly best friend!
Additional Information
Play: Brightlings loves to talk and says over 100 things, from "I love you" to "How are you feeling?" Activate new phrases by placing her in a new position.
Record: She records and repeats anything you say! Change her voice by tilting her from side to side.
Music: Brightlings creates songs in 6 different styles of music: pop, rock, jazz, opera, yodel, and beat box. Change her position to activate a new phrase.
Brightlings is for ages 4+ and requires 3 AAA batteries (included).
Reviews
tboz3434
My Kids Love Brightlings Purple!
My kids (5 year old girl and 7 year old boy) were very excited to open Purple when it came. 1/2 deduction was for it coming with dead batteries. Once opened and new batteries in it, we were ready to play with Purple. The Brightlings do 3 main things: 1) Speak dozens of cute phrases like "I'm getting sleepy" and "I love you". (2) Sings in different music types like Pop, Jazz, Rock and even yodles! (3) Will record and repeat what you say to it. My kids especially had a blast with having Purple record and repeat what they said. They thought it was especially fun to tilt her left or right and then her voice would slow down or speed up. I admit that even I played with the recording feature and had fun changing her voice. Another cool feature is that her face lights up and her mouth becomes animated when she is speaking. My daughter couldn't wait to take Purple with her to her summer daycare to show all her friends. Brightlings are very fun to play and it's a hit with the kids! [This review was collected as part of a promotion.]
Sar123
Super cute and fun!
My girls were so excited to open their brightling, which they decided to name Val. Val can do many things from record, play music beats and say many words and phrases. My 4 and 6 year Old like the record feature the best. I was pretty impressed with this as well, as the toy seems to rally mimic the tone/pitch in which you say something in. This toy gets my girls Laughing so hard! As with any toy at this age, the novelty can be short lived, but they still do play win Val on a regular basis. One thing that would be neat is if this toy could not only play music sounds, but sing songs. Maybe in a future model?! My girls sometimes have a hard time understanding the toy, seems like the volume goes down a bit in the record mode- but I seem to understand it fine. I do wish there was a volume button on it. Lastly, the record feature is awesome- don't get me wrong, but could allow for a little longer record time. Great toy! [This review was collected as part of a promotion.]
wmg13
Excellent
My granddaughters are going to love them.
RachaelH
Cute, but hard to initially use
We actually saw this in a store the day before we got it in the mail from BzzAgent. My kids thought it was adorable and were excited when they saw we got one. They thought "Purple" was "so cute with her very big head." It came out of the box about as easy as any toy these days and I powered it up and handed it right over to my 4 year old thinking she would just take it and have a blast. Well unfortunately it's not very intuitive in how to operate and interact with it. My daughter who is usually better than I am with figuring out how toys work, couldn't quite figure this one out. I had to intervene with the help of the instructions to guide her through the appropriate combinations of ear, hand, or belly pushes to get a certain response. By the time it was all figured out, she had pretty much lost interest. She does like to carry it around, but we currently have it turned off because she was frustrated with how confusing it was for "Purple" to "talk and sing." My 2 year old never even latched on at all. So while it seems like a novel idea on paper and even once you figure it out, it lacks something in ease of use that apparently doesn't translate well to the age group of my kids. [This review was collected as part of a promotion.]
patcowan
Love at first Bright
Haven't had little miss Brightling Purple very long but it's total love. As soon as she arrived that face just won me over. Oh have I mentioned I'm a grandmother? She is so much fun. My granddaughters absolutely love, love, love her. She can talk and sing and repeat what you've recorded on her (in her own voice). My hubby, alias grandpa, even recorded some things for the girls. She is a wonderful doll. So cute and intelligent, just like my granddaughters. Fun times are going on all the way around. I think the girls will have a fun with this doll for a very long time. Only problem is I need to buy another on so they can each have their own little Brightling. Wonderful product. Seems like very good quality. She is one of those toys that will fill a lot of hours with fun. [This review was collected as part of a promotion.]