The One and Only Kinetic Sand - Sandcastle Set (Colors Vary)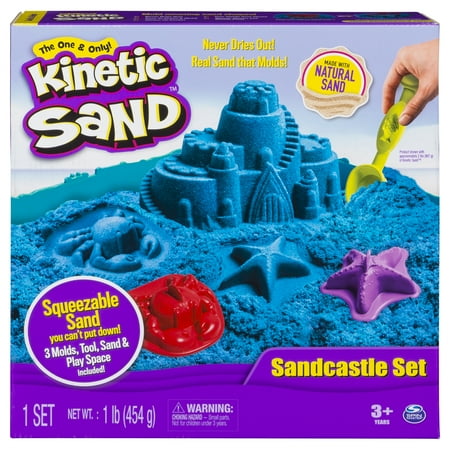 MSRP :

$19.99





Sale :

$14.99

Sold & shipped by SM Direct
Product Description

Additional Information

Reviews
Product Description
The One and Only Kinetic Sand! It's the squeezable sensory sand where you can FEEL the fun. You've seen play sand before, but you've never felt anything like this! Pack it, pull it, shape it and love it. Kinetic Sand is such a cool sand you can't put it down. It's kinetic – meaning it sticks to itself and not to you allowing you to shape and mold create impressive pieces of art with great detail! It's unique formula makes it soft and stetchy, great to touch and play while delivering non-stop fun. It oozes, moves and melts right before your eyes, flowing through your fingers like a slow-moving liquid, but leaves them completely dry making clean up super easy. A versatile compound that's an excellent creative toy for all ages keeping your kids engaged for hours. The Kinetic Sand Sandcastle set comes with 1 pound of blue sand, 3 molds, a beach tool, and a sand box to play in so they can build their own sand castle at home at home and pretend they are at the beach; it can be used indoors and outdoors no matter what the weather is outside. Because Kinetic sand never dries out or hardens, it like a magic sand, so you can create anything you can imagine over and over again.It's squeezable sand you can't put down where the creative possibilities are endless! Feel the difference with the one and only Kinetic Sand!
Additional Information
THE ONE AND ONLY KINETIC SAND: is like magic sand that sticks to itself and not to you! It oozes, moves and melts right before your eyes. It flows through your fingers like a slow-moving liquid, but leaves them completely dry.
BRING HOME BEACH SAND FUN WITHOUT THE MESS: One touch and you can feel the fun. This cool sand feels like wet beach sand but won't stick to anything but itself. That means no sand on your hands, clothes, molds, in your hair or in your bag. It leaves your hands completely dry and never greasy. Use the convenient tray; perfect for indoor play and easy cleanup!
ENDLESS EDUCATIONAL CREATIVE FUN: Stimulate children's imagination and enhance their manipulative ability. Use the included molds to to easily shape or sculpt beach themed shapes that impressively holds their shape with incredible detail. Since it never dries out or hardens, you can build again and again!
NON-TOXIC: Made with a special formula of beach sand and polymers, this addictive sensory sand is hypoallergenic, and non-toxic making it a perfect gift for indoor or outdoor play for kids aged 3+.
Reviews
msasmith7
UPC : 778988227398 - The One and Only Kinetic Sand - Sandcastle Set (Colors Vary) - PickPanda.com
Would have rated it 5 stars BUT it is WAY smaller than pictured. My child loves it though so I can't complain too much.
threekidstospoil
Hours of Non MESSY Fun!!!
We LOVE our sand. It stays together very well. Not messy at all and VERY easy to clean up. Doesn't stick to your hands like real sand does. However I do suggest looking is store it's only $14.97 on the shelves instead of the $19.99 as listed online (at the time of review)
Kaylee
Hours of Non MESSY Fun!!!
I loved this products. I wish there was more sand but they gave us enough to play with. Kids just makes a mess.
Anna
Non-messy fun! Awesome!
Bought it for my 2 year old daughter for her birthday. She loves it! Came with a tray, green sand, three shapes (castle, crab, and star) and a little shovel/rake. Just fluff the sand with your hands and it's good to go. Doesn't get hard (we left it overnight). Easy to pick up if falls on the carpet. Doesn't stick to the hands. Well, she had slightly sweaty hands, so just a tiny bit stuck. But washes off easily with warm water and soap. Just awesome!!! Lots of fun!
disappointed
Awesome gift!
Kids love it, easy to pick up even in the carpet! I enjoy playing with it as well!