Air Hogs, Helix Race Drone, 2.4 GHZ, Red RC Vehicle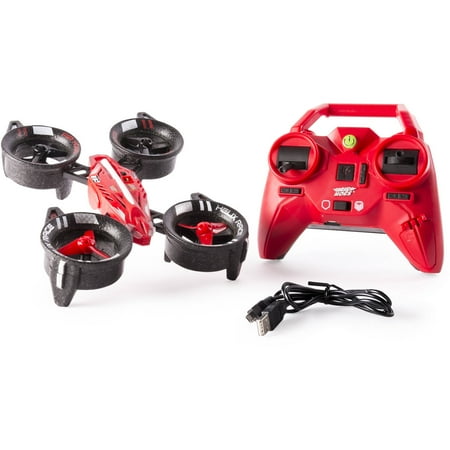 Sale :

$39.99

Sold & shipped by Kids Warehouse
Product Description

Additional Information

Reviews
Product Description
Own the skies with the Helix Race Drone from Air Hogs! This high-speed racing drone has Beginner and Advanced modes to challenge each pilot as they develop their RC skills. Master aerial tricks thanks to the quick stunt button and when things don't go exactly as planned you're covered by the crash-resistant exoframe. 2.4GHz remote communications allows you to push the limits even further. Race to any mission with the Air Hogs Helix Race Drone!
Additional Information
Quick stunt button and crash-resistant exoframe technology allow you to push the limits.
2.4Ghz remote communication provides high-performance, responsive controls.
Super stable flight in both Beginner and Advanced modes.
Helix Race Drone is for indoor and outdoor use, ages 8+ and requires 6 AA batteries (batteries not included).
Reviews
Brunsintheoven
This thing has some zip!
While unboxing the drone it almost felt fragile to me. It's so lightweight and was packed in so tight I was hoping I didn't break it. Once out of the package I got everything plugged in and let it charge overnight, with intentions to try out the next day. I don't have a whole lot of experience with remote control things. So I was having an issue controlling it. I could get it up in the air, once I started to move forward it was very fast! So most of the time with me driving, it was only up in the air 5 to 10 seconds before I crashed into something and had to start all over again. My husband had much more success with it, and had no issues with the controls. He was able to maneuver correctly. We were both impressed with how fast it was! All in all, the drone seems very well made & put together. I crashed & burned A LOT and it's still intact and in working condition. At the price point it's listed at, I would probably purchase this for a child or family member that's asking for a drone. [This review was collected as part of a promotion.]
kaikapoo
Waaay too much fun...
The Air Hogs Helix Race Drone was a HUGE hit in our home. At first glance, my son 11 year old son almost couldn't contain himself. From then on, it was love at first touch. Both my husband and son couldn't get enough of it. Not as loud as I imagined it would be; which was nice. I was a little surprised at the fact that it is essentially made from Styrofoam and plastic. Makes sense though. Keeps it light and simple, which is great for loss of control that may result in minor collisions. Ease of use and functionality hit some high marks for us. Unfortunately, my review doesn't necessarily reflect that, and here's why... After 2 weeks of continuous use, no major collisions and fully charged batteries, it just stopped working a few days ago. The lights go on to show there's power on bother the remote and the Drone, but it is non-responsive otherwise. Although that is a huge bummer and left a bitter taste in our mouths, it most definitely still deserves a solid 3 stars!! Lots and lots of fun!! [This review was collected as part of a promotion.]
wrighty
Drone for all levels
The Air Hogs Helix Race Drone is the perfect gift for a gamer, child or adult. Even at the beginner level, it takes some practice to fly, take off, and even do tricks. Hang on to the directions since they are needed for many troubleshooting issues and to do tricks. The controller is very sensitive, so it takes some getting used to. All ages enjoy the chance to control something like a drone and try to make it do tricks. Pros: Once you get the hang of it, it flies easily. It looks deceptively fragile, but ran into things and did not break. If you follow the directions, tricks and things are easy to complete. Cons: The charging does not last long and limits use to at most 20 minutes at a time. Due to its light weight, fan wind or outside wind can make it travel to places hard to reach and quickly. The charging with 2 cords is a bit complicated and seems unnecessary, You have to manually flip it over if it is upside down. 1 propeller stopped periodically. [This review was collected as part of a promotion.]
LittleP
Not sturdy
The first day that it was used pieces fell off. We had to tape them back on. I am very dissatisfied with this product.
Pickgrinder
2nd flight no go
First time buying a quadcopter through Walmart. Figured Air Hogs was a good brand. Worked outta the box, but lost motor after 1st flight. Recharged battery, followed manual instructions for trouble shooting. No go unfortunately. I have flown X5 quads for same price that lasted longer. Hoping it's just a manufacture fluke, opted for replacement and gonna try a 2nd time.