Zoomer Chimp, Interactive Chimp with Voice Command, Movement and Sensors by Spin Master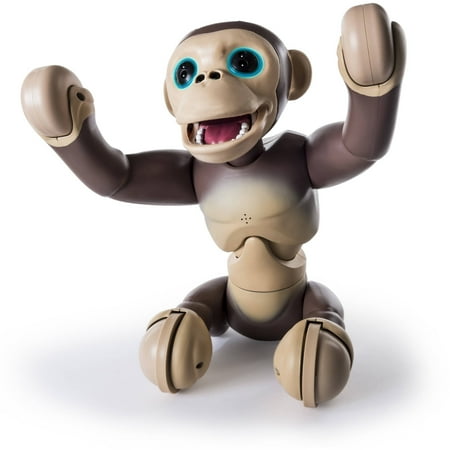 MSRP :

$119.99





Sale :

$64.23

Sold & shipped by Walmart
Product Description

Additional Information

Reviews
Product Description
"The Zoomer Chimp is an entertaining, unpredictable and interactive companion. It balances and moves like a real chimp, with rolling hands and feet to keep it balanced and moving from place to place. Responding to voice commands, the chimp recognizes phrases like ""do a flip"" and ""go bananas"" and acts accordingly, performing over 100 possible tricks and dance moves. This Zoomer toy even has moods and changes the color of its eyes and facial expression to show you its current personality state. A battery is included so you can get started playing right out of the box. It also comes with a charging cable for the battery and a reference guide and instruction booklet so you can get the most out of your experience. The Zoomer interactive chimp is recommended for ages 5 and older, providing that the whole family can share and enjoy."
Additional Information
Zoomer Chimp moves like a REAL chimp! He rolls, flips, move on all fours, and stands all on his own! You can even get him to follow you!
Train Zoomer Chimp with 10 easy-to-remember voice command, including "Stand", "Flip", "Let's Dance","Chimp Talk", and "Go Banana's"! He's designed with Progressive Play, so he won't always respond the same way!
Zoomer Chimp has a life of his own — this interactive Chimp has colour changing eyes, a moving his face, and wild Chimp sounds to show you exactly how he's feeling!
Zoomer Chimp is for ages 5+ and requires 1 LiPo battery (included).
Reviews
Gmalu
Zoomer Chimp
My Grandson loves the new tricks that the Monkey comes up with and the "guard" trick is really scary, something a 8 yr old would really enjoy. This is a interactive toy that the child can teach and search out new things. We have had one for a year and purchased another for a birthday present.
Greatgift
Perfect gift
Bought for my grandson's 11th birthday. He and his 7 year old sister love it. Great fun for the whole family. High quality and kinda lifelike.
Mommyof2boys
Birthday Gift
My husband purchased this for our son as a gift for his 7th birthday. It is a really cute toy. Honesty though for the price it doesn't live up to the hype. His battery life is roughly 15-20 minutes fully charged which takes about a hour an a half to get. His eyes don't flash yellow like the box says when the battery is low, it just turns off. My son loved it for the first two days now its just sitting around. We've had the toy for a week. I wouldn't recommend it because I believe it doesn't justify the price.
Ozzie
Great Toy, Can be improved
6/27/2017 Got the zoomer chimp last November for my 5 years old daughter. The chimp was great fun for all the family Adult and Kids alike. Fun to see it go bananas, Summersault, jump across the room, get up and dance etc However after some weeks I started noticing that the chimps response to voice commands was getting less accurate, sometimes it wont respond to voice commands, sometime it does something other than the voice command. However other times it still responded correctly. Finally however, it could no longer stand up. its still moved across the room but each time it makes a move to stand erect, it just stays down there and then go to sleep after a while. Dont know what happened to it. my guess is my daughter probably handled it too rough and messed up the servo motors. I think one of the major drawbacks is that you have to push the button on the head to give it a command, this is easier for an adult to do than a 5 year old. I think it willl be much better if the chimp came with a wireless remote control device that will have a button for each command and also accept voice commands. This way you or your kids wont have to handle the chimp while it is moving about. I have just ordered another one to replace the broken one from ebay.
sfenner
Zoomer Chimp is a must have for the whole family!
Zoomer Chimp is an amazing robotic animal from the popular "Zoomer" line. Zoomer Chimp is easy to use almost right out of the box. I say "almost", because he needs a quick charge before you play with him. His eye will turn blue when he has a full charge. Immediately, Zoomer Chimp will have you laughing and amazed at what he can do. The first time you turn him on, he is rolling around on his arms and legs or just his legs! That's right, Zoomer Chimp can stand up on his own and totally balance himself of two legs. He is funny because he speaks, wiggles his butt and dances. If you have pets, he will interact with them too. Zoomer Chimp recognizes our dog and will bark at him. The fun never ends, because Zoomer Chimp is very intuitive and is always learning from your interactions. The more you play with Soomer Chimp, the more he learns and does. Zoomer Chimp is fun for any age. He can entertain the whole family. [This review was collected as part of a promotion.]