Zoomer Hedgiez, Flip, Interactive Hedgehog with Lights, Sounds and Sensors, by Spin Master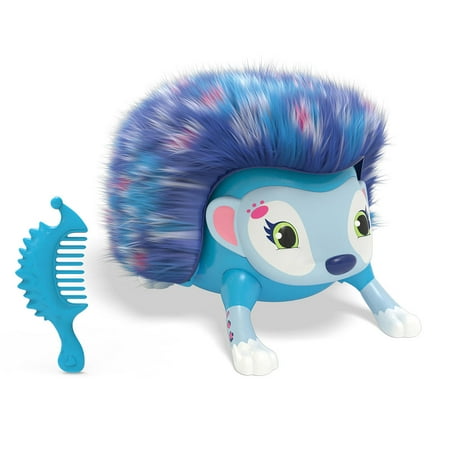 MSRP :

$29.49





Sale :

$5

Sold & shipped by Essential Supply
Product Description

Additional Information

Reviews
Product Description
Zoomer Hedgiez like Flip are cuddly pet hedgehogs that want to roll home with you. They can walk, do headstands and even somersault around. Press their nose to make them sneeze, whistle or give you a kiss. Each Hedgy has their own unique style complete with soft pet-able, brush-able fur and comes with a hedgehog shaped comb out of the box so that you can keep their fur in top condition. Flip in particular is playful and outgoing and has a well-developed sense of curiosity. She's a great match for children who love exploring, playing and learning as much as she does. These furry friends love to be tickled and petted. They have pretty light-up eyes and are always ready to play. Flip and the other Zoomer Hedgiez even have secret tricks for you to unlock. Zoomer toys make wonderful playmates and are full of giggles.
Additional Information
Zoomer Hedgiez, Flip, Interactive Hedgehog with Lights, Sounds and Sensors, by Spin Master

Zoomer Hedgiez really move on their own, making cute sounds while they perform tricks. When you pet their heads they&rsquo
ll walk, roll, do headstands, and more!
Hedgiez love to cuddle &mdash
tickles their bellies and they&rsquo
ll curl up and giggle!
Each Hedgy has soft, pet-able fur, perfect for brushing. They even come with their very own comb.
Zoomer Hedgiez are for ages 4+ and require 4 AAA batteries (not included).
Reviews
DanaCamp77
Great Toy for the Younger Set
With a 5 year old boy and a 9 year old girl, we allowed them to open it together and experiment. It required 3 AAA batteries that were not included, so you might want to make sure you have them on-hand. Our daughter was able to sort out the directions and get it working immediately, and the boy quickly learned the steps as well. For background, both of these kids are very much into interactive video games, and the boy enjoys playing with cars. Our daughter lost interest fairly quickly, after she ran through the repertoire of activities. The younger one, however, took an instant delight with this toy, and I think the limited amount of things the Flip does was actually a plus, since he was not overwhelmed with too many choices. He instantly adopted the Hedgie Flip, and invented lots more things to do with it. It has become his favorite toy, and he even takes it to bed with him every night. [This review was collected as part of a promotion.]
steveandamy52
She love Flip!
This Zoomer Hedgiez product says it's intended for children ages 4 and up and my 4-year-old loves it! She likes the soft fur and cuddles him often even though he's not a squishy toy. She also enjoys combing his fur with the included comb. I feel like the inter-activeness is limited, especially given the retail cost. Sometimes it will flip when you pet it and sometimes it won't. It does giggle when you rub it's belly. The Hedgie doesn't say very much that's distinguishable other than "hello." My biggest issue is the bright green glowing eyes. Everyone agrees that they're a little creepy, so much so that my 10-month-old son is terrified of the toy when it's turned on. He immediately starts crying and looking for me or mom to hold him. I realize this toy isn't intended for his use, but it's not easy to have a toy in the home that scares your child so much when someone else wants to play with it. Given that it only flips on hardwood in our home, that further limits the places my daughter can play with it. All in all, it's a great toy that she enjoys, but if you have a skittish child or infant in the home, it may be best to purchase something else. [This review was collected as part of a promotion.]
MommyOv3
Cute
This is cute, my 2 yr old granddaughter is still a little scared of it when it looks at her because the green lit up eyes do look a little freaky. Only moves on smooth surface but will flip on carpet but won't land back on its feet, so you'll have to fix it every time but no big deal. It has certain spots to touch it to have it do different reactions, the nose twitches, so cute! And it will put itself in sleep mode after a few minutes of no touching...pretty good buy, might get another in a different color just so she will have 2 tumbling around..might be more fun for her..we'll see :)
Waltersj77
Cute, for awhile
My two girls ages 4 and 8 were thrilled to get this hedgehog and couldn't wait to get it out of the packaging. It required a screwdriver and some batteries to get it going and then we were in business. The noises are cute and the flips seemed to work every time. The girls played with it for awhile, but then got bored with it. They played with it for about 30 minutes the first day and then brushed it's hair and played with it a little bit the second day. I don't think they have picked it up again since. The tricks are the same and the toy isn't cuddly enough to really be played with as a stuffed animal, so they lost interest pretty quickly. Overall, a cute toy and it works as it is supposed to, but it doesn't seem to be able to hold their interest very long with it's limited tricks and noises. [This review was collected as part of a promotion.]
krw64633
Flipping for Flip!
I am very impressed with this Zoomer Hedgiez Interactive Hedgehog by Spin Master! My niece is absolutely in love with "Flip!" Flip can do lots of little tricks like little rolls, his eyes light up a neon greenish yellow color, Flip's nose wiggles, and the coolest part is that Flip has a few different moods. Flip responds to touch. It even comes packaged with a comb. My niece loves brushing Flip's fur. I love how bright and colorful this toy is! The only part of the toy that I do not absolutely love is that it takes 4 AAA batteries. My niece has already hinted that she thinks Flip may need a friend and or two and suggested Dizzy or Whirl! :) [This review was collected as part of a promotion.]