Zoomer Hedgiez,Tumbles, Interactive Hedgehog with Lights, Sounds and Sensors, by Spin Master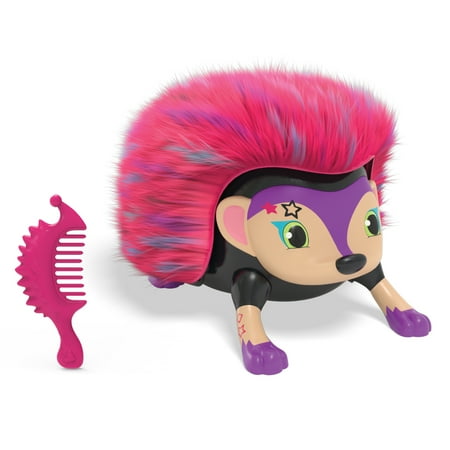 MSRP :

$54.99





Sale :

$26.15

Sold & shipped by West End Toys
Product Description

Additional Information

Reviews
Product Description
Zoomer Hedgiez Tumbles are cuddly pet hedgehogs that want to roll home with you. They can walk, do headstands and even somersault around. Press their nose to make them sneeze, whistle or give you a kiss. Each Hedgy has their own unique style complete with soft pet-able, brush-able fur and comes with a hedgehog shaped comb out of the box so that you can keep their fur in top condition. Tumbles in particular is energetic, vibrant and has a adventurous nature. She's a great match for children who love exploring, playing and learning as much as she does. These furry friends love to be tickled and petted. They have pretty light-up eyes and are always ready to play. Flip and the other Zoomer Hedgiez even have secret tricks for you to unlock. The interactive hedgehog makes a wonderful playmate and is full of giggles.
Additional Information
Zoomer Hedgiez really move on their own, making cute sounds while they perform tricks. When you pet their heads they'll walk, roll, do headstands, and more!
Hedgiez love to cuddle — tickles their bellies and they'll curl up and giggle!
Each Hedgy has soft, pet-able fur, perfect for brushing. They even come with their very own comb.
Zoomer Hedgiez are for ages 4+ and require 4 AAA batteries (not included).
Reviews
Princesskami2001
Best Zoomer toy we own
We got "Tubmles" who is supposed to be a hedgehog. She is purple, black and pink. She has cute tattoos on her leg, above her eye, and cheek. She reminds us of a rockstar. She has green LED eyes that light up. Her fur is soft and she comes with a comb. When we opened the box some of her fur was shedding. It requires 3 AAA batteries which are not included. It makes weird cute noises. Some things it says is "hello, oh! Ahhh, num num num, ta dah, mwaw." Sometimes it will sing. When you rub it's belly it will giggle. If you rub its forehead it will do a somersault or a handstand. It works better on hard floor. If you use it on carpet, sometimes it cannot complete its roll. One thing I don't like is if you are holding it and it starts to roll, your fingers can get pinched. Overall this is the best Zoomer toy we own. I have 3 girls ages 9, 6, and 2. They all love the toy and fight over it. We have other toys by Zoomer, the dino and puppy which in my opinion are boring toys. [This review was collected as part of a promotion.]
Acole
Won't work!
I have tried 3 sets of brand new batteries and this thing will not work at all!
wpb2012
Cute toy
It does everything it says it does. Makes cute noises, sneezes, giggles, rolls over, does hand stands, etc. My 4 year old loves it.
sck2000e
Cute robotic toy.
Worked as advertised. Grandkids loved it for Christmas.
RebelLaura
Read the instructions - then have fun!
At first glance, my 7 year old found it a little confusing. It comes with a comb and she thought she was just supposed to watch it roll and brush its hair. However, after I read the directions on what prompts cue which sounds and movements, the fun factor ramped up. It flips, rolls, laughs, sleeps, cries, sneezes, and even does a cute little beat box rap (my kid's fave). Its sounds are randomized enough that they seem pretty organic and, after about 20 minutes of play, kiddo was kind of in love with the little creature. Before unboxing, I thought this would be a good solo-play toy for my only child, but it's more fun if a couple of kids or people are involved to marvel at the tricks. Definitely a cute little robot-pet. [This review was collected as part of a promotion.]