Brightlings Interactive Plush, Teal, 15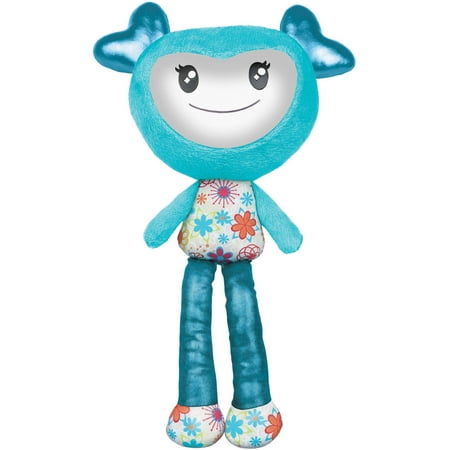 Sale :

$32.3

Sold & shipped by Walmart
Product Description

Additional Information

Reviews
Product Description
Have a silly time with Brightlings! She has a ton of personality and loves to interact with you. Brightlings have three fun ways to play — play, repeat and music. She records and repeats anything you say. Then change her voice by moving her from side to side. During playtime Brightlings loves to chat and says over 100 things. Play with her on her back or stomach to activate new phrases. And when it's time to sing, Brightlings can create six styles of music, including pop, rock, jazz, opera, yodel and beat box. Brightlings is your new silly best friend!
Additional Information
Brightlings, Interactive Singing, Talking 15" Plush, Teal, by Spin Master
Play: Brightlings loves to talk and says over 100 things, from I love you to How are you feeling? Activate new phrases by placing her in a new position.
Record: She records and repeats anything you say! Change her voice by tilting her from side to side.
Music: Brightlings creates songs in 6 different styles of music: pop, rock, jazz, opera, yodel, and beat box. Change her position to activate a new phrase.
Brightlings is for ages 4+ and requires 3 AAA batteries (included).
Reviews
Mommyshops
A Little Bit of Sunshine!
She's adorable. I hope my kid loves her. I prerecorded a greeting with her name so it will say that when she unwraps it. The purple was would have been less expensive; but this one is brighter and cheerier!
PaganaSnax
Top notch Campaign for Brightlings!
My girls were so excited when this came in the mail, that they immediately insisted on opening the box. All the features worked perfectly. You can try it in the box on "try mode" or remove the battery pack behind the head and switch to "play mode". Batteries are included, so you can play immediately. It comes with three modes: talk, record, and sing. When it speaks, it's face lights up green, and it's mouth moves. In record mode, it lights up red while recording and plays your voice back. In sing mode, it sings different types of music such as jazz, rock, beat box, etc. Although the packaging says age 4+, kids of all ages (and even some adults) will enjoy playing with it. My girls are 9 and love it! The most adorable option on the toy is bedtime. When you lay it down, it starts yawning, says it's tired, and goes to sleep (shuts off). So you don't have to worry about it making noise, while your little one sleeps at night. [This review was collected as part of a promotion.]
jcmacrye
Across the board a winner!
This product is totally loved by all my kiddos each has favorite features! We might need to purchase one for each of them. Brightlings have really fun and hilarious music modes including: opera, yodeling, and beat boxing. My one year old adores the music modes and claps and babbles with it. He also enjoys the light up face and that the light color changes. The witty humor and sweet voice really bring my 4 year old in. Her favorite thing is when the Brightling falls asleep and snores and makes sleep noises, she giggles so much. She has also enjoyed this as a cuddle toy at bedtime and I love that I can switch it to the off position super quickly and easily so it doesn't disturb her during the night. I wasn't sure if my six year old would enjoy this but the recording mode really grabbed her. She thought it was awesome to hear her own thoughts come out of the toy. And once she figured out how to speed up or slow down the voice recording hilarity ensued. I enjoyed watching her get creative and the loads of laughs we shared together! Definitely a family favorite toy that will get tons of playtime from all of the kiddos. [This review was collected as part of a promotion.]
chuckthomas
I am impressed!
The Brightling is pretty brilliant. He/She/It has a very sweet voice that my 5-yr old girl seems to love the most. When it says "I love you" and "I'm getting sleepy" she gets so tickled. Also the face/mouth, simple as it is, has a seemingly very sophisticated set of expressions and talking mouth movements that make it seem sweet and personal. It does take a while to figure out all her attributes, which I think could be a challenge for a little if a parent isnt showing him/her all the things this creature can do (i.e. turn her upside down, lay on back, spin her around, music mode changes, etc.) I think she's a brilliant mashup of previous generations of toys. My only suggestions are to make it have a "sleep" setting and also a volume button. I received a Brightling as a promotional program from the Spin Master company. Love their stuff! [This review was collected as part of a promotion.]
gnjabzz
Daughter loves it
I've had my 7 year old daughter playing with this doll for more than 2 weeks now and she has really enjoyed playing with it. From its out of the blue comments, that do become somewhat repetative, to recording herself and changing the pitch on playback; she has thoroughly enjoyed it. In her words, she likes "everything about it". From a child's perspective, the toy seems to be a huge hit. From a parents perspective, the only problems that I've seen with the doll are that there does not seem to be a way to turn the volume down and the sayings do get repetative and annoying at that volume. Overall though, trying this toy out has been a huge success. It is a very cute doll and the quirky sayings can be quite amusing but can get repetative. It has kept the attention of my daughter longer than most toys do. [This review was collected as part of a promotion.]