Brightlings Interactive 15" Pink Plush with Sound, Music, and Phrases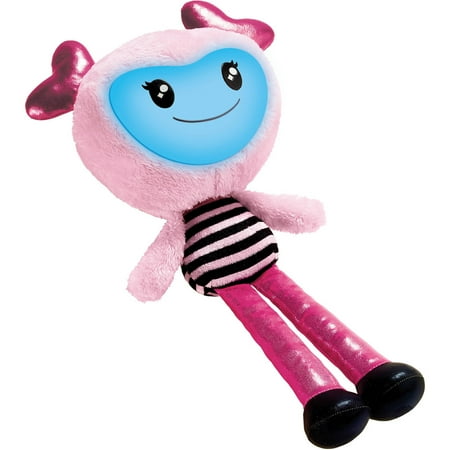 Sale :

$19.9

Sold & shipped by SaveTronix
Product Description

Additional Information

Reviews
Product Description
Have a silly time with Brightlings! She has a ton of personality and loves to interact with you. Brightlings have three fun ways to play — play, repeat and music. She records and repeats anything you say. Then change her voice by moving her from side to side. During playtime Brightlings loves to chat and says over 100 things. Play with her on her back or stomach to activate new phrases. And when it's time to sing, Brightlings can create six styles of music, including pop, rock, jazz, opera, yodel and beat box. Brightlings is your new silly best friend!
Additional Information
Brightlings, Interactive Singing, Talking 15" Plush, Pink, by Spin Master

Play: Brightlings loves to talk and says over 100 things, from &ldquo
I love you&rdquo
to &ldquo
How are you feeling?&rdquo
Activate new phrases by placing her in a new position.
Record: She records and repeats anything you say! Change her voice by tilting her from side to side.
Music: Brightlings creates songs in 6 different styles of music: pop, rock, jazz, opera, yodel, and beat box. Change her position to activate a new phrase.
Brightlings is for ages 4+ and requires 3 AAA batteries (included).
Reviews
SaraK
Cute and Fun!
This was a surprise gift for my 6-yr old (not something she asked for) but she has said that it's one of her favorites. Really cute and she has laughed and enjoyed playing with it consistently. The record feature is a big hit, as is the ability to slow down or speed up what you've recorded.
vshults
Excellent Transaction
Everything arrived in great condition. Shipping was handled quickly. No problems at all.
Cute
Cute
This is a cute toy and my Granddaughter likes it. It talks a lot. It has been hard for her to record on. I almost returned it as I could not get it to work. The batteries were dead, changed them and now it works fine.
SweetStrawberry1
I have recommended to several of my friends.
Absolutely sweet gift for my Granddaughter. Repeats voices and records voices. The cutest thing I have purchased since ELMO! I give this a 10!
Gayle
Gayle
The body of the doll is very small for the head. When I tested it, one phrase sounded like "you're a poopy head". Dont't think my 3 yr old great granddaughter needs to learn this Will be returning it