Text Cool, Bracelet Studio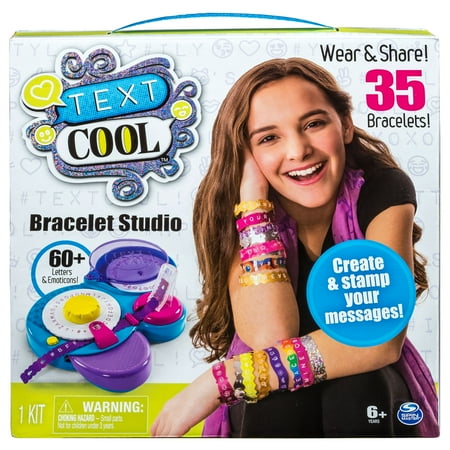 MSRP :

$24.99





Sale :

$20.4

Sold & shipped by Walmart
Product Description

Additional Information

Reviews
Product Description
Kids of various ages can turn their favorite messages into a fashion statement with the Text Cool Bracelet Studio. With it, they can create customized pieces they can wear on their wrists. It is a wonderful choice that puts their creativity skills to the test. This kit is the coolest way to make text message bracelets to wear and share with friends. Children can create and stamp their own messages, hash tags or coded texts just for themselves and loved ones. Let them choose from an assortment of 35 colorful, patterned bracelets to find what meets their personal style. It is easy to use. They turn the letter wheel to select the message and then press and reveal the custom-made item. They can even accent their bracelet with over 30 emoticons. This bracelet making kit makes a wonderful gift.
Additional Information
Turn texts into a fashion statement you can wear on your wrists with the Text Cool Bracelet Studio!
Choose from 35 colorful, patterned bracelets and use the Text Cool Wheels to press and reveal your personalized texts!
Accent your bracelet with custom messages and over 30 emoticons!
The Text Cool Bracelet Studio is for ages 6+. No batteries required.
Reviews
ILuvsales2
Girl fun with friends.
How cute and so easy to use with hardly any set up. Comes with two cams. One with emojis and one with letters. These cams insert easily and with a push of a button snaps off. There are a set of 35 brackets of all different colors and patterns. Snaps are also included of different colors for easy closure of each bracelet. All the bracelets, closing snaps and cams store in built in compartment. Just think, an interactive toy that needs no batteries and hours of fun. I love that they sell replacement packs of bracelets and closing snaps for this fun toy. The replacement pack comes in a 3 pack set. Since they do use them up fast while having fun. I am going to order two replacement sets. The only thing that the kids did not like was the light colored ones like the yellow which makes it hard to see the white letters. They liked the conttrst of the dark colors with the white letters. The grand girls and their friends loved doing this together and making ones to wear together.
cat245
Excellent Bracelet Maker!
After looking for something to get for my niece's birthday, I saw this bracelet maker and thought that this will be a great birthday present for her. I found the product on Walmart Spark Review. My niece has just turned six, and I thought that this would be a great birthday present for her. When she opened her present, she was so amazed at this that she wanted to open it right away. We took out all of the items and set the bracelet maker up. All the girls picked out their color and each one of them came up with what they wanted to put on their bracelet. This Text Cool Bracelet Studio has many different letters, shapes, and Emoticons. It did not take long for all of the girls to make their bracelet. They all loved making their own bracelet and they had something to take home that they had made at the party. I was very thrilled that my niece was delighted with her new Cool Bracelet Maker! I definitely recommend getting this Bracelet Studio. You will not be disappointed.
livetoshop2009
cute and easy craft
My 8 year old loved this bracelet maker. It was super easy to use. Comes with a full alphabet disk and a disk with different symbols. Some examples of the the symbols are a butterfly, heart, star, smiley faces, etc. It also comes with 35 bracelet and clasp. The bracelets themselves are almost like a thin metallic plastic, they come in a great assortment of colors and designs. The clasp is kinda the downfall it's just a disk that you insert into the holes of the bracelet, but I have yet to figure out how to make it stay. My daughters bracelet keeps falling off. Another tip when using the bracelet maker to make sure you press the pedal down with a good pressure and look to see if the bracelet advances otherwise we had some overlapping image's. Overall I think this is a fun activity for your little crafter. This would also be great for a slumber party activity and a keepsake.
mommaceta5
Basic little craft project
I selected this product to check out and give my honest opinion about it as a Walmart Spark reviewer. This item is listed as being appropriate for children age 6 and up. I think this is definitely an easy craft project for young children to do. I tried this out with my 11 year old daughter- it was simple for her. The manufacturer recommends "adult supervision" but for my daughter, she didn't need me for anything more than company and to ooh and aah at her finished bracelets :D The few parts go together easily, has storage for all the pieces to keep it neatly together, the instructions are easy to follow pictures with plain language directions as well underneath each picture. My only complaints are: that there should be different size bracelet strips. The kit comes with 35 strips all of the same size. My daughter lamented how she wished she could make larger bracelets for her friends and even some adults (including me :). The bracelet will fit snuggly on about a 6 1/2" wrist. My other complaint- it doesn't tell you in the directions but you can only fit 14 characters and spaces on the bracelet from hole to hole (the closure snap goes in the holes) so be sure to plan out your words/design to account for that in advance. My daughters first attempt at making a Text Cool bracelet she tried to 'text' out my whole name but ran out of room before she could finish spelling it out (see picture below). The kit comes with 2 changeable text/character wheels...perhaps the manufacturer could make it so the letters of a word can be 'texted' closer together to be able to fit more words on a bracelet. The bracelet automatically feeds forward after each letter/character so you can't really control the spacing. All in all, my daughter and I enjoyed doing this basic little craft project. It kind of reminded me of the days when I was a child and we would use one of those plastic label makers and stick the labels on us. With this kit, kids can make cute little bracelets they can wear and give to friends.
Jewellzzz
My daughter loved it!
The text cool bracelet studio makes 35 bracelets of many colors and patterns. It has a machine that "stamps" letters or emojis on the colorful bands. I surprised my daughter with it and it kept her busy for a couple hours on a rainy day, making bracelets to hand out to friends with invitations to her birthday party. She is 9 and completely put it together and needed no help. I wish they sold refills. It was a big hit. I might get another one for refills for the next sleep over she has.