Paw Patrol Zuma's Hovercraft, Vehicle and Figure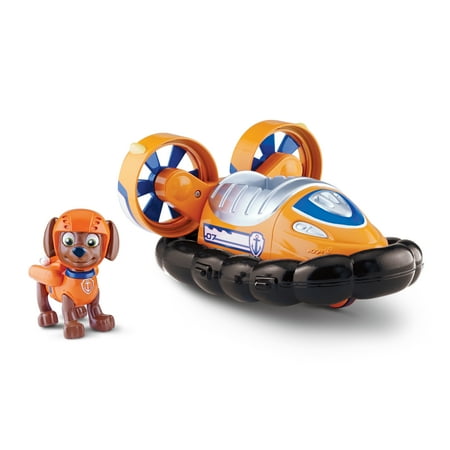 Sale :

$12.99

Sold & shipped by Walmart
Product Description

Additional Information

Reviews
Product Description
Whether you float or hover you'll discover the action-packed Paw Patrol adventure of Zuma's Hovercraft! Save the day with this articulated pup and vehicle combination! It's loaded with real working wheels and snap-fit fans that spin when you activate them! Race to the rescue with Zuma and the rest of the Paw Patrol by collecting the entire line of Paw Patrol vehicles! Together, your child's imagination will be lit up with pup inspired rescue missions full of friendship, teamwork and bravery. Choose from Chase, Marshall, Skye, Rocky and Rubble, each with their own unique transformation! With Paw Patrol there's no job too big and no pup too small. If danger is near just give a yelp, the Paw Patrol is here to help with Zuma's Hovercraft!
Additional Information
It's Zuma to the ruff-ruff rescue in his Hovercraft with real working wheels!Zuma's Hovercraft has snap-in fans that really spin!Collect each lovable Paw Patrol character and work together as a team! Marshall, Zuma, Skye, Rocky and Rubble all have transforming vehicles!Zuma's Paw Patrol Hovercraft Copter comes to the rescue of Paw Patrol fans ages 3+.
Reviews
Ssherman
Christmas gift just delivered and paid more
Ordered 12/4/18 and just received, but paid much more. Shouldn't I get sale price since it was just delievered? I don't know how to do it online, and I'll call Walmart to ask for credit, but we hope our 3 year old grandson loves it. We'd not complain about paying extra, but it can't hurt to ask. If he doesn't love it he can return and get what he wants, but his Mom won't be happy. He's 3 and loves PAW Patrol, Puppy Pals and a newer one I can't remember right now. I just know we're not watching it lol.
RachelleW
PAW Patrol
My granddaughter is two and she loves playing and watching PAW Patrol. This item is not to small, so you dont have to worry about choking.
Jan
PAW Patrol
It's exactly what my 3-yr-old asked for for his birthday.
HappyMamma
PAW Patrol
The car doesn't really do anything. It's ok for three year olds that love paw patrol. There's no batteries required which is good, however a little older kids can quickly get bored with it.