Air Hogs Helix Video Drone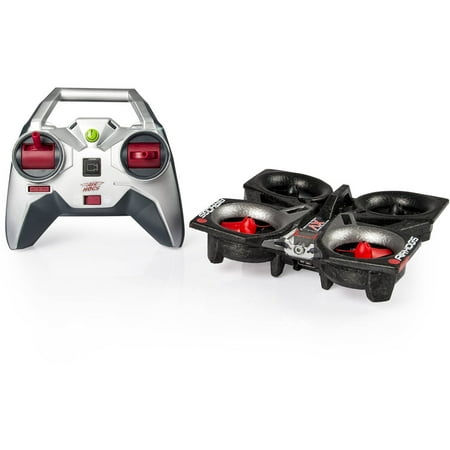 Sale :

$55.8

Sold & shipped by Quick Supply
Product Description

Additional Information

Reviews
Product Description
Get ready to capture incredible cinematic aerial footage with the Air Hogs Helix Video Drone! This ultra performance video quad-copter has a high-speed, 60 fps camera to capture fast moving objects. As you fly, you'll marvel at this agile, responsive and extremely stable quad-copter. Hit record and the Video Drone will start capturing mind blowing aerial footage! It's aggressively maneuverable and incredibly fast with four ducted fans for agile performance and strong durability. With onboard gyro-stabilization and 2.4 GHz of communication, instant in-flight response is always at your fingertips. Capture mind blowing cinematic aerial footage with the Air Hogs Helix Video Drone!
Additional Information
This product may require registration with the FAA prior to operation. To learn more, please visit www.faa.gov/uas/registration

Air Hogs Helix Video Drone:
Capture the most incredible aerial footage with the Air Hogs Helix Video Drone
This video quad-copter has a 60 fps camera to capture high quality footage
Hit record and the Video Drone will automatically start capturing mind blowing aerial footage
With onboard gyro-stabilization and 2.4 GHz communication, instant in-flight response is always at your fingertips
The Air Hogs Video Drone is for ages 10+
For indoors and outdoors use
6 AA batteries required for operation (batteries not included)
Includes: 1 Helix Video Drone, 1 remote control, 1 4GB microSD memory card, 1 USB cable and 1 instruction manual
Reviews
mematwice
Cool drone but low battery life
I was fortunate to be selected to try out this product for Bzzz agent. The Air Hogs - Helix X4 Video Quad Copter was small and what I thought a little flimsy but was impressed how durable it was. In fact I felt that all flight toys should be made with the foam that was used since it is so indestructible. Although it was fun to fly indoors we did take it outside for a little while and on a still day it worked great. It took a while to charge and I felt the charge didn't last very long, about 15 minutes or less, so that bummed us out a little especially when you finally get the hang of it and then it dies out on you. As for the photos and video, I didn't find that they look to good but perhaps I wasn't still enough. My 12 year old grandson was the main tester and he got the hang of it rather quickly but he also found the pictures and video were just ok and we both agreed perhaps a steadier aircraft would do better. Because of the price, the low charge and the grainy pictures and video I could only give it 3 stars.
SClements
Super fun!
Disclosure: I received the product as part of a promotion from the brand. My 12 year old son and 10 year old daughter were pretty excited about this. Once out of the box, it needed to charge for a few hours, so they were a bit disappointed to have to wait. Here in Oklahoma, it's pretty darn windy all the time (heck, our state song even discusses the ever-present wind) so flying outdoors had a bit of a learning curve. My husband pretty much handled the first day, and the copter would get really high and the kids were a bit worried about it getting away from us. Not to fear, my husband was able to bring it down easily. It's very durable, which is a great thing! Several times it came down quickly and actually bounced off the ground, but since it is made with a styrofoam casing, it actually just bounced, totally unharmed. We got about 10 minutes of fly time out of each battery charge, which is slightly disappointing. I tried to have the kids try out the video/picture feature, but they were actually content just to fly the copter!
AnjS
Fun for all ages
I don't know who was more excited to see this come in the mail my husband or 12 yr old son. I'll just go with it was a tie. When I first took it out of the box I was sort of struck with the thought that it was made cheaply. It was constructed mostly of styrofoam. I quickly realized how beneficial that material was. The "boys" started to fly it in the house and it took some time to get familiar with how to operate the copter. It bounced into many a fragile objects without harming anything. They had fun moving it to the outside where the size and light material took some getting use to again in maneuvering. There is a small SD card that comes out with the pictures loaded that they took. Unfortunately, there is no cable link up and have no device to view the card with. Once we figure that out we will be very happy with it. It charges quickly and I would say the overall consensus is it's a lot of fun. I received this as part of being a BZZ Agent in exchange for my honest review.
4gsinVA
Fun flying and capturing videos!
This little drone has been so much fun to play with! When it came in the box, my teenager said that it looked "really cheap and boring". Well, I charged it right up and let her take it out to fly. There was a bit of a learning curve, but once she got the hang of it, she didn't want to stop! This "cheap and boring" toy has turned out to be so much fun! The funnest part about it was viewing the videos that we'd captured during flight. The video is fairly decent quality and it's amazed how high up the drone can go. It's surprisingly sturdy. The only con so far is that the battery does not seem to last that long, so flying time is only about 10 minutes before we need to recharge. I did receive this product as part of a promotion from Air Hogs.
Shells143
Fun but slightly frustrating
I was thrilled to receive this item through Buzz to be able to test. After playing with it for awhile I would give it a 3 out of 5. The Air Hog drone is impressive. It is powerful for it's size, and fairly easy to maneuver with the special beginner flyer mode. There are several issues though that prevent it from receiving a higher rating. The first is the weight. The lightness of the styrefoam exterior makes the drone very vulnerable in the wind. It's nearly impossible to control with slight winds especially above 10 ft. The second major issue is the short battery life. With a full charge I could only get about 10 minutes of flying when running the video camera. And only about 15 minutes when not running any recording equipment. I think a little added weight, and some improvements to the battery would be great improvements.