Gam Vittle Vault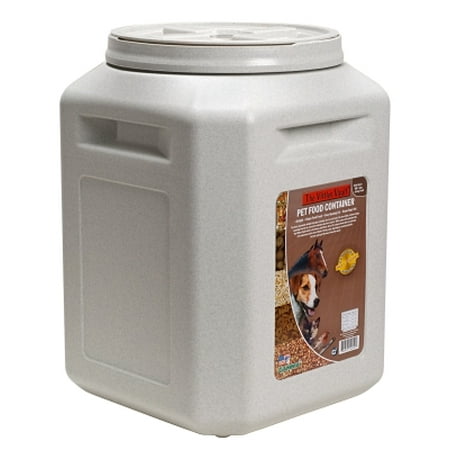 MSRP :

$101.19





Sale :

$41.65

Sold & shipped by We The People
Product Description

Additional Information

Reviews
Product Description
"Protect your pet's food from water, pests and curious nibblers. The Gam Vittle Vault provides airtight, watertight storage for food and water. The molded handle makes it easy to carry. "
Additional Information
GAMMA2 Food Grade Plastic Vittles Vault Outback Pet Food Container, 10 - 15 lb (3.5 gal), Granite Stone
Lock in freshness and flavor with Vittles Vault Originals food storage containers.
Stackable units are easy-to-clean and dishwasher safe.
Impact-resistant plastic won't shatter.
Heavy-duty steel handle
Includes measuring cup
Reviews
doodlelady
Keeps food fresh and pest free!
I recently purchased the Gam Vittle Vault to keep my cat's dry food fresh and safe. I believe this size holds 10 lbs of dry food. I purchased the large size a few years back to hold a 20 lb. bag of dog food. We occasionally have an ant problem in our kitchen area and this seals tightly to keep pests out. I always keep the pet food in the original bag... just cut off the top and drop the bag of food into the container. The food stays fresher this way. If you choose to dump the contents of the bag into the container, the container should be washed and dried (completely) between bags. The oils from the food sticks to the sides and bottom and will turn rancid. (it's much easier to keep the food in the bag!). I love this product.
Carol
Wonderful product with the Great Seal!!
What I liked the most is the way the top fits the container. Finally I found a container that actually works the way it's described. I'm actually confident that my dog's food will stay fresh and nothing can get into the container. Great product!
VonRicJr
NO MORE CRITTERS!!!
I was so determined to find something to hold my dogfood in that the ants wouldn't be able to get into. I buy dogfood in 50 lb bags so I needed a big container. Whatever I did and used I kept getting ants. (See I keep my dogfood outside so it's easy for the ants to find a way in) I checked at Petco and PetSmart and they wanted $50+ for a similiar container but for me that was way too expensive. I also checked in a Walmart store and they have a big container but it did not look seal proof at all. I even checked at Target and they had a pretty good seal proof container but it only holds about 20 lbs. So a friend told me to look online with Walmart and sure enough they had almost an identical container as Petco and PetSmart but for half the price. I ordered it and it only took about 4 to 5 days and it was ready to be picked up. I've been using this container for almost a month now and it is the best thing I've purchased. NO MORE ANTS!!! I love it!
OnlineWalMartShopper2007
Fit Vittles
Excellent Construction. Seals food for ultimate freshness and keeps out pests. The "50" holds a 44 lbs bag with a little room to spare. I have seen nothing better on the market for it's purpose.
Roccosmommy
Great value!!
This is the best pet food storage container I've ever seen/had. I have seen this exact container at other retailers for ALOT more money - same brand, same size for almost twice the price than it is at Walmart.com...I definitely recommend this product to anyone looking for the best pet food storage out there....this is it --- and WHAT A DEAL at this price!!! Thank you Walmart!!