Zefal 6-Piece Bicycle Starter Pack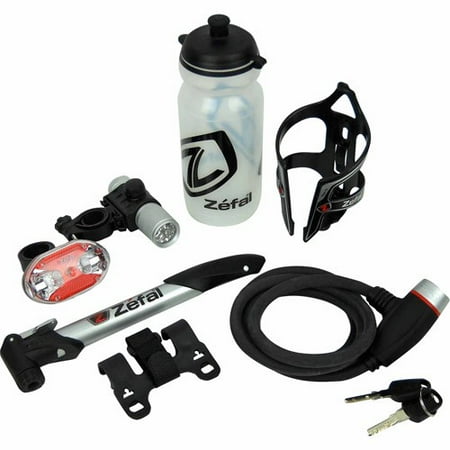 MSRP :

$24.94





Sale :

$19.87

Sold & shipped by Walmart
Product Description

Additional Information

Reviews
Product Description
The Zefal Bicycle Starter Pack includes six essential items to help you get your bicycle ready for the road. The kit includes a mini hand pump with folding T-handle that allows you keep your tires properly inflated. The convenient frame mounted bracket holds the pump so you can bring the pump along with you in case you have a flat or realize that you're low on tire pressure. Also included is a front and rear led light set. The front light has a durable aluminum body and contains nine white LEDs, while the rear light has five red LEDs. Both lights have multiple modes (constant and flashing) to help you be seen when out on the road. The wide mouth, 20 ounce, water bottle with reinforced plastic water bottle cage allows you to carry your water so you can stay hydrated during your ride. Lastly, the kit includes a five-foot long, self-coiling keyed cable lock so you can lock up your bike while you step away from your bicycle to run into a store or simply stop to enjoy the scenery.
Additional Information
six items
mini hand pump
bracket
front and rear LED light set
durable
multiple light modes
water bottle cage
keyed cable lock
Reviews
ShawnOklahoma
Amazing Customer Service!
I bought this kit and installed it on my "cheap, garage sale" bought bike. Every night I would chain it to a tree outside my apartment. Unfortunately, someone tried to steal it by cutting through the cable lock using apparently a makeshift saw, or dull knife. Apparently, either I or a neighbor must have spooked them as there were only a few strands of the cable lock wire still keeping the cable lock intact. The lock did it's job perfectly. Secondly, and more importantly. I contacted Zefal and explained the situation to them. THEY SENT ME A NEW LOCK AT NO CHARGE! Not even a shipping charge! It's very rare in this day and age that you see a company stand behind their product, even when the damage was caused by a low life thief. I felt that this customer service goes far beyond any other company I have dealt with in recent times and signed on to write this review. I highly recommend this product and this company.
JasonP
Nice little kit.
This is a Nice little kit for getting you started on your new bike or getting road ready on an old bike.the headlight shines bright white and the tail is visible from a good distance in the dark. The flashing feature on both of them really draw drivers attention. The bottle cage and pump mount up nicely and come in handy. The lock keeps it safe when I park at the bike racks. The pump is more rooted to bmx or mountain bike tire, but in an emergency it gets thiner tires up to a decent pressure.
Jrod
Great price
The part that got me, I needed everything besides the water bottle and cage. The cheapest comparable bike lock was 15.99, light kit 14.99, and small frame pump 11.99. So getting all that and more for less than $20 and I got a bottle holder that I fashioned to my handlebars, to hold my beats pill. If people are breaking keys off, can't figure out how to put the batteries in, or think a non insulated bottle is going to keep your soda cold, this isn't for you. If you have common sense and minimally mechanically inclined, this is a great bargain set. I recently had to transition to pedaling a bike again. This set is perfect for me to stay legal and keep my bike safe for short periods, while I run in and out of a the store or something.
SteveO
Bike starter pack
This is a nice starter pack for the bike. Nice quality for the money. Really like the lights and how the pump and water bottle mount.
Donzi
Just a little better than ok
Well overall, this is a pretty good bargain if you piece it all out. I do like the front and back lights as they are bright and have a flashing feature. Front light shines pretty far and can really make you visible at night. The bottle holder wouldn't mount on my bike without drilling holes and I wasn't about to do that. It did happen to fit in the cup holder that came with my cruiser so not a total loss. The lock is fine and a nice bonus to the package. The biggest problem I had was with the pump. It would not, even remotely easily, attach correctly to my tire and pretty much let all the air out. Every once in a while I could get some air in but if you imagine a bath tub with the stopper out and the water on, not enough water flowing in eventually drains the tub and likewise I lost the air battle. I went back the next day and bought a nice pump that actually works for around $16. I think I still saved some money even with added purchase of the pump but not nearly as much had everything worked properly.