Made By Me My Very Own Pottery Wheel Kit by Horizon Group USA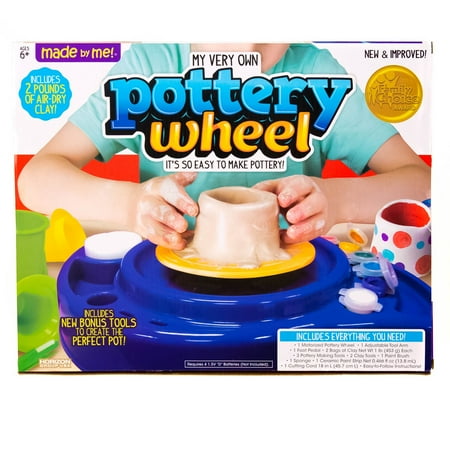 MSRP :

$20





Sale :

$19.97

Sold & shipped by Walmart
Product Description

Additional Information

Reviews
Product Description
Introduce pottery to your little ones with the new and improved Made by Me Pottery Wheel! Create the perfect pot with the new bonus tools, or try making your own! Make a tea set for imaginary play or just get your hands dirty for a fun afternoon of sensory play with clay. No matter what, this pottery wheel will surely be a hit!
Additional Information
Made by Me My Very Own Pottery Wheel:
Motorized pottery wheel with a foot pedal to make it easier to control the speed and have both hands to mold

Adjustable tool arm allows you to control the height of your creations
2 bags of clay to make tons of different creations
3 pottery making tools and 2 clay tools to help sculpt
Sponge to keep dampening and smoothing the clay
18" cutting cord to remove your creations from the wheel
Decorate with the ceramic paint
Easy-to-follow instructions
Tool included to make the perfect pot
Air dry clay, no baking necessary
Requires D batteries (not included)
Age Range: 8 years and up
Reviews
Lyontamer
They forgot something at the factory!
Half of the bottom fell out while I was putting in the batteries. Looks like they didn't put in half the screws at the factory! And something is wrong with how the motor is put in because the wheel spins lopsided instead of flat and level. The clay and other parts are usable but there's no way anyone can build a clay pot on this crooked wheel. I bought it at Christmas so it's been too long now to return it to Walmart. Another one for the recycling bin. :( Lesson learned: don't buy toys at Christmas when factory workers are under pressure to meet unachievable quotas, because they skip things like actually putting the toy together.
Augu
Clay is terrible
Even after presoaking this clay just falls apart when dry. My kids were so exited to make me Mother's Day gifts out of this...only to wake up horribly upset that they were ruined and now had no gift for mommy. Of course, I told them I still love their gifts, but apparently my children worked for hours on these gifts the night before to make them perfect...also, as you can see in the picture, the clay just flakes off when try and gets EVERYWHERE.
onehappyaunt
So much fun!
My neice LOVES this pottery wheel. The quality is great, she feels like a real artist every time she plays with it! I was pleasantly surprised with how much came in this kit for the price. All of the included tools and 2 bags of clay have led to hours of fun and lots of adorable handmade gifts for family members.
LJ
So much fun!
It is messy but it's a pottery wheel after all. My kids had a lot of fun with it. You could buy more clay to make more since the wheel itself can be used again obviously. Tip for new users: read the instructions and watch the videos. It will help save a lot of time!
Momof2
Waste of time and money!
My 8 year old daughter received this for Christmas and the quality of this product is awful. The instructions are not very clear, the wheel isn't very powerful. Half of the clay was ruined when we opened the package, and the one package we were able to use, cracked and nearly fell apart once it dried. We weren't even able to paint her sculpture. She was very disappointed. She is a very artistic child and was thrilled to get a pottery wheel. She wanted to try her hand at pottery. I hate that my mother wasted her money on this for my daughter. My mother was as excited as my child and this just falls flat.