Made By Me Fleece Knotted Quilt Making Kit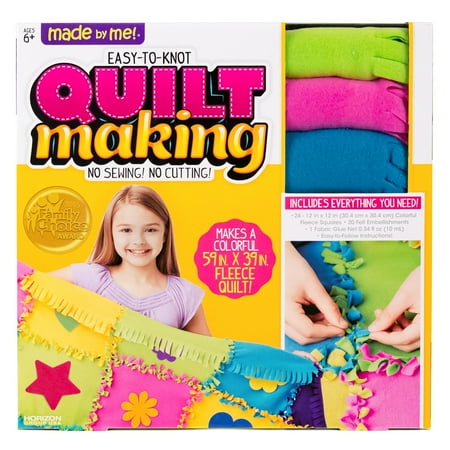 MSRP :

$9





Sale :

$9.97

Sold & shipped by Walmart
Product Description

Additional Information

Reviews
Product Description
This Made By Me Quilt-Making Kit is great for any kid! Pre-cut fleece squares are included to let kids create a quilt of their own. Attaching the individual squares together and adding on the felt shapes afterwards is a very rewarding project for kids to create all on their own.
Additional Information
Made By Me Quilt-Making Kit:
2015 Family Choice Award
Create a one-of-a-kind quilt using colorful pre-cut fleece squares and assorted embellishments
No Sewing needed
Encourages creativity and individuality
Enjoy your finished product

Age Range: 6 years & up
Kit Includes: 24 Colorful Fleece Squares (12 x 12 in. each), 20 Felt Embellishments, Fabric Glue (0.34 fl. oz.), Easy to Follow Instructions

Reviews
memynameicallmyself
Easy To Make, No Sewing, No Cutting
This Made By Me Easy To Knot Quilt Making Kit is a very vibrant and colorful throw blanket that you can make without any sewing or cutting involved. Included in the quilt making kit are the following: 24 - 12x12 inch fleece squares 20 - felt embellishments such as hearts, flowers, stars, butterflies, and peace signs 1 - tube of fabric glue The 12 inch squares have very vibrant colors of green, golden yellow(the box shows an orange color, but mine was more of a golden orangey yellow), bright yellow, blue, purple, and pink. The 12 inch fleece squares are already cut out for you and are fringed on all four sides. You take the fringed squares and line them up side by side and tie them together, or knot them together. It is as easy as tying your shoes, well actually it is easier than tying your shoes!! It will take some time to knot all of your squares together but that is not too bad. Just do some while watching your favorite Christmas movie or two and when you are finished you can either give this beautiful blanket throw as a gift, or you can keep it for yourself. You can finish this blanket by gluing the embellishments your squares. It will make it your own blanket, a one of a kind. You can put your personal style on it! There are not any alphabets letters that come with the kit, but if you wanted to add your name to your blanket and personalize it, you could just buy some felt letters and glue them to your squares. The designs could be endless!! No cutting, no sewing, just knotting and lots of fun!!! You will enjoy making one with your children and the smile on their face when they have made their own blanket will be priceless.
Magato3
Too tedious
Vibrant colors, 4 cuts of each, Clear instructions for easy but time consuming assembly. Fabric glue is included to attach a choice of many felt appliques. Something for everyone's taste. That is the good part. It took awhile to set up pattern of pieces that were pleasing to my granddaughter. We learned from experience not to set this project up on a bid unless you re planning on sleeping elsewhere for several days, until the project is completed or moved very carefully to another location. Same warning for using your dining room table. This would probably be best used as a group project where different children would be working at the same time on separate areas of the "quilt". I could als make good take along project, a few squares at a time. Unless a child has a long attention span, this project will become tedious for a 6 year old and I can not imagine a child any older than 9 even being interested. Personally, it wold be much more practical and interesting to teach a child how to sew a patchwork quilt with pre-cut squares. The basic idea of learning crafting is good, but not with this project.
whitt
CUTE QUILT, BIGGER THAN EXPECTED
CUTE QUILT, BIGGER THAN EXPECTED, I THOUGHT THIS WOULD BE THE SIZE OF A BABY DOLL OR SOMETHING, BUT IT IS PLENTLY SIZE FOR A CHILD A COMFY THROW. I WOULD CALL IT A THROW NOT A QUILT. I LIKE THAT IT IS COLORFUL, AND EASY TO MAKE, YET YOU ARE NOT DONE IN FIVE OR TEN MINUTES. MY SEVEN YEAR OLD GRANDDAUGHTER LOVES IT. WE SAT A MADE IT TOGETHER, WITH NOT MUCH EFFORT OR SUPERVISION ON MY PART. IT WAS NICE. SHE IS VERY PROUD OF HER QUILT, AND THE FACT THAT SHE MADE IT. NOW MY SIX AND EIGHT YEAR OLD GRANDSONS WANT ONE. YOU DON'T HAVE TO USE THE FLOWER CUT OUTS INCLUDED, BUT YOU HAVE THE OPTION. I THINK IT WOULD BE GREAT FOR ALL OF THEM NCLUDING AGE AND BOYS AND GIRLS. THEY ALL LIKE IT AND SO DO I. I FIND MYSELF USING IT WHEN SHE IS NOT AROUND. IT IS QUITE COMFY AND COZY. GREAT PROJECT.
tinkerwd
Easy to make
The made by me quilt making kit has really easy directions to follow. You basically piece together the squares by knotting the fringed edges together. There are also 20 felt shapes to glue on the quilt when you are finished using fabric glue, which is included in the box. The shapes range from butterflies to hearts. The quilting squares are 12 inches by 12 inches. They are brightly colored. The colors include pink, green, blue, purple, and orange. There are 24 squares in all. The squares are fleece material. There is no sewing or cutting needed for this quilt. The box says for children 6 and up. But as an adult I think this is fun and I like helping my daughter with the process even though she really doesn't need the help. I think any child would find this fun and entertaining alone or as a group project with friends. If your daughter likes slumber parties this would be a great way to keep the kids occupied so they don't get bored. I would recommend this item for anyone looking for a unique Christmas present or birthday present for a young girl who likes doing crafts. And when the quilt is done I'm sure she will love having a brightly colored quilt to put on her bed that she can say she made with her own two hands. I have several nieces that I will be purchasing this quilting set for so they can all have matching quilts on their beds. I would think best friends would like having matching quilts too. I think anyone who likes doing crafts would like this kit.
missymjh
Excellent Project for the Young Crafter
This is an easy craft project for a young crafter. The quilt project comes in brightly colored fleece and easy instructions. It is as simple as tying knots so it makes for a good project for younger crafters. The quilt does take time. It doesn't finish in just a day or two. You can expect a week or more with this quilt project. This is a good craft quilt to teach how to make more quilts using the same technique with regular crafting fleece. The finished quilt will make anyone proud. I recommend this for young crafters wanting to learn fleece quilting. It teaches patience and rewards the young crafter with a nice finished project. Excellent gift for girls and I believe even some young men would enjoy making this as a gift. Light weight easy to ship for gift giving. Overall I rate this five stars..