Just My Style Ultimate Scrapbook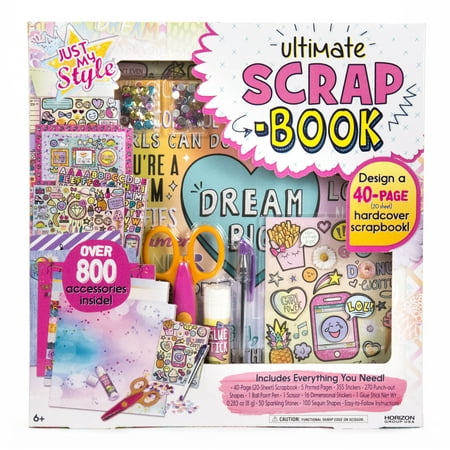 Sale :

$9.97

Sold & shipped by Walmart
Product Description

Additional Information

Reviews
Product Description
The Just My Style Scrapbook Kit features a variety of colorful scrapbook accessories for kids to make their own personalized scrapbooks. Included in this kids' scrapbook kit is one 40-page (20 sheet) scrapbook, five printed pages, a sticker sheet, 85 punch-out pages, 14 dimensional stickers, 50 sparkling stones and 100 sequin shapes for decorating each page. Wavy edge scissors and a glue stick also come included with the Just My Style Scrapbook Kit to help with cutting and pasting. This kids' scrapbook kit is a fun and lasting arts and crafts project.
Additional Information
Just My Style Scrapbook:
Design pages with textures and sparkly details
Explore your creativity as you relay precious memories and exciting times using colorful stickers, creating designs and shimmering gemstones and more.
Fill this customizable scrapbook with fun experiences, cherished memories and future goals
Great keepsake to look back on time and time again
Packed with over 800 colorful scrapbook accessories
Contents: 40 Page (20 Sheets) Scrapbook, 5 Printed Pages, 355 Stickers, 270 Punch-Out Shapes, Wavy Edge Scissors,14 Dimensional Stickers, Glue Stick, 50 Sparkling Stones, 100 Sequin Shapes, 1 Ball Point Pen, 1 Scissor, Easy-to-Follow Instructions
Age Range: 6 years & up
Reviews
sweetepi
Great starter set for children
The Just My Style Designer Scrapbook Kit is perfect for children to start scrapbooking. Our 6 year old loves this kit and dove right in. She was having so much fun cutting, pasting and cluing she didn't want to stop. She wanted to fill all 20 sheets with pictures, stickers, sequins and sparking gem stones. We had to print more photos for her to put in her very first scrapbook. I enjoyed helping her but most of all I enjoyed watching her have so much fun making her pages her own. The kit comes with a scrapbook with 20 plain sheets for 40 pages total. It comes with wavy scissors that work quite well. It also comes with 5 pages of decorative scrapbook paper, a glue stick, a purple pen, punch out borders and frames and of course the bling. It comes with sequins and sparkling gems. She had so much fun making her pages sparkle. I would definitely recommend this for a child that shows interest in scrapbooking or saving their special photos or artwork. The kit contains everything they need to get started and have fun!
mayi1953
it spells happy scrapbooking
I like sharing my opinion about items I purchased because they might help others to make a decision about a purchase they might be planning to make. I know for a fact that other individula's honest opinions had helped me many times. This review is one opinion I'm delighted to share " The Ultimate Scrap Book Kit" is from Just My Style they make crafts kits mostly for kids. Their kits are suitable for kids of a wide age range. Two things about this kit blew me away the content, and it's price. This scrap book kit brings over 800 accessories and pieces. It includes: The scrapbook which it's hard cover with 20 pages (using both sides are 40 pages) 355 stickers, 270 punch out shapes, 1 scissor, 32 dimensional stickers, 5 printed pages,1 glue stick (net wt..28.3onz) 50 sparkling stones in different colors. Plus, 100 sequin shapes, and a very easy to follow instructions sheet. We purchased kits before with many accessories, but for a price under $10.00 USA dollars all that included? Never. It's intended for kids over 6 years of age because many of those items are very small. Moreover, Just My Style has a web site that offers tips, information about "how to" ( projects, techniques, tips) videos . The web site also has a blog section in which experienced crafters display their projects and offer ideas about different crafts. It even has a store locator in which you can find the store nearest your home to purchase anything you might need. This kit is a new item from, Just My Style a company that it spells out happy crafting. You can find them here: http://www.craftprojectideas.com/index.php/products/activity-kits/just-my-style
Jetboss57
Cute starter kit to scrap booking.
Just My Style Ultimate ScrapBook This is an adorable little kit that contains everything a young person needs to create a scrap book. Includes over 800 accessories. Starting with a sweet 40 page hardcover scrapbook with 20 sheets, to stickers, punch outs, a ball point pen, pair of wavy scissors, glue stick, sequin shapes and sparkling sons to add bling, and of course a helpful how to guide. Everything ya need and more are included. This is a young person 6+ starter set to becoming an avid scrap booking pro. Watch out for these small parts, they pose a definite chocking hazard. Parents should think about the child they plan to gift this to, and be sure they are old enough to know not to put the parts up their nose or in their mouth. They should know how to be carful with the use of glue and scissors. It's rally a darling set with some cute papers included. I especially loved working with the type-dye paper. I have n upcoming event planned that I will use this kit for. Can hardly wait to capture memories in this scrapbook kit. This makes a great gift for an adult wanting to try their hand in creating a scrapbook for the first time, like me.
Kunchie
Enjoying, learning our family with pictures
This scrapbook kit comes with a forty page (twenty sheet) hardcover scrapbook, 1 pair of scissor, 1 glue stick, 1ball point pen, 100 sequin shapes, 50 sparking stones, 5 printed pages, 355 stickers, 270 punch-out shapes, 32 dimensional stickers and east to follow instructions. The scrap book is made by Just My Style for ages 6 and up. Use your imagination and create what you desire. Find one of your favorite pictures and create. Fallow the instruction guide and begin your work. Setup your work area. Put all your material in front of you before you start your project. Start scrapping by choosing embellishments from your kit. Lay it out until you get the design you like. Glue everything down on the page. Now add a frame, then a border. You can have hour of fun bonding with your child, sharing a lasting treasure that you both made but the real joy was the precious time you experience creating an everlasting memento with your child. Because of the excitement of that day and memories of what you did will forever be in your hearts. To keep all you accessories organize put back in the box it came. It can be use as storage. This is just a suggestion.
photogdeb
love this scrapbook
This is the perfect little project for a little girl to start her first scrapbook. It has all the things you need to design in and on the hardcover book that comes in the box. It comes with sheets of stickers, background papers, Glue stick, scissors that cut in a wave, everything you need to create your first scrapbook. My granddaughter thinks this is the greatest thing. she is 6 yrs old and loves to create , organize and cut with scissors and play with everything in this package. The scrapbook is a good hard cover with 40 pages to fill using both sides. It has 3D stickers and a package of jewels , 270 punch out shapes, a pen and more. It also comes with instructions. Any little girl would love this, (or boy) This is for ages of 6 and up.