Learning Resources Farmer's Market Color Sorting Set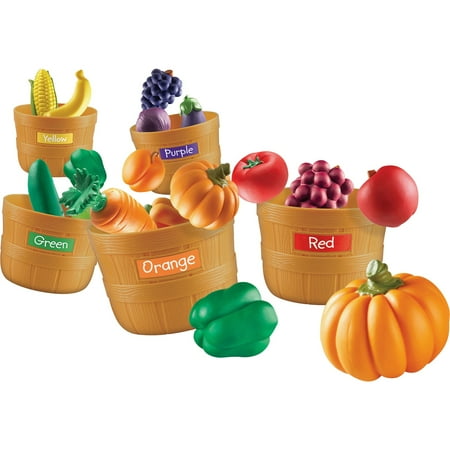 MSRP :

$30.96





Sale :

$29.49

Sold & shipped by Walmart
Product Description

Additional Information

Reviews
Product Description
Color sorting set develops color-recognition and sorting skills using bushels of realistic, relationally sized produce. Five colors and 25 pieces of produce can give students a bushel full of knowledge as they identify and name the objects or group and sort by kind or color. Included activity guide helps encourage a fun learning experience. Color sorting set is designed for children ages 3 and up.Learning Resources Farmer's Market Color Sorting Set
Additional Information
Relationally sized items develop color recognition and sorting skills
Variety of pieces provide bushel full of knowledge through fun activities
Activity guide helps encourage fun learning experience
For children ages 3 and up
Reviews
The Teachers Wife
Sturdy & One of my Favorites!
This has to be one of my favorite Learning Resources product. My kids LOVED it. We used it to learn colors, learn fruit/veggie names, have color races, and even for spelling lessons! I LOVE the visual appeal - extremely bold and bright colors make it extra kid-friendly. The baskets and fruit/veggies are fabulous sturdy quality. I was impressed. Everything stores nicely in the box which is a bonus. Disclosure: I did receive this product to review. This did not influence my opinion of the product.
A Mom's Take
Fun, versitale, and high quality!
We have really enjoyed the Farmer's Market Color Sorting Set! The pieces included are really nice quality and a great size for little hands. All 3 of my little boys ages 1-5 had fun playing the sorting games and there was enough pieces to go around for them to share. I had my older two boys racing to find all the fruits and veggies of a certain color. After that, we set up 5 different items in a line and then I removed one and had them try to guess which item was missing. They also took turns "hiding" one of the items from the line and loved hiding it in one of the baskets out of sight. I also had my 5 year old sorting by fruits vs. veggies and was surprised by how many he got right! I think there are a lot of different activities you can use this set for, and when you're done with the sorting games, they make the perfect addition to your play kitchen or market! Disclosure: I received a sample of this product to review on my website. Opinions are my own. View more reviews and giveaways too at A Mom's Take.
SpendWithPennies
Farmers Market Color Sorting Set!
The Farmers Market Color Sorting Set comes with 5 Baskets & 25 foods. Each basket has color labels & each fruits and veggies to match the baskets! You can use these for Dramatic Play, Nutrition Lessons, color recognition & sorting skills! Cameron & Mylan had great time playing with the Farmers Market Color Sorting Set! Cameron would color assort them & Mylan would dump all the fruit out of the basket! :) Thats what little brothers are for! Mylan (age: 1) even recognized the Banana & Apple! This is defiantly a toy that your children and family will grow into! The toy quality is very durable and sturdy. The fruits and veggies are very realist looking & made out of thick plastic! I was very surprised at how many foods Cameron knew. Kids grow so fast & learn so much in a short time period it really amazes me! Learning & educational toys are great to help filter you childs mind with quality & learning! That is one reason why I love learning resources
Meghan M.
Farmer's Market Color Sorting Set
My 2 year old LOVES to sort all the fruits and vegetables away in the stack-able baskets. There are enough pieces to make this a group play date educational activity. The only thing I'm going to add as a CON that I didn't add in the CON area because it's not really a flaw on their part but the part where you apply the color of the basket is small. If the basket is not faced towards the child they don't know which basket is which. So I placed the EXTRA solid color stickers that come in the box, ON TOP and folded over, above the initial color sticker with the words on them. I hope that made sense! But since I did that it's been A LOT easier on him. (: I am not sure WHY they don't add the stickers on themselves and have you do it. Possibly to give you the option to add with words or just the solid color. But I would rather them do the stickers and add some kind of color strip on top, the rim area. Other than that, we love it!
Kristen
WONDERFUL!
I love the variety of foods in the set. I LOVE that there are NO donuts, cakes, muffins etc... Just fruits and veggies. It is so much to sit down and play this with our son. He will sort by colors a little bit but then just starts his own games. He enjoys filling baskets and then dumping them back out. He says, "Cooking dinner." It is very cute. If your kids have a play kitchen this would be awesome! If you are ever wondering what to get a day care provider or teacher....get this set. it is fun and educational and very versatile too.