Holiday Time 40-Inch Animated Light-Up Doe 105 Lights Indoor or Outdoor Use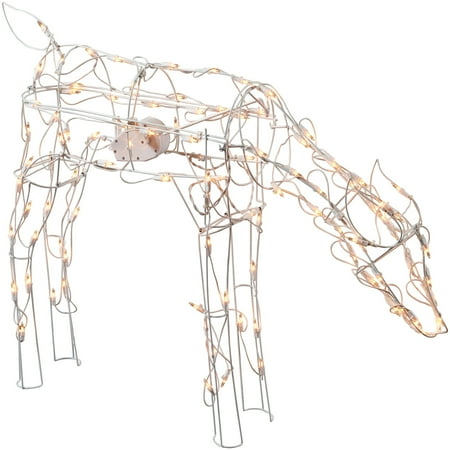 Sale :

$24.98

Sold & shipped by Walmart
Product Description

Additional Information

Reviews
Product Description
Ho, ho, ho! Deck the halls and welcome the most wonderful time of year to your home with the 40-Inch Animated Light-Up Doe from Holiday Time. Position this majestic doe on your front lawn or patio or in your living room to contribute to a fun and festive holiday vibe. The kids will have a blast deciding where to position the doe and what to name her! This festive doe is designed in an elegant bright white style that is sure to look adorable in family photos with your children. The doe stands 28 in. tall, is illuminated with 105 lights and can move her head up and down for added holiday excitement. This doe will coordinate beautifully with the rest of your festive holiday décor, transforming your living space into an enchanting winter wonderland that will delight your children and any special holiday guests. Don't wait for Santa and his sleigh to help decorate your home for the holidays. Bring home the Holiday Time Animated Light-Up Doe today!
Additional Information
Holiday Time Animated Light-Up Doe measures 40 in. tall (1m)Majestic doe designed in elegant white light will look great in family photosFun and festive look helps to transform your living space into an enchanting winter wonderlandEquipped with 105 lights and ability to move head up and down for added funEasy to assemble in just a few minutes and packs down for easy storageSuitable for indoor and outdoor useHelps to make the holiday season extra special for kids, friends and family
Reviews
flawless68
Really nice!!
I really like this Holiday Time Animated Doe--it is a nice size--shows up well--her head moves up and down--no problem yet with the lights going out--(just put out day after Thanksgiving)-- been displayed now going on five days. Cons-- you do not lift from head--it comes out of slot that controls its movement--OMG!! happened to me, have to remember to lift from top of back--also if one light goes out (lets say rear) then all those lights go out within that section and you have to find the blown bulb--same for front section. Like I said none have gone out YET :) You receive extra bulbs. With that said for the price, and nice size with lots of lights it is well worth. It is easy to put sections (body and head) together and comes with four stakes to secure into ground. Had rain today and that has not fazed the deer--no wind though--but thinking wind will blow through, since it is an open piece. Merry Christmas
Schinner2
Talk About a Decrease in Quality
I bought animated reindeer from Walmart 10 years ago. They were made by the same manufacturer Holiday Time. I was impressed enough with my original purchase to seek out this same product when two of my three stopped working this year. The difference is workmanship was quite disappointing. The gauge of the wire used for the reindeer themselves is considerably thinner (cheap). The connections in which to assemble the deer do not line up so "reshaping" the deer was necessary. The mechanics used to animate the deer are also of lower quality. I would rather have paid an escalated price and received a quality product. They'll do for now but I won't purchase this brand again in the future.
BrigidB72
Attractive Outsiode Holiday Display
Once I figured out how to start it wasn't too hard putting the raindeers together.
margnj
Attractive Outsiode Holiday Display
when i first got item i thought it would be too small put on lawn looks great
buffybaby
not worth buying
I biught one of these in a walmart store and half of the lights didn't work so i returned it and ordered another one from walmart.com. When I got this one half of the lights didn't work again.