Holiday Time LED C7 Super Bright Light Set Green Wire Ceramic Multi Bulbs, 25 Count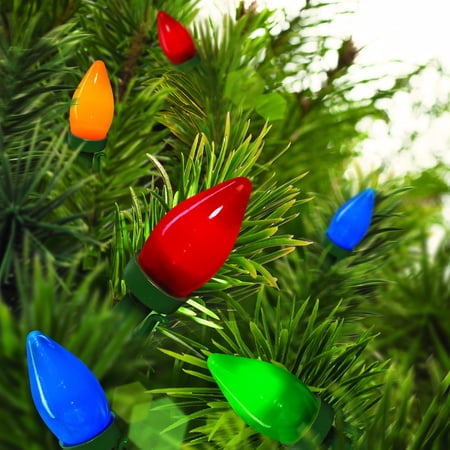 Sale :

$2.99

Sold & shipped by Walmart
Product Description

Additional Information

Reviews
Product Description
This 25ct LED Ceramic Multi-Colored Super Bright Incandescent-Style C7 light set is designed to brighten your home or yard. It has a 15 foot green wire, with a total lighted length of 14 feet. These super bright lights are an easy way to decorate and will be sure to pop in any application inside or out. This set is end to end construction allowing up to 90 sets to be connected together.
Additional Information
Holiday Time LED C7 Super Bright Light Set Green Wire Ceramic Multi Bulbs, 25 Count
25 UL LED super bright incandescent, style C7 lights
Indoor/outdoor use
C7 reflector
6" x 8" x 6" green wire (wire cut)
End to end, steady burning
Transparent C7 reflector/ceramic multi
Lighted length: 14'
Total length: 15'
Reviews
Jacob
Beautiful Christmas lights
Saw the lights in the store and thought they were beautiful so I bought them to replace our old incandescent lights. Plugged them in and they're beautiful. I love how you can plug 90 strings together. Our old incandescent lights you could only plus 2 or 3 strands together. Also they do not flicker like some people say led lights do.
Stan
Quick fix and these look almost perfectly vintage!
I am a vintage Christmas lover - If it's Christmas-ey and Vintage - I probably will love it. I got these (all 14 sets they had in stock at my local store) after finding a similar product (strand of 50 at almost 3 times the price) - I thought I'd give it a shot - Got them home, and there it was - the "blast" of electric blue that screams "HEY YOU.... I AM A NEW SET OF LED LIGHTS" Well based on a review at the home improvement retailers site, I tried something on these. I pulled of the blue and green bulb covers and switched them - putting the blue covers on the green bulbs and green covers on the blue. End result - a softer green, and the PERFECT vintage blue! I compared to my incandescent C7's - and the blue was spot on. The only real difference in these and the incandescent sets are these have a true yellow bulb - and all of my incandescent sets have a white/ivory, but no yellow - but for the savings both in this item and electricity cost.... I am willing to make THAT sacrifice!
MikeInPdx
Very Pretty on Vintage Tree
We bought these to go on our vintage artificial Christmas tree. The colors are very pretty and similar (but not exactly like) to the lights I remember growing up. The slight color difference is mad up for by the energy efficiency of these lights. For example, old screw base c7 lights had a maximum of 50 bulbs you could string together. That's about two longer strings. You can string together 90 strings, not bulbs, but strings of lights. They also produce very little heat, so no burned hands hanging ornaments. Overall, we are very pleased and would buy these again.
TinRadio
Pretty and energy efficient!
I wanted vintage looking Christmas lights but without the huge energy useage so these were perfect. The bulbs are bright and cool to the touch. The stubby bases look a little funny if you're used to the larger bases on the incandescent strings but it's no big deal. The best part? A single string only uses 5 watts.
CanCan
LED Super Bright Incandescent Multi Colored Lighs
I loved them they are so bright.