Holiday Time 22 ft. 50 Color Changing LED Green to Red C7 Lights, Green Wire, Indoor or Outdoor Use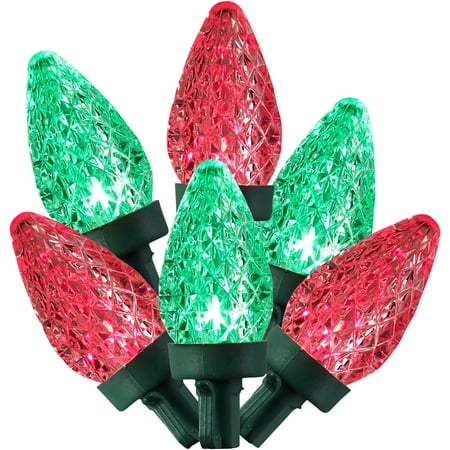 MSRP :

$14.96





Sale :

$7.98

Sold & shipped by Walmart
Product Description

Additional Information

Reviews
Product Description
Decorate your home so it's ready for entertaining and wish all of your guests a happy holiday season with Holiday Time's 50 Color-Changing LED Green to Red C7 Lights with Green Wire. This package of 22 ft. of Color-Changing LED Green to Red C7 Lights from Holiday Time is designed for both indoor and outdoor use and is all you'll need to add a special touch to your décor this season and get everyone in the holiday spirit. With 8 different functions and the ability to save up to 98% on energy costs, this generously sized 22 ft. of green wire will blend in seamlessly with branches and features bright green and red LEDs that will shine bright when plugged in. The bulbs are durable and resistant to breaking, fading and chipping and are cool to the touch when lit to prevent any minor burns. The durable holiday lights are versatile and can be used for a wide range of décor styles in a wide range of homes, making them great for use time and time again! Pick up these 50 Color-Changing LED Green to Red C7 Lights from Holiday Time and see how great they look in and around your home!
Additional Information
Decorate your home's interior and exterior in style for the holiday season with these indoor/outdoor lightsGenerously sized 22 ft. of cording allows for more flexibility in placementGreen cording feature 50 bright green and red LEDs that shine bright when plugged inDurable bulbs are resistant to breaking, fading and chippingCool to the touch when lit, so you don't have to worry about minor burnsSave up to 98% on energy costsGet the whole neighborhood in the holiday spirit this year
Reviews
Dana
Wish I had reviewed this first
I have been looking at every store to see if buy 1 strand. I wonder now if they took them off the shelves for those reasons. I had bought 2 and one works fine so far but the second has about 25 lights at the begining of the strand but on my house it was right in the middle that dimmed out so bad you can hardly see them. Looks more like a reflection from the ones surrounding them. I changed the fuses and check all the bulbs. What a waste of time and money driving around. They are pretty when they work. It doesn't matter what color is flashing either. I just wanted green light but can't find those. So I settled
dew0107
Do Not Purchase.
My wife and I purchased 8 sets of these lights. They seemed promising...8 different settings changing from Green to Red! Seemed really neat! After the countless hours of getting them on the house, we had 3 different strands malfunction. 2 of them I cannot replace because they are out of stock now. The only setting that works on the house for some reason is the All Green setting. So instead of having cool color changing lights, we have an all green house. These are very poorly made. Please don't make the same mistake I made by purchasing these. They are the worst quality. I think it's the chips inside that are just malfunctioning. At this point, after spending so much of my time with the lights, I really don't want to go take them all down, find all the boxes, receipts, etc. and return them at the store. So, it looks like I'm just stuck with green this year...that is, hoping more strands don't decide to malfunction. Do yourself a favor, do not buy this product. My dad once told me, "You get what you pay for!" How true that is. Do not buy these cheap excuses for LED color-changing lights.
Will
One option short but still good light.
I was hoping that the lights would be every other light to be different. So red then green and then red and so on. The lights are either all green at one time or all red. No option for both colors to show.
Kristi
Love Love These
I have tons of these and use them every year. We do a Grinch tree and these are perfect. My children love changing the modes. My only complaint would be the batteries that come with the remote don't last too long. Also, don't forget to remove the batteries from the remotes after Christmas when you store your things as to prevent corrosion.
Carolinaking
Nice Features but not very Red
The lights are pretty, about 1.5 inches per bulb, all the different settings are nice and easy to set on the turn dial. However, I the overall color is more pinkish/diffuse red - nothing like the intensity of the red bulbs in the picture for this product. I turned them on next to smaller red LEDs and still not as red. Maybe it is the LED technology or the plastic prismatic bulb covers but it is really washed out. There is no way I could use these to decorate a red themed tree. The green is fine. If you want these outside and there are no other red lights, it will read as 'red'. Otherwise, I recommend that you skip these.