Holiday Time 3' and 4' Lighted Spiral Christmas Tree Sculptures, Multi-Color Lights (2-Pack)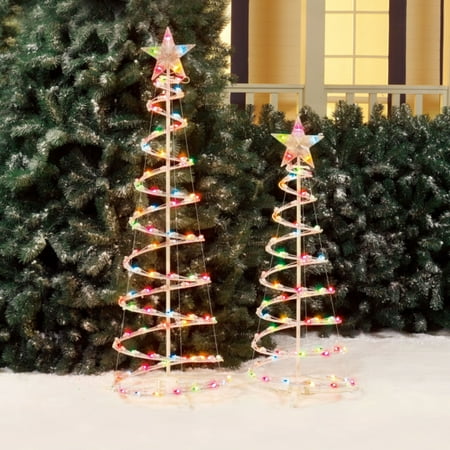 MSRP :

$59.99





Sale :

$24.88

Sold & shipped by Walmart
Product Description

Additional Information

Reviews
Product Description
These Holiday Time 3' and 4' Lighted Spiral Christmas Tree Sculptures add festive light to your lawn or patio without the trouble of having to string extra lights. The Multi-Color Lights (2-Pack) Outdoor Spiral Christmas Trees includes one three-foot spiral tree with 70 lights and one four-foot spiral tree with 100 lights. Brighten up your property during the Christmas season with these white LED Spiral Christmas Trees with multi-colored bulbs. These Holiday Time 3' and 4' Lighted Spiral Christmas Tree Sculptures are UL rated.
Additional Information
Holiday Time 3' and 4' Lighted Spiral Christmas Tree Sculptures, Multi-Color Lights (2-Pack):
One 3 foot spiral tree with 70 lights
One 4 foot spiral tree with 100 lights
Add festive light without stringing extra lights
Set up on lawn or patio
Trees are white
Multicolored bulbs
UL rated
See all Christmas Value Bundles.
Reviews
Cuteypye26
Cheap and work great!
I bought this set for less than $30 at my local Walmart ( and got a little cashback through another site). Although the set is flimsy, and was a little bit of a pain to put together, everything worked well. I highly suggest this product if you really want to decorate for Christmas but you're on a shoestring budget.
mountainsrus
They shrunk!
Well, let's see, 1st, I will start off saying that I love the trees with only one exception, THEY SHRUNK from when the first ones came out! They are alot shorter. I had purchased one 2 years ago and it was a lot taller back then, but they are still as beautiful. They could make these a little bit more sturdier in my opinion. My first one I purchased, the star broke on it. It don't seem to want to stand up either...... And if you don't store it just so, you might as well count on buying another one next year...
Lives4FlipFlops
Not made correctly
I purchased these this year because the picture on the box looks great... Well Walmart might want to rethink the construction of the trees. The stands are too big for both of the trees. I was going to return but I came up with a solution to fix it. I did not clip the spiral into the clips like it says. I tied the bottom sprial in 3 different spots with fishing line! Now they are perfect. But the only way it became perfect was by me using fishing line to fix it! so if you do purchase these, make sure you have fishing line on hand!~
pauleyswife
Instant gradification
We didn't want to decorate our 30 foot pine tree this year because it's a chore putting the lights on. I ordered these to brighten an area that would have had no lights this year. I purchased a 6 foot tree elsewhere so I have a group of 3 trees in different sizes. Very easy to install and very pretty lit up at night. Price was very reasonible and can be used for many years.
NTBH
Nice product
I bought 2 sets at the price of $13.35/set. They are quite simple but bring a nice decoration for the holiday. The quality is surprisingly good comparing to the price I paid. They are doing just fine even in a windy day with the wind speed up to 16. They didn't get knock down or damage at all. Each set comes with one 3' and one 4' tall tree. I put the two 4' at the front on both side of my two Christmas deer. The two 3' are on both side of my front door. They bright up my yard, and look expensive. I would highly recommend them.