Holiday Time 70 Random Twinkle LED Icicle Lights Cool White Indoor or Outdoor Use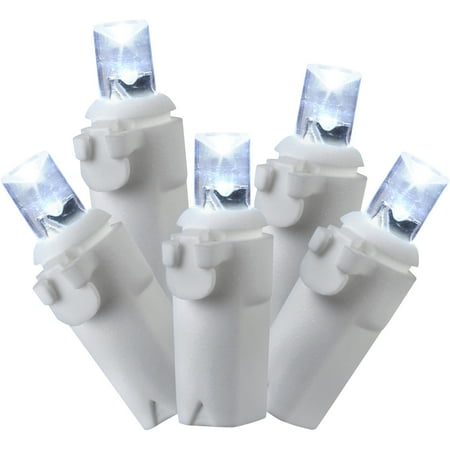 MSRP :

$9.97





Sale :

$7

Sold & shipped by Walmart
Product Description

Additional Information

Reviews
Product Description
Ho, ho, ho! Deck the halls and welcome the most wonderful time of year to your home with Holiday Time Random Twinkle Icicle Lights. Use this gorgeous light accessory to mark your home as a fun and festive space where the good times roll. Simply arrange the rope light inside or outside your home to immediately transform the space into a realm of sparkle. You're sure to be the envy of neighbors and friends. Plus, the kids will have a blast deciding where to position the icicle lights—around the tree, by the mantel or along the roof. The cool white light design will twinkle randomly for a memorable look that is totally worthy of a special post. The classic style will coordinate beautifully with the rest of your festive holiday décor, transforming your living space into an enchanting winter wonderland that will delight your children and any special holiday guests. Don't wait for Santa and his sleigh to help decorate your home for the holidays. Bring home the Holiday Time Random Twinkle Icicle Lights today!
Additional Information
Holiday Time Random Twinkle Icicle Lights easily transform the look of your homeEasily put the lights in place by your front door, on the tree, across the mantel or elsewhereRandomly twinkling white design adds a special and classic touch to your decorProvides 9 feet of lighted length (10 ft. total length)Suitable for indoor or outdoor useLED construction helps you to save up to 80% on energy costs and is cool to the touchHelps to make the holiday season extra special for kids, friends and family
Reviews
DarkAgeDad
Blue LED
Replaced 300 twinkle lights in each window with these lights went from 100 watts to 20 watts and the blue is brighter and does not fade
jiller
THE best LED icicles out there!
While 95% of LED lights available today are very unreliable due to potential for leaking water into the bulb covers, causing rust and failure after only 2-4 weeks of use, these are some of the 5% of LED lights that are the exception to the rule! You may be wary of buying LED lights after reading numerous reviews of rusty failure, but don't worry about these lights! In my searches of every store this year, I've found no other icicle lights with screw-in bulb covers like these. The screw-in star bulb covers protect the LED bulb inside from water damage inflicted by other snap-in bulb covers. This is based on reading many reviews, as well as my experience last year with both poorly designed snap-in bulb covered lights and well-designed Walmart screw-in bulb covered lights. This rust problem doesn't happen with traditional non-LED lights as they are all 1-piece vacuum sealed bulbs. LED snap-in covers may be loose enough to allow water to slowly leak inside and rust the LED filaments causing gradual failure (when used outdoors). When LED bulbs rust, no amount of replacement bulbs will help make the light strings work again. Many people this year will open up Christmas light boxes to find expensive LED bulb covers filled with rust on strings that don't work. I had 32 LED strings up last year, and all of the snap-in bulb strings failed. None of the strings with screw-in bulbs failed. Some manufacturers have started to transition to screw-in type bulb covers, but most have not. Avoid any LED lights with snap-in bulb covers, or try out one string this year and stock up next year if they still work. Based on my experience, and that of hundreds of others who have posted reviews of failing LED strings, snap-in covered LED lights should be banned. UL does not have stringent testing for bulb-covered outdoor lights like they do for those UL coded as outdoor lights. That's how badly designed strings make it to the store shelves. Test LED bulb covers at the store before you buy! Avoid those with covers that you can twist or snap. If great design is not great enough of a reason to buy these star lights, these star covers are bigger than you'd think from the photo at just over an inch each! They vary from 2-5 stars per icicle. The 9 feet lighted length is also longer than most LED icicle strands out there. The color is a very bright electric blue. They cast a bright blacklight glow on everything white inside my house! If you don't already know, LEDs save 85%-90% energy compared to traditional lights, and you'll never trip a breaker! Each string is 7.2 watts, and 29 may be connected end-to-end with 2 plugs per string. They have a 3-year warranty, but I have no doubt that they will last the typical 25,000 hour LED lifetime (260 months at 8 hours a day!). Truly amazing lights. Way to go, Holiday Time and Walmart! Note: Holiday Time C7 and C9 strings purchased last year also have screw-in bulb covers and still work pefectly!
Smartshopper
Garbage
I purchased 25 boxes of the blue 70 bulb icicle lights last year (2015). They worked well last year with a couple of string not working after the new year. I purchased storage reels and nylon sacks to properly store these lights until this year. I expected these lights to last 3-4 years. Gently unpacked the lights this year and not one string out of 25 works! Two strings had 1/2 the lights working. The rest....23 strings ....not one bulb works! All fuses are fine. Couldn't fix them, Waste of over $200 dollars. I wouldn't recommend these lights to my worst enemy!
Bethy
Only lasted one season!
We bought nine strands of these lights last Christmas (2015) and they worked fine for one season. We stored them properly and today as we tested them out only one strand worked. Two didn't work at all and the remaining six only half the strands worked. The box says bulbs stay lit if one goes out. We tried replacing the fuses with no luck. Tried hunting down a bad bulb to replace with no luck. The strands that half work appear to be out starting in the same place leading me to believe there is a defect. $90 down the toilet. Save your money and frustration.
Grinched
Some quit working in 3 weeks.
Bought led lights because they are supposed to last longer. 3 weeks in had part of a string go out. After 6 weeks 6 strings out of 10 have sections out. Very disappointed.