Holiday Time 150 LED Net Lights Multicolor Indoor or Outdoor Use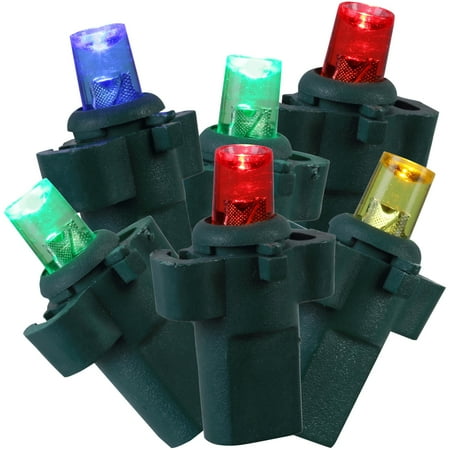 MSRP :

$12.96





Sale :

$6.5

Sold & shipped by Walmart
Product Description

Additional Information

Reviews
Product Description
Ho, ho, ho! Deck the halls and welcome the most wonderful time of year to your home with the Holiday Time 150 LED Multicolor Net Lights. Use this gorgeous net of lights to mark your home as a fun and festive space where the good times roll. Simply position the net on greenery inside or outside to instantly transform the space into a realm of sparkle. You're sure to be the envy of friends and neighbors. Plus, the kids will have a blast deciding where to position the net! The multicolored light design will contribute to a glimmering look that will be memorable and totally worthy of a special post. The vibrant style will coordinate beautifully with the rest of your festive holiday décor, transforming your living space into an enchanting winter wonderland that will delight your children and any special holiday guests. Don't wait for Santa and his sleigh to help decorate your home for the holidays. Bring home the Holiday Time 150 LED Multicolor Net Lights today!
Additional Information
Holiday Time 150 LED Multicolor Net Lights easily transform the look of your homeEasily put the lights in place by your front door, draped over your garden gate or elsewhereMulticolored lights add a special and vibrant touch to your decorProvides 6 ft. x 4 ft. of lighted spaceSuitable for indoor or outdoor useLED construction helps you to save up to 80% on energy costs and is cool to the touchHelps to make the holiday season extra special for kids, friends and family
Reviews
Dave
One hit wonder!
What a waste! If the lights are not supposed last more than a single season then they should just say so!!! Cheap is not the same as a value and these lights are CHEAP!!! Bought 8 packs last season and they were great. We packed everything back into the boxes and kept them safely stored for the current season. When we took them out all nets were completely out and it is impossible to indentify where the problem lights are. Never buying this brand again
KateA
Great Christmas Lights
I purchased four of these sets. They were easy to put up on my large Wisteria vine (18' wide x 10' high) and were very easy to remove. The three sets worked perfectly while they were up and after I pulled them off, gathered them up and stuffed them back in the box I tested them to see if they were ready to go for next year. They still worked perfectly. These were great, especially for the price. My only concern was about the fourth set. When I went to test them, before putting them up, I found that 1/3 of the lights were dark indicating that one or more of the 50 lights that weren't on was burned out. None were broken. It was difficult to pull the lights out to test them and after about 30 minutes with no luck, I decided to return them to the store. The return process was very simple and quick, making the whole thing well worth it.
yas
Great Christmas Lights
i brought 20+ sets of these.More then half where not working completely.
rose888
disposable
This is my second time using them and already half the lights on the net don't work. Cheap Chinese disposable lights.
LMNOP55435
Really Nice and Bright!
I purchased 4 sets of these and wish I would have bought more. Now they are out of stock. :( I placed them on all the shrubs on one side of my house, and I do believe they are much brighter and crisper than the non-LEDS I have had. The price is also amazing, so you can easily purchase without worrying that you spent too much. Hoping these last me a few years. So far, so good. As someone else mentioned, it's really best to stretch them out in the house before attempting outside in colder temps. They are really nice and full and cover a very large area. Very pleased. Will be buying more when they are back in stock for next year!