H2O Wireless 3-in-1 SIM Card with First Month Included: $30 Plan H20 Micro & Standard Size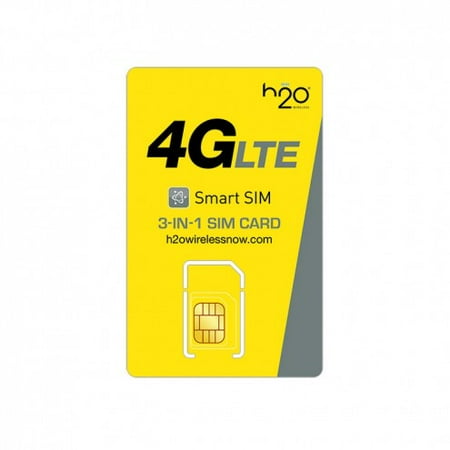 Sale :

$19.99

Sold & shipped by JemJem
Product Description

Additional Information

Reviews
Product Description
h2o® Wireless $30 Monthly Plan No-Contract Simcard. MAX 2 Per customer. Orders with more than 2 quantity will be canceled.
Additional Information
H2O Wireless Unlocked SIM Card - Micro & Standard SizeH2O Wireless Sim Card with First Month Included : $ 30 PlanUnlimited Talk Text & MMS 1GB DataPlus $10 Intl Talk CreditPort-In / You can keep your old phone #Activate with any AT&T or GSM Unlocked Mobile Device The most exciting way to revolutionize your existing mobile phone. The H20 Wireless SIM Kit give you access to an unbelievable network at your Convenience. Activiate your H20 Wireless plan and get Unlimited Talk, Text, MMS, and 1GB of Data. A $30 Value at a steal. What are you waiting for? Pair your exisitng GSM Unlocked or AT&T locked Phone now with H20 Wireless. MAX 2 Per customer. Orders with more than 2 quantity will be canceled.
Reviews
perphexion
This is AWESOME
I ordered this thinking it was not going to work. I was wrong. I used it for my tmobile samsung galaxy s4. I activated the sim card online. I put the sim card in my phone and it did everything by itself to make my phone compatible. It took over and handled it. After 30 seconds I got 3 text messages telling me that service was up, text messages were ready, and data is ready. I didn't have to change the apn settings or anything. Also the card actually comes with 3 gb data at high speed instead of 1 gb. The best thing is that my service is awesome now. I was not getting good service with tmobile at all. Now I'm a always at least 4 bars and always 4G lte. #winning
lesns2001
A great way to try H2O service.
I was interested in seeing what At&t service was like around where I travel, this is the best way I found to do that!
arindee
H2o phone service
Purchased h2o sim kit for my GSM unlocked phone I got a free month of service for switching to them I'm saving 25.00 per month the service has been flawless it's only been 4 days will give update so far I would recommend yes
NatTours
h2o triple sim--great deal
Ordered this sim ahead of my arrival to the US. It was here waiting when I arrived. I registered, activated, installed--all works fine. Definitely a great purchase--will recommend to others.
Theintended
Works as Advertised
The product works and the activation was simple. Call the number on the back and provide account number and PIN (if you're porting from other carrier) wait 2 hours and you're set.