Revlon Perfect Heat® Long Lasting Curls RV050 1.5" Ceramic Curling Iron, Black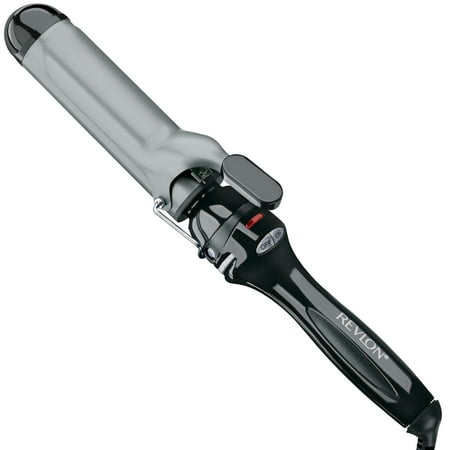 MSRP :

$15.28





Sale :

$14.91

Sold & shipped by Walmart
Product Description

Additional Information

Reviews
Product Description
Revlon Hair Tools is dedicated to helping women achieve beautiful hair they'll love! Whether women desire gorgeous blowouts, big enviable waves, striking straight locks, or the perfect fashion accessory to complete the look, Revlon has the styling tools you desire. Our Perfect Heat® line, with triple ceramic coating, is designed to provide you with the optimal heat and ceramic coating for less damage and perfect styling level. ABOUT THE PRODUCT: Flaunt gorgeous curls with less damage and less frizz! The 1.5" natural waves curling iron features three coatings of ceramic to reduce frizz and reduce heat damage. 400°F high heat locks in the curl quickly for a flawless, long-lasting hair style. • 1.5" Barrel creates extra loose curls and relaxed waves • 3x Ceramic Coating on Barrel for less damage and less frizz • 400°F high heat locks in curls for a long-lasting hold • Auto Shut Off for safety and peace of mind • Worldwide Dual Voltage so you can style anywhere you go TIP: If you have fine, thin hair the heat level should be 1-6. If you have wavy to medium hair the heat level should be 7-14. If you have thick hair the heat level should be 15-22. If you have coarse, hard-to-curl hair the heat level should be 23-30.
Additional Information
· 3x Ceramic Coating for smooth, gorgeous results · 400°F high heat for long-lasting hold · 1.5" barrel for loose curls and waves
Reviews
TLR
Does the job for now
Large ceramic barrel works well. This is a replacement for the same model that was several years old. It is more cheaply made. The electrical cord is very thin as is the holder compared to my original. Also the light doesn't blink to indicate that it has reached the desired temperature.
nwglendalemom
What a waste of money and time!!
This curling (if you want to call it that) iron is horrible!! Where do I begin. First and for most the heat dial is in a bad spot, it won't stay in place and the on/off switch is also in a bad spot both are right where you have to put your thumb. It would heat up, but the red light flashed constantly not sure why. The major problem is that it won't curl your hair. I thought it was me, but I had a friend try to use it and she had the same problems. I bought this iron because I wanted the large curls. This is not the iron for any kind of curl. Revlon needs to have a recall on this product and go back to the drawing board!!
Sabrian
Very good curling iron.
I actually got this curling iron for christmas from my mom, but never used it until now. I was skeptical at first because it is a big curling iron and I have a lot of short layers and then longer ones. I used this on my hair after I already made it wavy with another revlon product and my hair had tons of hairspray in it. but the curls still turned out amazingly, so I can only imagine how it'll work on clean hair! I'm very excited to use it again and I would definitely reccomend this. the only con about it, is that the off switch is close to the clamp, so you have to be careful you don't turn it off. and also that you should obviously not get this if you have short hair because then your hair won't wrap around it completely. other than that, great product.
lightskinhoney
ok but finger to close to heatind dial...
You have to turn the dial all the was on 30 to get very hot which is ok fo me because i have course hair...over all its a good curler...very sturdy...
Sablefoxfire
Quit working after a few months.
One thing I never liked was that the on-light stayed on steady while heating, then after a minute it flashed when ready. To me, this is opposite of how it should be. No biggie, but still irritating from the get-go. It curled my hair OK, but that's what it's supposed to do. After only a few months of use, one day it just turned itself off. I was thinking to myself, has it been an hour already? So I turned it back on. Then off it went again! It isn't even a year old and already it's dead! Come on Revlon, your maximum life expectancy for failure didn't even make it for the year you guarantee it? Where you sneakily get us consumers is that you /know/ we aren't going to keep the empty packaging and receipt for the year it's warrantied. Perhaps in a perfect world we'd all have a separate room in our house where we could keep all the empty packaging of items we buy, then if and when they break, we could simply take them back for replacement/refund. But in the real world I personally don't have room to store empty packaging for a year. I'll buy another brand next time.