Revlon Salon One-Step Hair Dryer and Styler RVDR5212,1100W, Black and Pink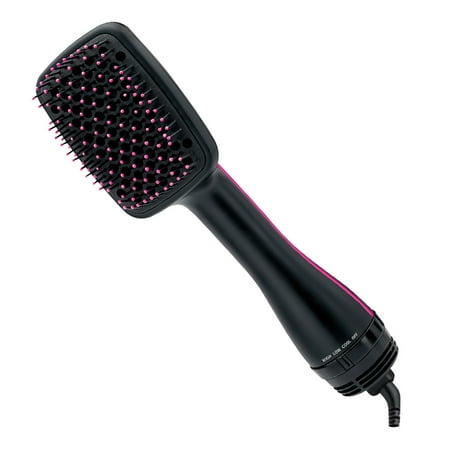 MSRP :

$39.99





Sale :

$49.99

Sold & shipped by My Goods
Product Description

Additional Information

Reviews
Product Description
Revlon Pro Collection One-Step Hair Dryer and Styler has 1000 watts of drying power and will not cause flyaways. This allows for styling your hair while drying with ionic conditioning. The tangle-free bristles help to dry, smooth, and style hair in half the time with 2 heat settings and a cold shot function for complete styling flexibility. It's a hairdryer, hair styler, hot air brush, 2-in-1, and paddle brush.
Additional Information
2-in-1 design, dries and smooths hair quickly




IONIC TECHNOLOGY® for silky-smooth results




Detangling bristles and lightweight design



Reviews
babycat1216
Makes Drying Hair Easier!
I have very long hair and always have to use a blow dryer,brush and then a flatiron. This New Revlon Pro Collection one step Hair Dryer and Styler do all that in one step ! The brush is soft the tips of the brush is coated with a easy soft little balls that separate my hair and the paddle is big to dry big sections at one time. I did not have to worry about burning my hair because it has a auto shut off if the heat gets to hot. There are three heat settings cool,low and high. It's a very pretty shade of hot pink. Very modern looking. The cord is a swivel so it don't tangle up.It's not very heavy at all.There is IONIC conditioning in the dryer that helps to eliminate static and frizz that enhances shine for silky smooth results.You can even use it on the cool setting to just freshen up your hair. My hair was shiny and straight after I used the Revlon Hair Dryer and Styler. I absolutely love my Revlon Pro collection Hair Dryer and styler. Be a wonderful gift for the holidays or a birthday . I can see tweens and teenagers loving this!
littlebit47
Great hair dryer & styler
I have used this hair dryer and styler now for several weeks. It dries your hair perfectly and is no louder than a normal hair dryer. The nice thing about it is that you don't need a dryer in one hand and a brush in the other. If you like the "straight" look style, then this is for you. The head of the unit does get warm to the touch but does not burn. The bristles of the brush are very gentle on the scalp. The dryer brush unit has three settings - cool, low and high. The high setting is for thicker hair, the low setting is for thinner hair and the cool setting is for setting your style. When drying your hair you take small groupings of hair and pull your hair over the brush. The thing I don't like about this brush is that it is to flat. It is harder for me to try to get a rounder look for my hair. I would like it better if the brush was rounder and not flat. Pros -- Dries hair evenly quickly Bristles are very gentle on scalp Gives you a nice straight style Cons -- Wish it had more of a rounded brush as oppose to flat style All in all this is a very nice brush dryer and styler and would recommend it to anyone especially those who like the straight type look.
shopUS
Revlon Hair Dryer and Styler
Revlon Hair Dryer and Styler product that I just tested its little bit different than I am used to. Sometimes when I wish to straightening my hair it's hard if you don't use or have right product. This item seems very good thing because you can straighten and dry hair at same time any time you want at privacy of your home. After trying Revlon Hair Dryer and Styler, I am very appreciative with functionality it performs. There is some design flaws for me as older women, because handle is thicker and it is not comfortable holding it for longer period (5-15 minutes) because it seems very heavy. Everything else seems very good made from material to overall design. Also it is very easy to store or carry with you on trip if you have to. Using this product is very easy. There are three heat settings: cool, low and high. Brush paddle is wide so it covers large portion of hair for quicker drying and styling. Revlon does claim that this type of Hair Dryer and Styler produce less damage on hair. Also is has swivel power cord so it is tangle-free. Directions are also included if you need it. I would recommend any one I know if they need new hair dryer to replace with this design instead of conventional dryer.
dealfindershopper
great product to use
I am not very good at drying and styling my hair, especially having very thick hair. I have only used it a few times and each time I got the results I wanted , which was to dry my hair getting the layers in the front of my face to lay the way I wanted them to without spending hours to get them to look right and not get frizzy hair . The only reason I gave it a 4 out of 5 instead of a 5 out 5 was that I found the brush part to be a little large and it would be better if it was slightly smaller or it came with changeable brush heads . Apart from that though I couldn't fault it and it was nice to dry my hair without it going frizzy. It really was very easy to use especially if, like myself, you find it difficult to style your hair with a dryer & brush as you never seem to have enough hands. With this product having 2 hands is really enough. It also doesn't seem to overheat it after using for more then 20 minutes and the parts that do heat up cool very quickly.
snorebabysmama
To Big and Flat
The Revlon Style and Dry 2 in 1 Hair Dryer is way to big to do any styling. The bristle head is too large to try to make any curl stay. It would be nicer if the head was more of a round design so that an actual style could be attained. The heat settings work fine but where it says that it won't leave your hair frizzy, it did mine. I have a very short, curly type perm in my hair. I would prefer letting mine just dry with the heat of the Revlon 2 in 1 and then use a regular curling iron when styling. My hair looked so bad I went and rewashed it. I would not recommend this to anyone unless they have just long straight hair and want to keep it that way. To me it is also a little on the heavy side to do a lot of styling. It Revlon would consider reducing the size and shape of the bristle head, I think they would have a great product. The idea is great but there needs to be a little more thought put into the design if it is going to be compatible with all types of hair styles.