Revlon Perfect Heat 3 Barrel Deep Waver Styling Curling Iron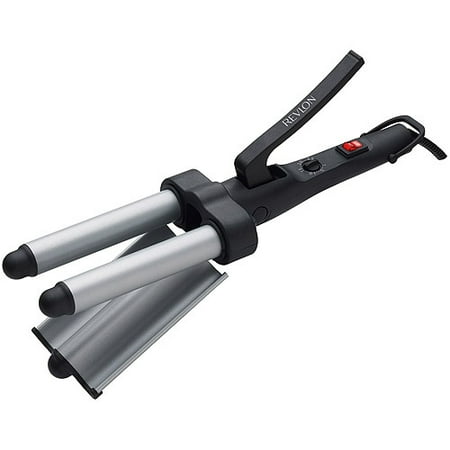 Sale :

$24.99

Sold & shipped by Walmart
Product Description

Additional Information

Reviews
Product Description
Style your hair in no time with the Revlon Perfect Heat Deep Waver Curling Iron. This 3 barrel Revlon Perfect Heat Deep Waver Curling Iron has 30 heat settings, so you can choose the one based on your styling needs. It features a rocker switch that lets you know whether the appliance is on or off. This curling iron gets heated up quickly in 30 seconds, thus it comes handy for instant styling. This efficient appliance uses tourmaline ceramic barrels to give your hair a healthy and shiny look. To style large sections of your hair, choose any of the three Jumbo barrels available. The locking ring and safety stand make it convenient for you to quickly store and carry this deep waver curling iron wherever you want.
Additional Information
Revlon Perfect Heat 3 Barrel Deep Waver Styling Curling Iron:
Tourmaline ceramic barrels provide high, even heat and maximum hair conditioning ions for shiny, healthier looking hair
30 Heat settings for perfect styling of all hair types
The Revlon 3 Barrel Waver Styling Curling Iron has a lighted On/Off rocker switch - 30-second fast head up
3 Jumbo barrels style large sections of hair fast
High heat, constant heat sensors monitor temperature, quickly restoring heat to the perfect styling level
Locking ring for convenient storage and travel"
Tangle-free 6' swivel cord
Safety stand
Revlon Hair Curling Iron Model #RV084
Reviews
WowieZowie
Love the Look, Hate the Quality
I bought this a while back but started using it a few weeks ago because I didn't like the look on my long hair, but I love it on my short hair. My hair is right at my collarbone, but I wouldn't recommend for long hair because it doesn't look like beach waves; they're very well-defined. I have a photo of the results below (it's not a very good one though) so you can see what the waves look like. The downside is that the plastic is very flimsy. I have a bad habit of squeezing the handle a bit too hard (so it grips my thin hair for better results) and it finally snapped today. The whole back panel is just hanging off now haha. Luckily it's one of the cheaper hair tools to replace, and it was my own fault for squeezing that hard. TL;DR: the waves are well-defined (see pic), and don't squeeze too hard if you want this to last at for longer than a few weeks (and that's if you're lucky).
DeltaGirl2
Love It
I really Love this thing. My sister has had one for several years and she loves it. Now I Love mine.
Geneva54
I LOVED IT!
I really Loved how this made my hair look. However, I was very mad when i went to use it for a second time and it broke!!! Very mad about that however I looking to buy this again just maybe a diffrent brand!
mamabearto5
Best Styler to date
I have very straight, fine and very difficult to curl hair. This is the only product that I have used that holds the wave and leaves my hair shiny. I usually loose the curl after styling with other curling irons in about 10 minutes. I can use the Deep Waver and have waves until I wash it out. It takes me about 20 to 25 minutes to do my whole head and the length of my hair is past the middle of my back. The time is definetly worth the hold that I get. This is my favorate hair styler to date. I would highly recommend this.
HappyExpectingMother
Neat!
I bought this because I thought it looked really interesting and walmart.com had the best deal on it I could find. I love it! I have alot of hair and it only took me a small amount of time (maybe 15 min) to style it with this because the unit waves so much hair at once. I had it delivered to my workplace and it came right before my lunchbreak so I decided to try it out right then. My coworker was so impressed that we did hers also and she also ordered one. We didnt use any product in our hair before using the waver and the waves held very well. It takes a couple times to get used to using it, the hardest part for me is lining my hair up right when I get to the bottom. Very simple, easy to use. Yes, its a bit bulky but as I said, it waves large portions of hair at once so its perfect. Gave my stick straight hair a completely different look, so glad I got it!