Pilot 2.4" LCD Dash Camera with 4GB SD Card and 720 HD Resolution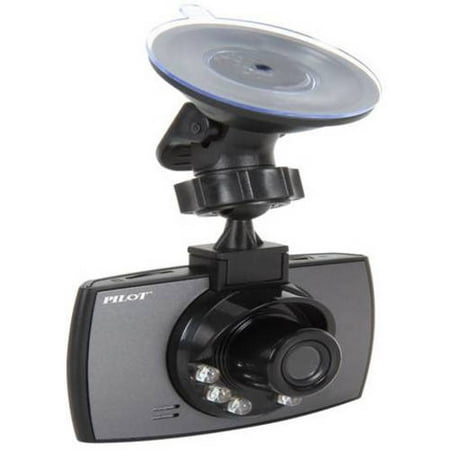 MSRP :

$48.4





Sale :

$19.95

Sold & shipped by Liquidation Center
Product Description

Additional Information

Reviews
Product Description
Never miss a crucial incident on the road again with this Car Dash Camera. It records both video and sound with a date and time stamp and features a video looping function. Everything is displayed on a 2.4" LCD screen with a 720 HD resolution and stored on the 4GB memory card. This car camera with a screen includes a power cord, a USB micro cable and a suction cup mount for easy installation.
Additional Information
Dash Camera with 4GB SD Card:2.4" LCD screen720 HD resolution4GB storage cardPower cordSuction cup mountUSB micro cableRecords video and soundDate and time stampHD dash cam features a video looping function
Reviews
DaddyOfTwoBoys
Doesn't continually loop record
Loop recording doesn't seamlessly continue from segment to segment. The camera records in segments, allowing you to set a video segment length of 1, 3, 5, or 10 minutes of recording before it starts a new video segment. Problem is that it doesn't immediately start the next segment at times. On my 30 minute drive to work this morning, I reviewed the video and sometimes saw as much as a 4 minute gap of no recording between the segments. If an accident had occurred in front of me during that 4 minute gap, I would not have had any proof of it. I have tried different segment lengths and the problem is still the same - it doesn't continue recording from one segment to the next. Also, as other reviewers have commented, the video quality isn't very good. If you think you're going to read a license plate of someone who cut you off, think again. They would have to be extremely close to your car for it to be clear enough. I've attached a pic from the camera on my way to work today at 8:30am. I can't read that license plate, can you?
BLSmith
Great for the low price of $7
I bought this camera when I seen them on sale in January of 2017 and the price was $7 so depending on where you shop you can't buy the memory card for that so I have it a chance and it works just fine. Already filmed a wreck in front of me proving the driver of a car that said he couldn't avoid hitting a truck that changed lanes at the wrong time was lying and the poor guy in the truck didn't have to get sued by a money hungry leaches. The truck changed lanes with a car on side of him and the car seen him and started to move but all of the sudden yanked his wheel to the left running into the truck. Not only did he see the truck coming but he ran into it most probably to sue. The people in the car were all calling for their Mouton collars (neck brace) and each an ambulance because they said the truck came out of nowhere and could of killed them. The cops seen my video and told them they would be getting a ticket and would be liable for medical bills. All of the sudden they were healed and wanted to go home.
walmartfanman
Received This Gift
I received this item as a gift. Had I purchased it myself I would return it for something better. The battery in my unit is obviously bad. It shows it is fully charged then immediately goes to one bar, then shuts off after a few seconds. It works fine as long as it is plugged into the car. If you own a digital camera it should be easy for you to figure out without even looking at the instruction booklet. The video quality is not high definition great, but it is good enough if you are realistic given the price. I am unable to make out any license plate numbers while driving. At night I cannot see the license plate no matter what the distance the car is in front of me. So far, it is holding to the windshield. It is better than having none.
SR3000
Nope
Wow... no way. Can't believe people are giving this thing good ratings. There's a difference between low expectations = $20 price, and flushing your money down the toilet. If you have an old cell phone sitting in a drawer, use it instead, it will be a million times better than this. You can download a dash-cam app for FREE. Even though this thing has very limited settings, and it does, I would at least expect the video to be "GOOD" but its not at all even good. Forget about night time video, unless your driving in a well lit city street, it can see about 2 feet in front of your hood at night and that's it. The day time video stinks in a huge way also. The lovely infra-red LED's are good for about 3 or 4 feet at night. Give this as a gift to someone you dislike or as a gag gift!
Michigan1
Owned for 3 weeks
I bought this about 3 weeks ago. I absolutely love it. I've recorded at least 10 people pulling out in front of me, 2 accidents, and some other cool things. It has been well worth it. Buy it upgrade to the 32 gig sd card and you won't be disappointed. Now I'm sure their will be some junk ones but don't let that stop you. I would by one for each car. To cheap not to have one. I highly recommend this product and no I dont work for Walmart. Go Michigan!