OxiClean Laundry Stain Remover Refill, 56 Oz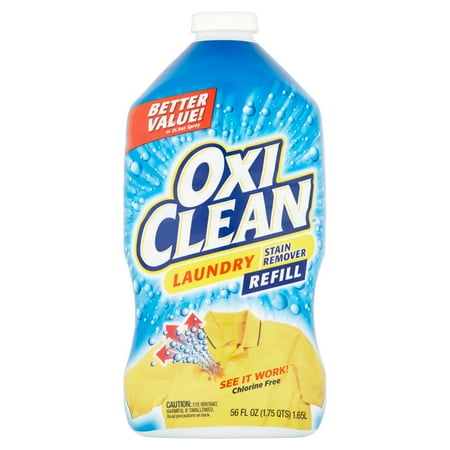 Sale :

$4.97

Sold & shipped by Walmart
Product Description

Additional Information

Reviews
Product Description
OxiClean Laundry Stain Remover gets out your toughest laundry stains and odors, such as wine, blood, blueberry, dirt, grass and even set-in stains. The unique formula starts to work before your eyes. OxiClean is a multipurpose stain remover that can be used to remove tough stains throughout your home. It is chlorine-free and color-safe. Refill your OxiClean Laundry Stain Remover spray bottle with the OxiClean Laundry Stain Remover Refill.
Additional Information

OxiClean Laundry Stain Remover Refill:
Chlorine-free
Color safe
Attacks even tough dried-on stains
Fast acting
Fits OxiClean Laundry Stain Remover spray bottles
Unique formula works immediately when applied
Removes stains and odors like wine, blood, blueberry, dirt, grass and even set-in stains
Ideal for a variety of tasks throughout the home
OxiClean stain remover comes in a 56 fl oz size
Reviews
Big no no
Not good
I have used the spray following the directions and it has left holes in my clothes and bleached the spots sprayed. it took me some time to realize it was the oxiclean causing holes but then I watched more carefully and it was the same spots I sprayed. This has cost me a lot of money and I don't want this to happen to anyone else. I am so frustrated and disappointed as many of my expensive clothes are ruined. This is my second try submitting a review. I would have liked oxi clean to acknowledge this matter/stand behind their product instead of not publishing my original review and statement.
Jackii9308
Ruined my sons white Vans
I could not get the dirt stains out of my sons Van's by hand, then I remembered I had this oxiclean spray in my laundry room. So i thought I would use this and throw them in the wash. The dark stains came out , but instead I was left with yellow stains anywhere that I sprayed the oxiclean! I'm so upset. The shoes were worn just a handful of times.
Bamagirl
AWESOME
I have been impressed with this Oxi Spray for some time! Today I got Magic Marker off of a good light colored rug! So impressed!!!
Danny07
BEST SPRAY STAIN REMOVER
Use this one and throw the rest away because it does its job, always.
kitten
o
I bought the new pods. It doesn't work. All they are white pocket shirts mainly cigarette smoke. Didn't take it out. I don't like the smell either. Made my towels rough even though I was using a fabric softener. Don't waste your money.