O2COOL 10 inch Battery or Electric Portable Fan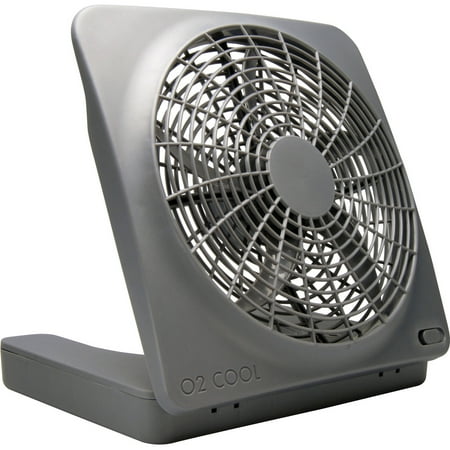 Sale :

$14.88

Sold & shipped by Walmart
Product Description

Additional Information

Reviews
Product Description
O2COOL's 10-inch portable fan is perfect for indoor and outdoor activities, use in a hot office or school, on a picnic and especially during a power outage. O2COOL?s fans include a range of sizes, multiple power source options, patented fan blades for efficient operation and compact designs that allow you to take the cool anywhere you want to go.
Additional Information
Dual Power sources: Plug-in with the AC adapter (not included) or use 6-D batteries (not included), Up to 40 hours of battery life

Powerful 2 speed 10-inch blade

Convenient built-in handle, Stable horseshoe base

Tilts for directional air flow

Compact folding design makes it great for travel; easy to carry and store, Perfect for camping and outdoor activities
Reviews
hootie007
BUY IT!!!
We had a bad storm in Memphis a few weeks ago and 190,000 people were without power for several days. I was one of them. My power was out for 6 days!!! When it finally sunk in that I'd be without power for several days. there were 2 things I grabbed - every type of flashlight I had and my battery powered fan. Even though my house was hot, this little fan was a life savor!! I kept it on me constantly. It takes 8 D size batteries and eats up cheaper brands fast, so spend a little extra money and get brand name batteries and keep several in stock in case you need to replace your batteries. Of course, that depends on how much you use it. I used mine heavily but it ran all night long and into the next day. I would put the fan close to me at night and it helped me sleep. I don't think I would have been able to sleep without it. I highly recommend this fan for emergencies or camping. Just be sure to have plenty of D cell batteries for backup.
PRinNH
Great fan
This fan folds which makes it easy to store. It is very powerful and even on the low setting, it may be too strong for someone who just wants a little air flow. It really pushes the air. Worth the money but it does not come with the power cord. I had to purchase that separate and depending on how hard you search, could cost more then the fan itself. Also, make sure you are getting the right connector end on your power cord. It takes the chunky end and not a thin end. You don't need 120 - 240 as I purchased one that was 100 - 240 and it works fine. Batteries are around $10 for an 8 pack (Energizer). You will need 6 to go cordless. Haven't tried with batteries to judge how long they will last as they are for situations that I haven't come across yet. Bought 2 fans, 2 eight packs of batteries, 2 cords and made an initial investment of around $64. I have seen the same model that includes the cord but is more expensive of course. I think these will be a life saver in the future and well worth the cost.
Flybrat
Great Fan
I bought this fan for a camping trip last May 2017, it worked great. The batteries did last I never had to change it out. We used it at every night and sometimes during the day on our 4 day camping trip. We went through hurricane Irma, we live in south Florida we lost power for about 3 days this fan worked awesome throughout the 3days and night. We got our power back and a friend still had no power and he was complaining how he cant sleep at night because how hot it was so my husband let him borrow the fan. He was so impress on how it worked and it was a life saver for him. My husband and I are planning another camping trip so I just bought another fan for our trip. Just love this fan we had no problems with it and the batteries does last but still planning on keeping extra batteries for back up.
Try2stayCool
O2Cool 10" battery powered fan model FD10101
I love the fan itself. It works well for my needs. I knew before purchasing that the AC adapter was not included & would need to be purchased separately. When I decided I wanted the adapter as well, I was unable to find it at all. I am thinking of returning this fan as I have found for a few dollars more the same fan with model # FD10101A comes with AC adapter included
kyb
Glad to have these in Florida....
Just received 2 of these fans today. Can't comment on the battery life, but I can say I wish we'd had them last September when hurricane Irma left us without power for days in Florida. There was no air moving and no real way to escape the heat, especially in the night. There is a low speed and a high speed, the low will blow out maybe a foot and a half. The high speed is better but will certainly drain batteries faster. These fans won't blow you off your feet, but when you are in a storm situation that takes your power, like we were, they would be worth everything. These would also be good for camping, or staying in a hotel for those who need white noise and air on them. Would buy again. These don't come with an adapter but that didn't matter. The other big online marketplace has the ones with the adapters but they are twice the price. Happy with our purchase and they are going right in our hurricane kit.