Bear Archery Scout Youth Bow Set Includes Arrows, Armguard, Arrow Quiver, and Recommended for Ages 4 to 7 – Hunter Green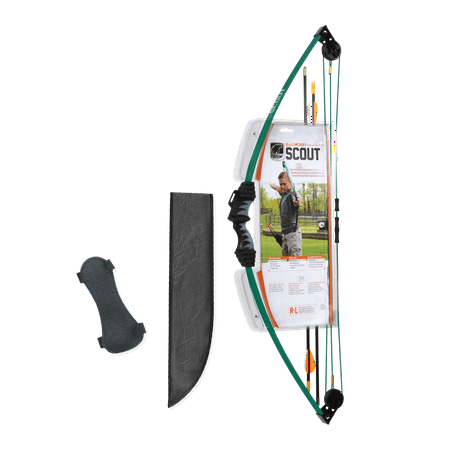 MSRP :

$29.99





Sale :

$27.99

Sold & shipped by Walmart
Product Description

Additional Information

Reviews
Product Description
Teach children valuable skills for life with the Bear Archery Scout Youth Archery Set. It is an ideal choice for any beginner, containing all the essential pieces you need to get started. It makes bow and arrow use easy and fun. This children archery set is suitable for both left-hand and right-hand use. It comes with the armguard, finger tab, sight pin and safety glass arrows. The Bear Archery Scout Youth archery set is ideal for teaching any ages from kids to teens how to pull, aim and fire. The sturdy bow with an attached string, arrow rest and pulleys perform well after rigorous use. It comes with an invaluable handbook that offers easy step-by-step instructions for a fast and effortless setup. Children learn to focus, use patience and concentration, all necessary survival tools for real life functions. You can set this children archery set up in your backyard or a large field, giving them plenty of room for learning.
Additional Information
Beginner bow set comes ready to shoot with two Safetyglass™ arrows and sight pin
Set also includes finger rollers, armguard, and arrow quiver
Recommended age range for children is 4 to 7 years old
Features 8-13 lb. draw weight and 16- to 24-inch draw length range
33-inch long ambidextrous bow features durable composite limbs
Reviews
RealProudPop
AWESOME COMPOUND BOW FOR LITTLE ONES
This bow absolutely rocks.....easy for a 6yr old to pull and with the compound deal its real easy to hold while drawn. Not ony that but I love shooting it as well....man its fun! One downside is the tips of the 2 arrows in the kit come off after use but was not really an issue and we had a bunch of older wooden arrows....suggest getting more arrows before unveiling to kiddies.....shooting 2 only is really not so great anyway.....the bow itself is absolutely awesome and crazy fun for the money. One thing to keep in mind with a compound bow.....the kid shooting needs to be big enough to reach the draw length....easy for our 6-8 yr old girls but our 4-5 yr old is strong enough just arms/torso-width just not big enough. For the youngest we got the non-compound Bear Archery 1st Shot Bow Archery Set which as its not compound she cant really hold a good pull for any time....but its still fun....happy shooting/bonding with the wee tots!
wheats
great deal
I bought the bow for my 4 year old son. He absolutely loves it. The bow itself it very sturdy. The string and pulleys are very durable as well. The description says that it has an adjustable draw weight and length but it does not. The draw weight was tough but manageable for my son. The draw length is about 22". The pros are that the kit comes with a ton of stuff and for 24 dollars you can not beat it. It shoots quite well and fiberglass arrows are quite cheap. The cons are that the accessories are not well made. The finger guard is for a larger person. The arrow rest broke on the third shot and the sight pin is made of plastic and broke within the first day. The arm guard works quite well and the quiver does the job as well. Overall I would recommend the bow set to other people.
MomToSons
Great bow for young kids
My husband bought two of these bows yesterday for our boys ages 4 and 6. They won't set them down. The 6 year old can pull the bow all the way back and after a day of practice is remarkably good at hitting the target! The four year old can pull the bow half way back (not quite strong enough yet to pull it all the way.) But he can still shoot the arrows into the target. A great purchase and an affordable gift for birthdays or Christmas. Surprisingly good quality for a youth bow. Definitely recommend for the 4 year old and up age group.
halohattie
perfect for teaching
I am a certified archery instructor. I use this bow and several others from this website to teach my cubscouts and others archery. I LOVE this bow. I must say it is a favorite of all the kids on the range. Yes, it is hard to pull back at first, but that is what the cams are for. Once you get passed the initial pull the cams help you with the last part of the draw. All my kids "fight" over these bows. I hope to purchase more for them for the upcoming camps! we use a different arrow on ours though. Found that these arrows are not sufficiant.
Chsc
Good for beginners
This bow is great for beginners. It is easy to pull back for younger children due to the lower draw weight. I recently went camping with 4 other families and all of our children ranging in age from 6-15. Every child even the 15 year old had fun trying to hit the target. If it has a nock where the arrow would clip under then it would possibly be more accurately shot for youngsters however for the price this is a great bow to work on safety rules, stance and posture, how to draw back and find an anchor point...etc. if your child has already been involved in archery you might possibly want to upgrade a bit to a slightly more involved model. Also this is minor but our sight lost its tip on day 1 (not a big deal it's still usable) and also it is only somewhat accurate (no surprise as this is a child's bow and arrows have plastic fetchings) once again....great for true beginners... if your child has shot bows in the past then I recommend moving up a bit in quality.