Refurbished Garmin nuvi 57LM 5" GPS Navigator System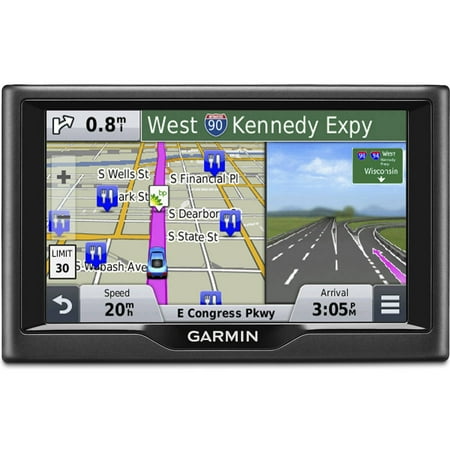 MSRP :

$84.94





Sale :

$114

Sold & shipped by HONESTDEALS
Product Description

Additional Information

Reviews
Product Description
For driving directions on the road, put away the smartphone and power on your nuvi. nuvi 57LMT is an easy-to-use, dedicated GPS navigator that does not rely on cellular signals and is unaffected by cellular dead zones. nuvi 57LMT features sleek styling and a bright, five-inch dual-orientation display, for use horizontally or vertically. Its included suction cup mount keeps it firmly in place.
Additional Information
Refurbished Garmin nuvi 57LM 5" GPS Navigator System:
Easy-to-use dedicated GPS navigator with 5.0" dual-orientation display
Preloaded with detailed maps of the lower 49 U.S. states with free lifetime map updates and traffic avoidance
Garmin Real Directions guide like a friend using landmarks and traffic lights
Find new and popular restaurants, shops and more with Foursquare
Direct Access simplifies navigating to select complex destinations, like malls and airports
Display type: WQVGA color TFT with backlight
Display resolution: 480 x 272
Battery: rechargeable lithium-ion
Battery life: up to 2 hours
Speaks street names
Lane assist guides to proper lane for navigation
Junction view displays junction signs
Speed limit indicator
Dimensions: 5.5" x 2.75" x 4.25"
Reviews
LindenJim
UPC : 753759140304 - Refurbished Garmin nuvi 57LM 5" GPS Navigator System - PickPanda.com
The screen has a finer picture and the layout is informitive.
Flashlight
Refurbished-Garmin-nuvi-57LM-5-GPS-Navigator
Had one of these for several years and the charging jack on the back went bad. Liked it enough to purchased this refurbished unit as a replacement. It is a nice unit. Not much of a fan for the forced features like school zone warnings. There are already sign in the school zone for that if you are watching well driving and the Garmin goes off when entering every school zone even in the summertime. The map update worked well. The reason for the 3 stars (I would go 3.5, but not a selection) is that the routes defaulted to are not the most time saving even when the device show this to be true. I used my smart device to map directions and this Garmin and for the trips I have used these on, the smart device has been more accurate with regard to the quickest route. This Garmin will get you there and is a good back-up. Also, I like using the Garmin to free the smart device up for other purposes while driving.
GPSReviewer
Excellent GPS!
I bought this to replace a Magellan GPS that I had. This is the first time that I purchase a Garmin unit and I'm glad I did. This GPS is top notch. Super easy to use and set up and has all the features that I need. The screen is big and easy to read and super bright. The GPS signal comes in as soon as you turn it on. It seems solid and well built and this refurbished unit came with a 1 year warranty. It looks immaculate as if it was new and not refurbished. It seems to have been refurbished by Garmin. For those that have asked: 1. It's an LM model which means you do get lifetime map updates for free. I downloaded and installed the Garmin Express software, plugged the GPS to the computer and immediately it recognized it and it updated the maps and the firmware to the latest version. 2. If you want a manual, you go to Garmin's website and download it in PDF format. Somebody wrote a review saying they were upset that it did not come with a manual. Garmin just like other manufactures don't include paper manuals. This is common with a lot of electronics as you can just download almost any manual online. Bottom line is that I have learned that the Magellan GPS' don't come close to the Garmin's. I highly recommend this GPS.
ISparkle4u
Refurbished Garmin nuvi 57LM 5" GPS
I bought this GPS for a friend who is not technology savvy. My husband has the same one so he was able to set it up with a few address and send it to her. She was able to learn more about it on her own. Every time I talk with her she tells me about something else she has learned. She even thought she had erased an address but was able to find it. She is not big on using the latest technology but loves using this GPS.
smoses80
Out with the old and in with the new
I moved to Myrtle Beach with a GPS but of course it didn't work anymore. I bought this from Walmart, got it yesterday and YAY I didn't get lost!! I am so thankful to have this because I am direction challenged and am so tired of getting lost and asking directions!!! Great Buy!!!!