Michley Mini Sewing Machine & Accessories 3-Piece Value Bundle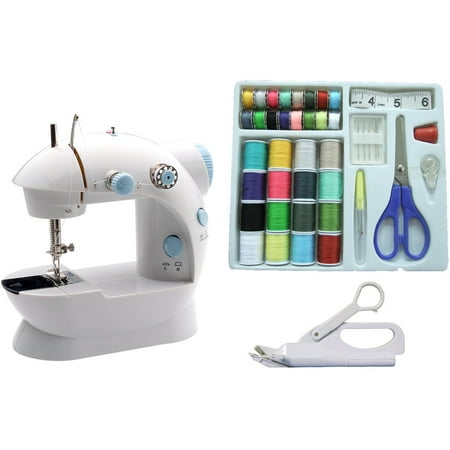 MSRP :

$31





Sale :

$16.99

Sold & shipped by Walmart
Product Description

Additional Information

Reviews
Product Description
The Michley Lil' Sew & Sew Mini Sewing Machine & Accessories 3- Value Bundle is a portable and lightweight sewing machine. The Michley Lil Sew & Sew Mini Sewing Machine comes with electric scissors and a 42-piece sewing kit designed for small sewing projects. Ideal for novice and fashion enthusiasts alike, this portable sewing machine can be used for different materials ranging from silk to denim. The lightweight sewing machine is user friendly design lets you operate it with a hand switch or a foot pedal. The Michley Lil' Sew & Sew Mini Sewing Machine & Accessories 3- Value Bundle has a high and a low speed for you to choose from. A foot pedal, adaptor, and thread bag are included with this portable sewing machine. To enhance your sewing experience, this electric sewing machine kit also includes 16 spools of thread, 16 metal bobbins, a measuring tape, five needles, a seam ripper, a thimble and a needle threader.
Additional Information
Sewing machine features:
Two-thread lockstitch
High/low speed selector
Auto bobbin winder
Two drop-in bobbin
Easy-to-use magnetic bobbin system
Use hand switch or foot pedal to start
Uses DC 6V power adapter or 4 AA batteries
Foot pedal, adapter, and other accessories included
Weight: 1.4 lbs
Size: 7.5" x 4" x 7.8"
Sewing kit includes:
16 spools of thread in different colors
16 bobbin with different color of thread
5 needles
1 measuring tape
1 small scissors
1 thimble
1 needle threader
1 seam ripper
Features of electric scissors:
Cuts fabric or paper quickly and easily
Uses 2 AA batteries
Weight: 0.25 lbs.
Size: 8.8" x 4.8" x 1.3"
Reviews
Patti
SEWING FOR A CAUSE
I purchase this sewing machine to participate in a sewing project for my church. We were making dresses out of pillow cases for little girls in Africa. I haven't sewed since high school and did not want to purchase an expensive machine and when I saw this machine, I figured that it would serve its purpose. The day I received my machine, I stayed up until 2:00 am sewing my dresses, Iv'e made 60 dresses so far. I have really enjoyed this machine!!!!!!
Rayapati
Worth for Price
Very good Sewing machine for Personal Usage
mslataprada
Handy Sewing machine
This machine is worth what I paid for it. I thought I'd purchase it just to do alterations with. Hem curtains and mend clothing. I tried my first tote bag because I couldn't find one to match my Shiny Gold sneakers I purchased from Easy Spirit. I have a local material store nearby and said to myself "What the Heck" I'll try to make one with the help of youtube. Below are the photos. The only thing is Yes you will need a light. I have a table lamp like "Pixar" lol to fit the bill for when I want to sew. Also I have to tilt the machine to thread it on the top loops but for the needle, its easier to use the threader that came with it. Also I've noticed if I don't thread the needle a certain way like from left to right - it will not work . Also sometimes the needle thread will pop out-could be because of the tension but I have it very loosely anyway so I don't know whats going on there. I use to sew long time ago so I know what the tension should be. You should be able to pull on the thread very easily. It should feel loose and smooth pull. Getting the bobbin thread to come through is easy though, you have to wind the side wheel towards you then pull it through. I use the foot pedal with the power cord that comes with it. Kinda noisy though. It don't back stitch which I wished it did. Didn't think of that when I purchased it. I didn't think it would make a difference but yes, it does. What I have to do is go back over top seams with a regular sewing needle to secure the seam to make sure it don't come apart later on. Just wish it was longer but its pudgy. You can fit only one hand through the work space, if that. Its so tiny but portable - ideal for traveling. If you want a machine that hems pants, sleeves or to make clothing, quilts or bedspreads this is not the machine for you. Purchase one that accommodates that. Now i'm getting ready to do alterations on a blouse I purchased that is a little to big. Its worth its price for sure. Its already paying for itself. Thank you Michley and Walmart! : )
gmacrafts
Excellent machine for a beginner.
On December 20th, I needed the following two items the Michley Lil' Sew & Sew with accessories and the My First Sewing Book for Beginners this would complete my grand-daughters' Christmas wish list. By me ordering them so late(December 20th) I was afraid I would not receive the items in time for Christmas. Walmart Online Shipping promise I would receive one on the 23rd and the other on the 24th of December. The great news is Walmart shipping had both items delivered to me on the 22nd of December! First, I want to say thank you Walmart Online Shipping for the excellent service!!! Both of the products were excellent and just what she needed to start her new advanture of the sewing world. The sewing machine is an excellent product for begginers and she loves it. The book was great also, because it gives her ideas and different choices of things to make besides dolls clothes. We are very satisfied with the both items and they gives us quality time together. Thanks again Walmart!!!
DWisley
WORKS PERFECTLY!!
I have made a set of kitchen curtains with this little baby!! It's the right size for me, easy to maneuver & control, and doesn't take up much space - whether I'm using it or storing it! And with the instructions that's included - this would make a great "Beginners Sewing Machine" to familiarize your seamstress with the basics of sewing. Does it have a "reverse" or a "light"? No....but that's not a requirement for me. I've used it for mending and small projects as well, as I'm not "sewing" on a daily basis, just "as-needed". I have no regrets with my purchase. I have a larger "Singer" model with all the bells & whistles....I prefer this little machine. Now, it doesn't come with batteries, so you'll need 4-AA batteries, but I also use the "Foot Pedal" with no problems....But I highly recommend this - especially if you're wanting/needing any of the qualities I mentioned above!! **There were others who purchased this same model & had issues with theirs, but I've had NO PROBLEMS at all!! I'm completely happy with my purchase!!**