Michley 8-Stitch Desktop Sewing Machine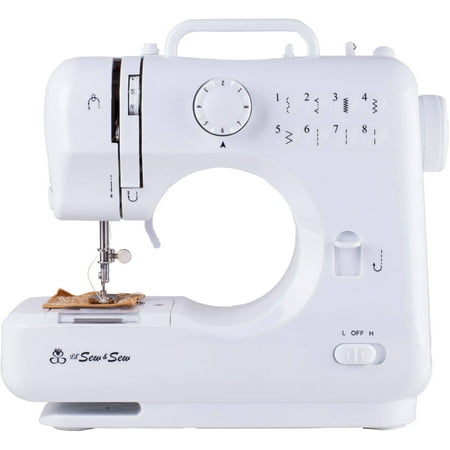 MSRP :

$49.99





Sale :

$49.91

Sold & shipped by Walmart
Product Description

Additional Information

Reviews
Product Description
The Michley Lil' Sew & Sew Desktop Sewing Machine is versatile enough take care of all your sewing needs or craft projects. This multi-purpose 8-stitch sewing machine features two speed settings, reverse and forward sewing, double-thread capacity, automatic thread rewind, and eight integrated stitch patterns. A built-in LED light brighten up the workspace. This Michley Lil' Sewing Machine allows you to use either its included foot pedal or hand switch. This portable Michley Lil' Sew & Sew Desktop Sewing Machine has a compact and lightweight design. You can store additional thread and other sewing accessories in the storage drawer of this 8-stitch sewing machine.
Additional Information
This multi-purpose machine features two speed settings, reverse and forward sewing, a two-thread lockstitch, automatic bobbin winding, and eight stitch patterns. A built-in LED light brightens up your workspace. You can use either the included foot pedal or the hand switch to start the machine. The Michley 8-Stitch Desktop Sewing Machine is portable with a compact and lightweight design, and it can use either batteries or the included power adapter. You can store additional thread and other sewing accessories in the storage drawer.
Reviews
calla
meets my needs
I received this little machine 2 days ago from a big chain store for 56.25 When I saw the price at Walmart I could have flipped--39.97 The machine arrived with a sample piece of fabric under the presser foot with all the different stitches. After reading every word in the manual, I plugged it in and only tried a few stitches on the sample fabric, the stitches looked exactly what had been sewn on the fabric sample. In the manual on page 10--it states the thickness of cloth to use with this machine. Best to sew double layers of cloth, thus every stitch is available. And best to use No. 6, 7, and 8 stitch to sew soft cloth or silk instead of other stitch patterns. As for the thread breaking the problem maybe the needle or tension as suggested in the problem page in back of the manual. The main purpose of purchasing this machine was to use in our 5th wheel when traveling. I think it will do its job for what I want it to do. A word to the wise---ALWAYS CHECK WALMART PRICES FIRST
Cutie102
Great little sewing machine
The sewing machine arrived within a week undamaged and well packaged. The sewing machine was a little bigger then I was expecting it to be, but other then that. It worked great and it makes a great beginner sewing machine. The sewing machine just isn't designed for sewing thick fabric like, thick blue jeans, quilts, and comforters. This sewing machine is only designed for sewing thin fabric. I tried sewing something thin and it worked great, but when I tried sewing something thick. The needle bent almost in half. It you wont to sew think fabric. You would most likely need a thicker needle designed for sewing think fabric or a bigger sewing machine. This is a beginners sewing machine. So don't expect it to sew every type of fabric, because it wont. The sewing machine is only useful for small projects. Any attempts to sew thick quilts, blankets, or coats, will cause the needle to bend or brake. One last think. If the sewing machine isn't threaded right or low on thread on the bobbin or thread spools. The sewing machine will not sew until thread spool or bobbin thread is refilled or replaced. So don't assume the sewing machine is broken.
JLS77
Huge Disappointment...
Purchased this for my 11 year old daughter as a Christmas gift. She's interested in sewing, but I didn't want her using my high end Brother sewing machine. I purchased this based off of the site's reviews, thinking this was a good starting sewing machine. It is very light-weight, which was nice, unfortunately, it was the only thing it had going for it. The thread that comes with this machine is awful. It kept unraveling and was extremely hard to thread through the needle. If you purchase this machine, you might as well toss it and not use it. It's that awful. The biggest problem was the actual sewing. It just wouldn't sew more than a few stitches and then it would jam. I did this for about 1/2 hour. Every time, it would just jam after a few stitches. I was using thin fabric, nothing thick per the manual recommendation for fabrics. No matter what I did, just kept jamming. Not sure if there was a problem with the bobbin or what, but I gave up after too much frustration and wasting too much thread. Anyways, it's going back to the store today and I will go with a starter Brother machine and pay a little more...Seriously, don't waste your money on this...
Pauline
Good little machine
I needed a little sewing machine to keep here in Florida, it had to be small to keep in the box we have at our rented villa( I'm from the UK.) I love sewing and this has enabled me to finish my projects to take home. It is pretty basic and won't sew delicate fabric but is great for cottons. I have only used it to make small items like bunting and cushion covers and wouldn't try it with quilting or larger items. It does what it says on the packaging. I ordered from the Internet and had it delivered to our local Walmart, all very quick and painless with no shipping charge.
Goldie
Great for my needs
I was in the upholstery business for 24 years, making slipcovers, draperies, and anything else anyone wanted me to sew. For the past 20 years I did alterations, so I have had lots of experience on a sewing machine. At age 93 this little machine serves my needs very well. I love it. Great Great Gram