Professional Extra Strong Ultra Shaping Plus Finish Spray, 10 oz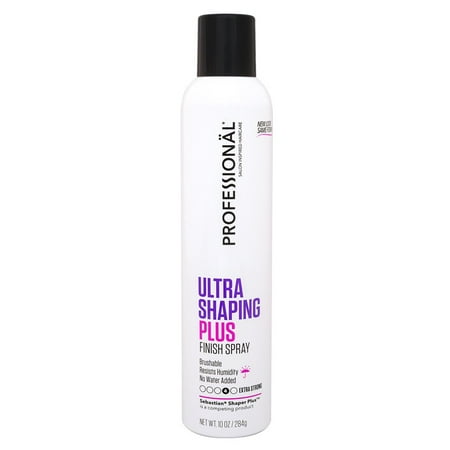 MSRP :

$9.45





Sale :

$5.34

Sold & shipped by Walmart
Product Description

Additional Information

Reviews
Product Description
Do you dream of having fashion show hair? How about luminous shine, fabulous lift and all-day hold? Professional Ultra Shaping Plus Ultra Firm Hold Hair Spray gives you all that and so much more. Be empowered by your style, not controlled by it.
Additional Information
Professional Extra Strong Ultra Shaping Plus Finish Spray, 10 oz
Reviews
upset
My sob story
I recently bought several cans. I had looked and looked. I checked Wal MArt .com daily but no one had product and was told it was no longer carried and the factory was out and did not know when it would be back on the shelves. I went into PANIC mode. I had to have this. I have spikey hair and this stuff was amazing. I would have bought it from any location I could have found it. No one had it. . I had my daughter in Texas going to Wal Marts close to her since no one in the surrounding areas carried it. She found 4 and I ended up finding 4. I have already taken most of them back. The can is tall and skinny and not as much product and I think they have changed the formula a little bit. I have used that hair spray for years and loved it. I depended on it. I am sure other women can understand completely what I am saying but its changed. I have started to try other products from several places and several brands. None come close. I certainly wish the manufacturer would have left well enough alone. They had a great product.
Problem
Problem pricing?
Have loved, used, and recommended this product for years. Great product for price; however don't understand sudden jump from $4.94/can to $12.60/can. At $12.60/can I definitely do not recommend. Hoping this is a problem that can be resolved and that I can again continue to use and recommend this product.
ShopperandShopper67
This is NOT the same product!
So I've been using Professional by Nature's Therapy for at least 12+ years. Obviously an a big-time favorite item. I know the can says different look, same product, but it is SO not the same product. It doesn't smell the same, it doesn't hold the same.. As a matter of fact, it doesn't hold at all!! All it does is make my hair coated with something - almost a greasy feel to it. I purchased 3 cans of this and had it shipped because my Walmart had stopped carrying it (again). Through the years, they have done this and so I order online and pay for the shipping. I'm not sure if I can find my bill, but I'm going to return the 2 unopened cans if I can. This could possibly be one of the Worst-Ever tried hairsprays. And the worst part is, I've been using this for so long that I don't even know what to try now!!
CHFH
Professional Ultra Shaping Plus Finish Hair Spray
PLEASE, PLEASE, PLEASE bring this product back to Walmart! I've been using it for years and have tried other brands and I don't like them like this one. My sister, mother, daughter and I are so disappointed to find out that Walmart no longer carries this. I love that it washes right out of your hair so easily and isn't sticky. I can't live without it. BRING IT BACK!!!!!
3Musketeers
Best knock off ever!
Absolutely love this stuff. No longer available at my local Walmart so I have to order online.