Backyard Discovery Tucson Cedar Wooden Swing Set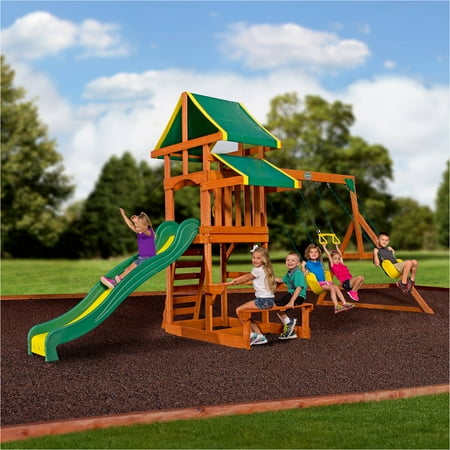 MSRP :

$499





Sale :

$349

Sold & shipped by Walmart
Product Description

Additional Information

Reviews
Product Description
Important Delivery Information:
The freight trucking service that ships your Backyard Discovery swing set will contact you to schedule a delivery appointment. This item is only available for curbside delivery, and will not be moved into your home or garage. You will need to move the large box to its final location.
Get terrific value and a superior design when you own this Backyard Discovery Tucson Cedar Swing Set. This gives kids the interactive excitement of outdoor play. This wooden swing set is an ideal choice for smaller backyards. It is eco-friendly because the wood is cedar, factory-stained and contains wood from sustainable forests. It features a covered play deck, an 8' slide, two belt-swings with kid-friendly chains and an incredibly fun trapeze bar. The outdoor swing set gives kids the benefit of frequent physical activity and exercise.
Additional Information
You also know kids are secure in your backyard. It offers wonderful value in outdoor play for the whole summer. Give your kids an option to play close by when you install the Backyard Discovery Tucson Cedar Swing Set.
Backyard Discovery Tucson Cedar Wooden Swing Set:
Key Benefits:
Kids benefit from frequent physical activity and exercise
You benefit from knowing the kids are secure in your own backyard
Backyard Discovery Tucson Cedar wooden swing set features 4 activities that will keep 7 kids busy at the same time
Wooden swing set offers terrific value in outdoor play for the whole summer
Ideal for smaller backyards
Features & Specifications:
Cedar, factory-stained wood from sustainable forests
All wood included with this wooden swing set
Covered play deck
Dimensions: 18' 1"L x 7' 4"W x 9' 5"H
Assembled weight: 204lbs
What's Included:
Covered play deck
8' Super Safe Speedy Slide
2 belt swings with kid-friendly chains
Trapeze bar
Picnic/activity table
Rock wall
Safe-T-Fuse Fastener System
Backyard Discovery Wooden Swing Set Assembly:
Includes detailed assembly manual
Some pilot holes may need to be drilled on site
Lumber is pre-drilled, pre-cut and pre-stained
Lumber is stamped for ease of assembly
All structural components and necessary hardware and fasteners are included
2 adults required for wood play set assembly
Assembly takes approximately 6-8 hours with 2 adults
Safety Information:
Recommended Safety Zone: 24' 1"L x 19' 4"W x 15' 5"H
Place in a flat area of your yard to minimize ground preparation
Provide enough room so that children can use the Backyard Discovery wood play set safely
Do not build your wooden swing set on top of surfacing material
Locate bare metal platforms and slides out of direct sunlight to reduce the likelihood of serious burns
Maximum Weight Capacity: 960 lbs
Tools Needed (Not Included):
3/8" cordless or electric drill
3/16", 5/16" and 3/8" drill bits
Drill Attachments: Phillips head screw, 3/8" socket driver and torque head screw
1/2" and 7/16" open end wrenches
Tape measure
1/2" and 9/16" nut drivers
3/8" drive ratchet
1/2" and 9/16" std sockets
1/2" and 9/16" deep sockets
Claw hammer
Phillips and straight blade screwdrivers
24" level
Rubber mallet (optional)
Step ladder
Materials, Care & Warranty:
1-year warranty on this Backyard Discovery wooden swing set covers all parts including wood
All wood carries a 5-year pro-rated warranty against rot and decay
*Also available in stores
For questions about using this cedar swing set, please call Backyard Discovery at 1-800-856-4445
Reviews
CantStopTheShopping
AWESOME DEAL! GREAT PRICE!
I did a lot of shopping around for a swing set for my daughters birthday and when i found this one i loved the price and showed it to my mother and father because that is what they wanted to get her for her birthday. so they decided that this looked pretty good for the price and bought it. they set it up this weekend and it took about 4 hours with 2 guys and it looks amazing, but it is not as easy to put together as u would think and you really need to have a lot of patients but in the end it is well worth it! way better than i expected! my 250lb uncle even stood on the picnic table part and even tho it bowed in the middle it did not break lol. there were about 8-10 kids ages 3-15 playing on it this past saturday and nothing went wrong or broke. if u are looking for a good quality and surprisingly tough swing set with a great warranty look no further cause you just found it!
clorya
My girls love this playground!
I have a 5 1/2 and an 11 1/2 year daughters who love this playground. They both say that they no longer want to go to a playground because there is no point, they have one in there backyard. It does move a little but I believe that is because it is on unlevel ground, but I feel safe letting them play on it. The directions could be a little easier such as having the helper pre put the screws into place to make it faster to screw in. On the ladder/rock wall the screws were too big and split the wood yet it is still secure even for me to climb and I am def over the weight requirement. Lunch and snacks have been eaten everyday on the built in picnic table. I would suggest this item to everyone and anyone, a great deal that has made our summer so far a blast. And I have saved a lot of money on gas not having to go to a playground all the time.
VeteranHVAC
Great Value, Average Instructions
Based on previous reviews, it took about 8 hours to assemble - as expected. Fit in my Father's mini-van with the seats out. Unfortunately, there were a few bolts missing but we were able to make the assortment of excess hardware work for us. I highly recommend laying all the boards out in alphabetical/numerical order when starting, and don't avoid an inventory! We had all our boards, just a few missing pieces of hardware. My 2 year old daughter is just a little small to climb on this herself, but she loves it! I would highly recommend this product for those that know what they are getting into, and have a decent assortment of mechanic's and carpentry tools. An 18V impact driver went a long way!
Grannppa
Great value
I assembled it by myself in 10-12 hours. I recommend organizing the hardware into zip lock bags according to phases. This way you can build rather than search for parts. All wood was straight and went together well. Always pre-drill as the instructions indicate. Instructions seemed easy to follow. My 3 year old Gran-daughter loves it!!! I swing on it with her also,so it is sturdy!!
LuvMyFourBabies
My Kids Love It!
Everything was there, even came with extra hardware. Took my husband and father about 9 hours to put together from the time the box was opened till time for the kids to play on it.