Backyard Discovery Beach Front Wooden Swing Set, Box 1 of 2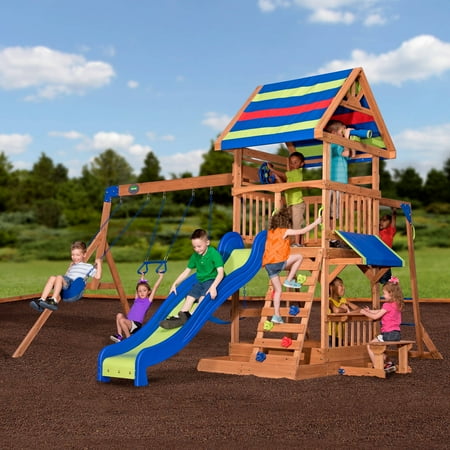 Sale :

$324.5

Sold & shipped by Walmart
Product Description

Additional Information

Reviews
Product Description
The Backyard Discovery Beach Front Cedar Swing Set is a bright and fun set that has loads of features without taking up too much space in the yard. This swing set has plenty of open room for up to nine children to play on it at one time. A swing beam is on one side with a monkey bar on the other. There are plenty of cool features to keep the kids playing for hours. The rockwall, sandbox and serving station are just some of the fun.
Additional Information
"Backyard Discovery Beach Front Cedar Swing Set:Key Benefits:Kids benefit from frequent physical activity and exerciseYou benefit from knowing the kids are secure in your own backyardMaximum of 9 children is recommended for this swing setWeight limit: maximum of 120 lbs per child is recommended for play activities designed for multiple child useWeight limit: maximum of 150 lbs per child is recommended for play activities designed for individual useWhat's Included:4' deck, 1/2 picnic table with bench and light blue/lime trim canopy tarp, monkey bars, two 22"" blue swings with blue chain1 blue acrobat bar with blue chain, Light blue/red/lime green tarp roof, 4' rock wall ladder with 6 small assorted rocks, 8' light blue and lime green speedy slideWooden toy box, Light blue steering wheel, dark blue/light blue telescopeAssembly:Playcenter is designed to be installed on a level surface — place in a flat area of your yard to minimize ground preparationChoose a level location for the equipment — this can reduce the likelihood of the play set tipping over and loose-fill surfacing material washing away during heavy rainsPlace equipment not less than 6' from any structure or obstruction such as a fence, garage, house, overhanging branches, laundry lines or electrical wiresProvide enough room so that the children can use the equipment safelyIt is a good idea to place your Playcenter in an area that is convenient for adults to watch children at playDo not build your playset on top of surfacing materialLocate bare metal platforms and slides out of direct sunlight to reduce the likelihood of serious burns — a slide that faces north will receive the least direct sunlightSeparate active and quiet activities from each otherSetup and Safety Information:Instructions are includedApproximately 8 hours to install with 2 adults working togetherApproximate overall dimensions: 14'1"" L x 14'5"" D x 9'10"" HTools Needed (Not Included):3/8"" cordless drill or electric drill, 3/16"", 5/16"" a
Reviews
ALMomof2
4 & 6 Year Olds Love It
We've had this playset for about 2 weeks now and my kids love it. Took my husband 2 afternoons to put it together (by himself) so I would say that it is rather easy to assemble if you follow instrustions. The only modification we made was to shorten the 'trapeze' swing... it was too long for my kids to play with it. Other than that it has been a fun addition to our backyard.
ALLURA
Wonderful buy!!! Great Swing Set!
I was a little skeptical at first buying this swingset based on the reviews. I gotta say that my almost 3 year old son absolutely Loves it! It took my husband 12.5 hours to assemble himself and there were a couple modifications he made, other than that, this is a sturdy swing set. It's all made from Cedar which is durable for the weather, but, it's a soft wood. The key to building this or any swing set is, not to put it together tightly (it will cause the wood to split) when it is all assembled go back and tighten every nut and bolt and screw!! I'm so happy we were able to buy this for our son and he will for sure have many more years to grow into it!! I'd say the age limit is more from 2-8 at the most! Good luck to anyone who buys this! It is definitely worth it!
Amber
Wood splitting after 1 week
As nice as it looks, it's a bit flimsy. It's been up for a little over a week now and the wood is splitting in several locations. Kind of stuck between a rock and a hard place on this because our 2 and 3 year old girls love playing on it and I can't imagine having to disassemble it. Lol Think it's over-priced for the quality. We purchased it based on all the high reviews that I later noticed were made (almost all in part) by Wal-Mart associates- Hmmm?! To be fair, I haven't contacted the company yet so will try soon and update review if needed. Tried to upload photos but it tells me "Time limit exceeded, unable to upload"
Heather
Nightmare
Well, I wish I could say that I would buy this again, but never again! I have been frustrated with this product shortly after I ordered it. First, it took a lot longer to be delivered than stated online. The fright company had the item and just held on to it. 2nd the freight company called me for deliver and I asked they leave it on a covered porch bc it was boring outside..... it was left in the middle of my yard, in the pouring rain. 3rd, after laying everything out on a beautiful sunny Saturday with three excited kids, we discovered that the box had no hardware in it!!! I called and it was delivered in two weeks............................. Ok, so this past weekend, we laid everything out again and got started, only to discover that the bolts and brackets needed to the safety bar and the rock wall, were missing as well! I was almost in tears and my kids were as well! I am not sure if the manufacture, walmart or the freight company is to blame, but I am fit to be tied and ready to scream! I would make sure you lay everything out and check to see that its all included before planning to put together, which is a pain bc it has about 1,000 pieces!
Reyes
Received broken wood part
Receive few wood planks with damages and cracks. The wood quality looks and feel cheap. I don't give a 5 Star because of the way its shipped and packed. It's is not the best way to deliver the product in good shape. The play set would be great if the wood is a better quality