GunVault NV200 Nanovault Safe, 9.5"x6.5"x1.75" Cable, Black Key Lock NV200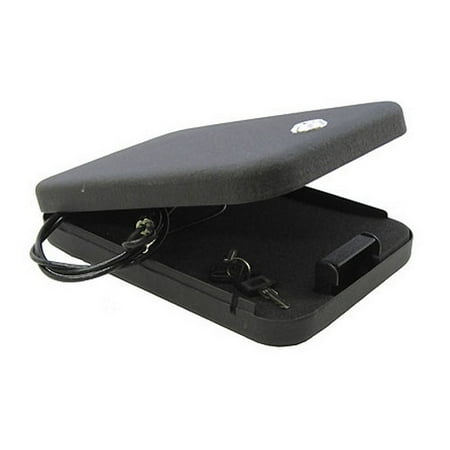 MSRP :

$40.73





Sale :

$28.19

Sold & shipped by Walmart
Product Description

Additional Information

Reviews
Product Description
The GunVault NV200 Nanovault is a compact, secure and affordable storage safe solution. This gun safe features an easy-to-operate key lock system. Gun safes such as this one are made with 21-gauge steel construction and a 1.25" memory foam interior. The GunVault NV200 is well-suited for home, travel or concealed weapon permit holders. The GunVault NV200 Nanovault fits discreetly in a bag, briefcase and desk or under a vehicle seat. The Nanovault comes standard with a 1,500-pound test security cable. When the cable is wrapped around any fixed object and slid over the lock receiver inside the security box, both the GunVault NV200 Nanovault and any valuables will be securely attached.
Additional Information

GunVault NV200 Nanovault:
Easy-to-operate key lock system ensures you're the only one with access
21-gauge steel construction
1-1/4" thick memory foam interior for protecting the contents of the safe, even from falls
Each unit comes standard with a 1,500-pound test security cable to secure the safe to a fixed object and prevent theft
Capable of holding a 1911 pistol with a mag, as well as some important documents
Dimensions: 9.5"L x 6.5"W x 1.75"H
Reviews
FortWorthCarrier
Good box for the money
I had bought a larger, digital safe and thought I would use it in my closet and also in my car. But it didn't take long to realize that it was too much trouble transferring from one to another and I needed a smaller safe dedicated for the car. I shopped heavily online and after reading lots of reviews, picked this NV200 and ordered it from Amazon. Two weeks after ordering and on the day it was to arrive, I got a note saying that the company shipping the safe had ran out of them and canceled my order! So I got on Walmart.com and ordered the same product through their "Site to Store" program. I paid about $3.00 more and had to go to Walmart to pick it up but I'm in there once a week anyway. I'm not allowed to "carry" in my office building so each day must secure my Ruger SR9C in this box and stow it under my car seat. If a thief smashes a car window and searches under the seats, he'll find this box. But in the few minutes he has available he will not be able to get this pried open or cut loose. My grandkids, who are craftier than most burglars, can't get it open either and that makes it better.
RobKa
Great safe for medium and some large frame pistols
The Nanovault stayed true to its reputation, solid contruction for an affordable price. The tether was a nice addition allowing you to keep the entire safe stationary yet accessible. The safe comes with two keys and fits my .45,an extra magazine and a pair of ear plugs perfectly.
Countymounty50
Great small security case for valuables
Sturdy, safe to store valuables, large enough for storing items securely. Accepted by most Airlines for transporting firearms in a secure container. Will accommodate full size Colt .45 or Glock.
DixieGal
Nice little gun safe
Don't buy this one if you are looking to get a large gun safe with all the extras. This is just something that I can fit my 9mm semiautomatic pistol and its spare magazine in. If that's all you want, this will fit the bill just fine.
MrAnalytical
3 years and going on strong
I've beat this thing up. It's got marks and cuts and I still trust it will deter my child or a theft from stealing my gun. I love that it has mounting holes on the back so you can really secure it to something. Also the safety cable will not come out with normal handling. Big Plus. Two foam inserts squeeze your handgun in place.